The Best Gold-Infused Skincare Products for Every Skin Type
Posted on August 20, 2021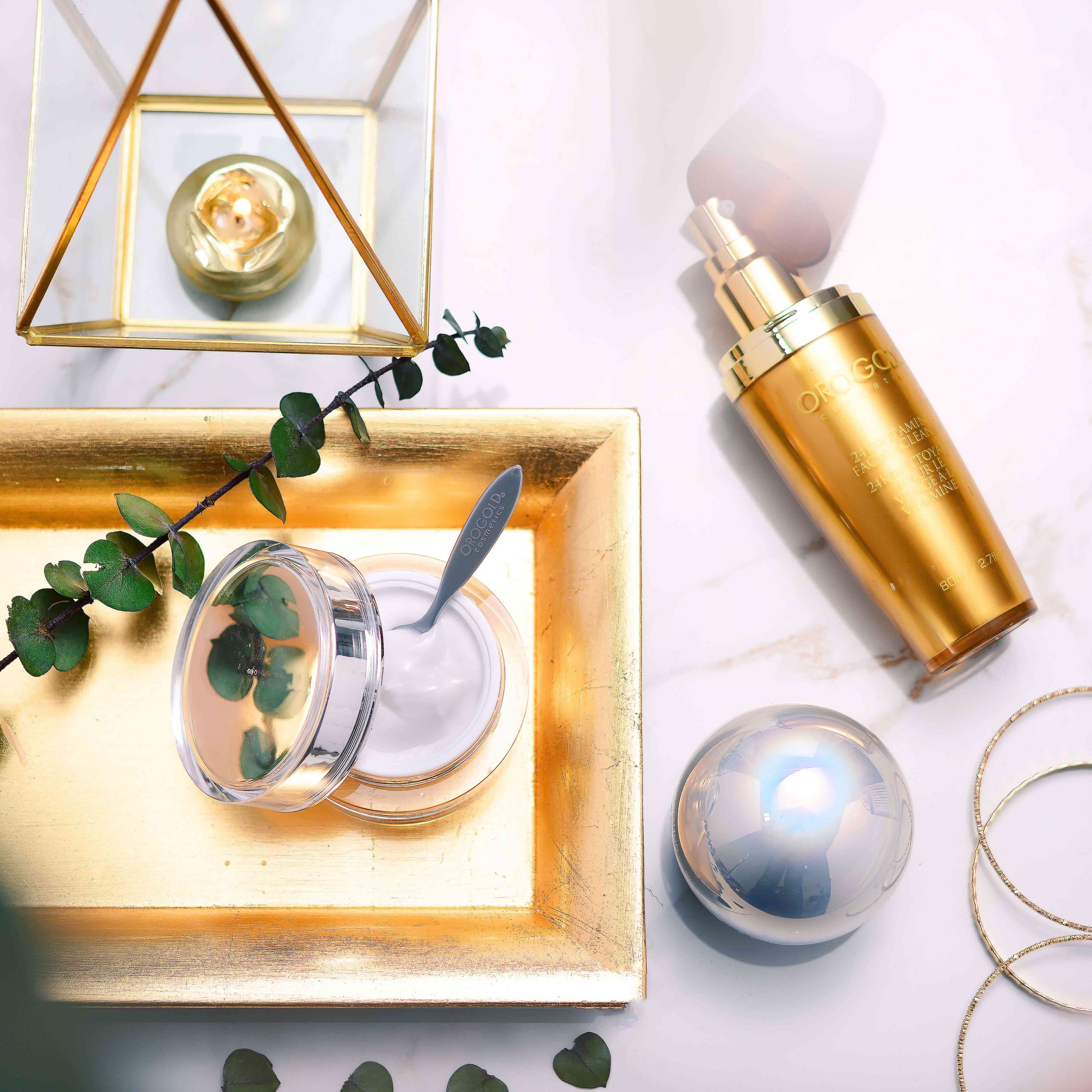 From Cleopatra's belief in gold's skincare benefits to the multiple gold-infused facial treatments named after her, gold has long been used as a skin care ingredient. 
But using gold products skincare isn't just as simple as slathering a random formulation on and hoping for the best. Skincare is a science. It pays to know which products will serve your skin best, which is exactly what OROGOLD is here to explain. 
The simplest way to start curating your own gold-infused routine? By figuring out your skin type. 
Skin Types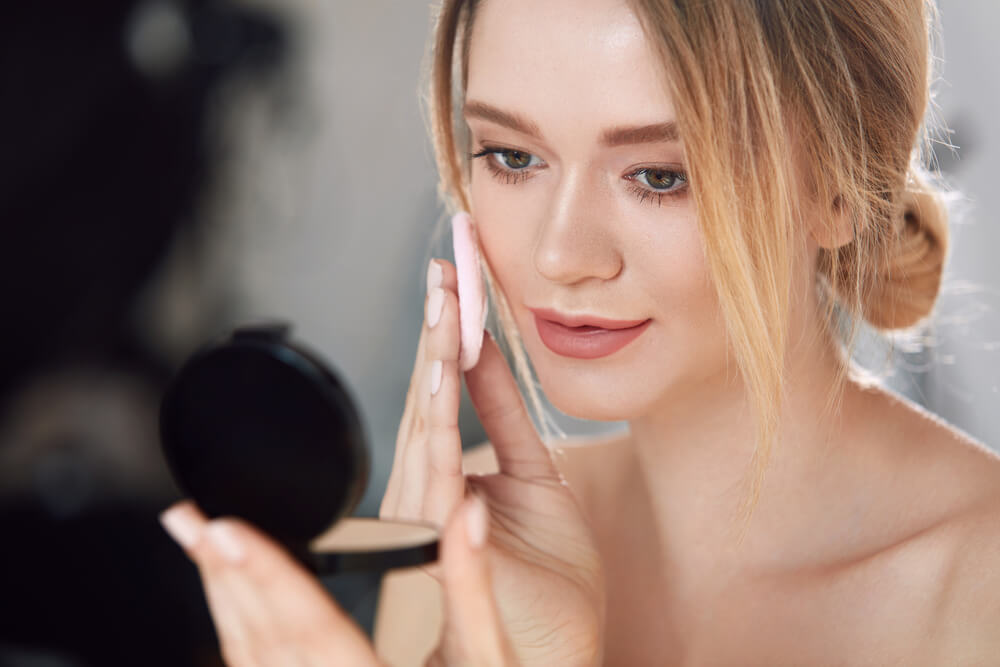 As the basis of most skincare routines, understanding your skin type can help you predict whether or not a product will work for you. But first thing's first: what are skin types, and what influences them?
Put simply, skin types are categories under which most people's skin fall, based on their look, feel, sensitivity, and general condition. The type of skin a person has is primarily determined by genetics but can change with time because of fluctuations in sebum levels. 
While there are various ways to categorize skin types, these five are the most common: dry, oily, normal, sensitive, and mature.
Here are the best gold products skincare has to offer, tailored for each skin type:
Dry Skin
Dry skin tends to look wrinkly, cracked, or rough. If you think you may have this skin type, here are a few more telltale signs:
Visible fine lines

Dullness

Itchiness

Redness

Tight, stretched-out sensation
Do any of these sound familiar to you? If so, you likely have dry skin.
Dry skin can feel tight, look red, or be more susceptible to wrinkles and lines because the skin lacks natural oils. The skin needs a healthy amount of moisture to stay healthy, after all — and without enough sebum, the symptoms of dry skin can begin to take root.
While many are born with dry skin, it's important to remember that skin can dry out with age. Environmental factors such as constant exposure to UV radiation, cold weather, and indoor heating can contribute to drier skin.
Another factor to consider: skincare. Constantly subjecting your skin to harsh, stripping ingredients can aggravate dryness. Curating your routine to include moisturizing products is crucial. 
How, then, do we include gold products skincare in our lives? Start with these formulas:
24K Mousse Cleanser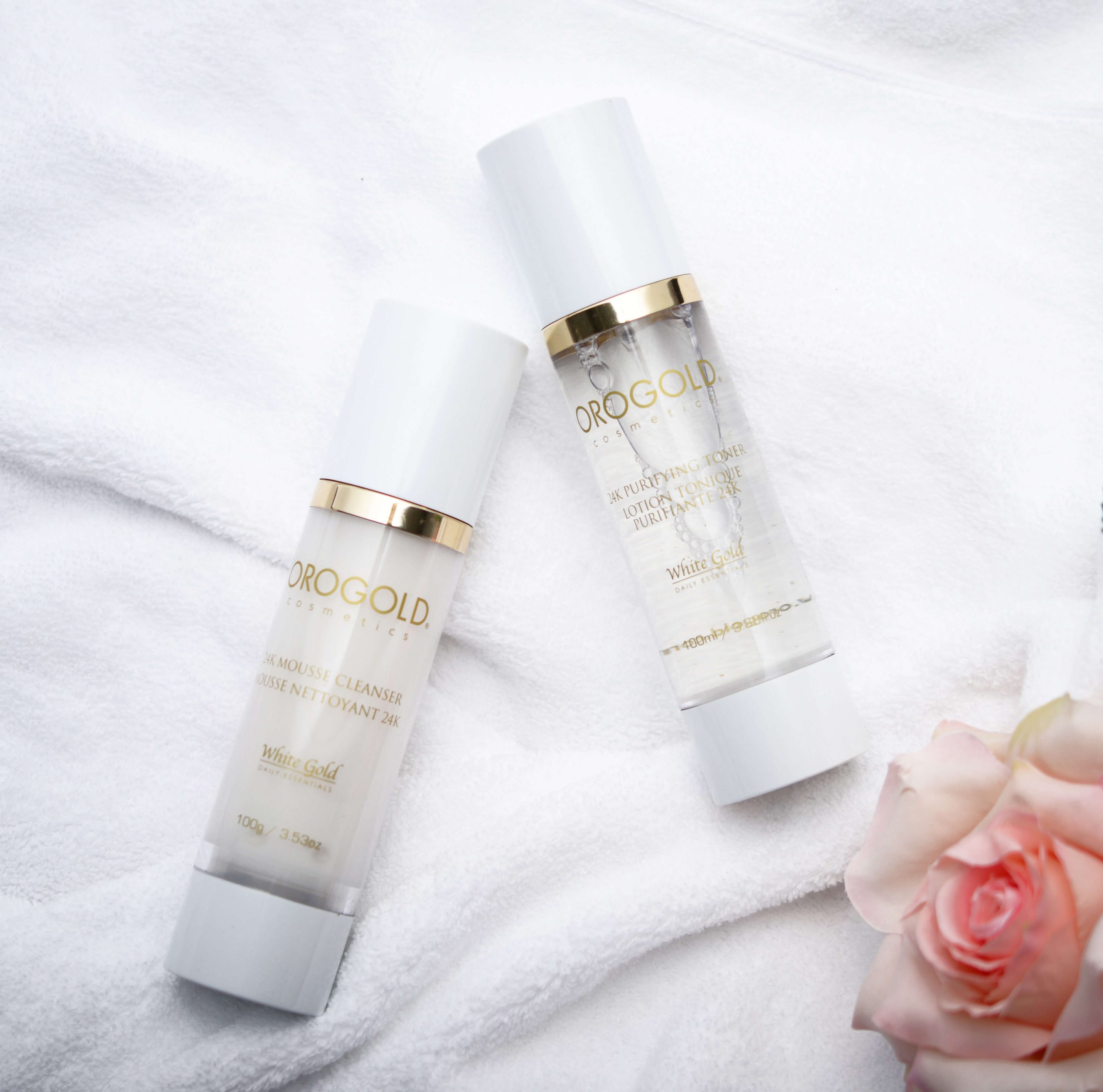 Mousse cleansers are great for all skin types but are especially beneficial for those with dry skin. Once massaged into the skin, the OROGOLD 24K Mousse Cleanser turns into a rich, creamy formulation that gently removes impurities.
The cleanser is formulated with Chamomile Extract, which has been used in traditional medicine to heal various ailments. A calming ingredient, Chamomile Extract can help soothe and calm the feel of your skin.
The 24K Mousse Cleanser is also formulated with Witch Hazel. While well-loved in the skincare community, this ingredient is more commonly used for acne-prone or oily skin types. However, one of the main functions of the ingredient is to reduce the look of redness and inflammation, which makes it useful in combating the struggles faced by those with dry skin type.
24K Rose Gold Hydro Mask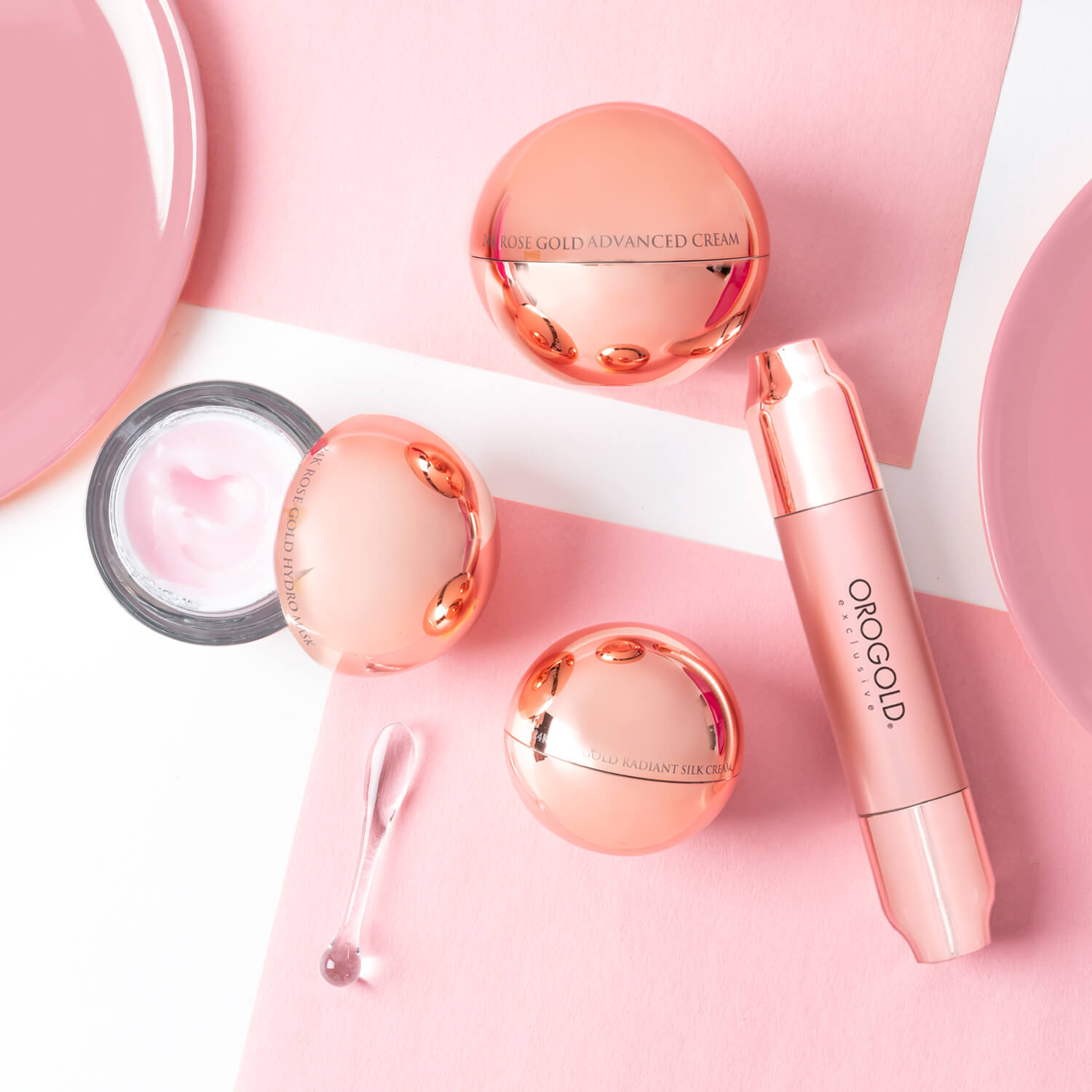 Dehydration and dryness are not the same things: the former refers to a lack of water in the skin, while the latter pertains to a lack of oil. However, because they often exist in tandem, the 24K Rose Gold Hydro Mask from OROGOLD targets the appearance of both with one product.
There are several superstar ingredients in this mask that make it a multi-tasking product. Some of them are:
Rosehip Extract

Sodium Hyaluronate

24K Gold
For a moisture boost, introduce the 24K Rose Gold Hydro Mask into your gold skin care routine once a week. 
24K Deep Moisturizer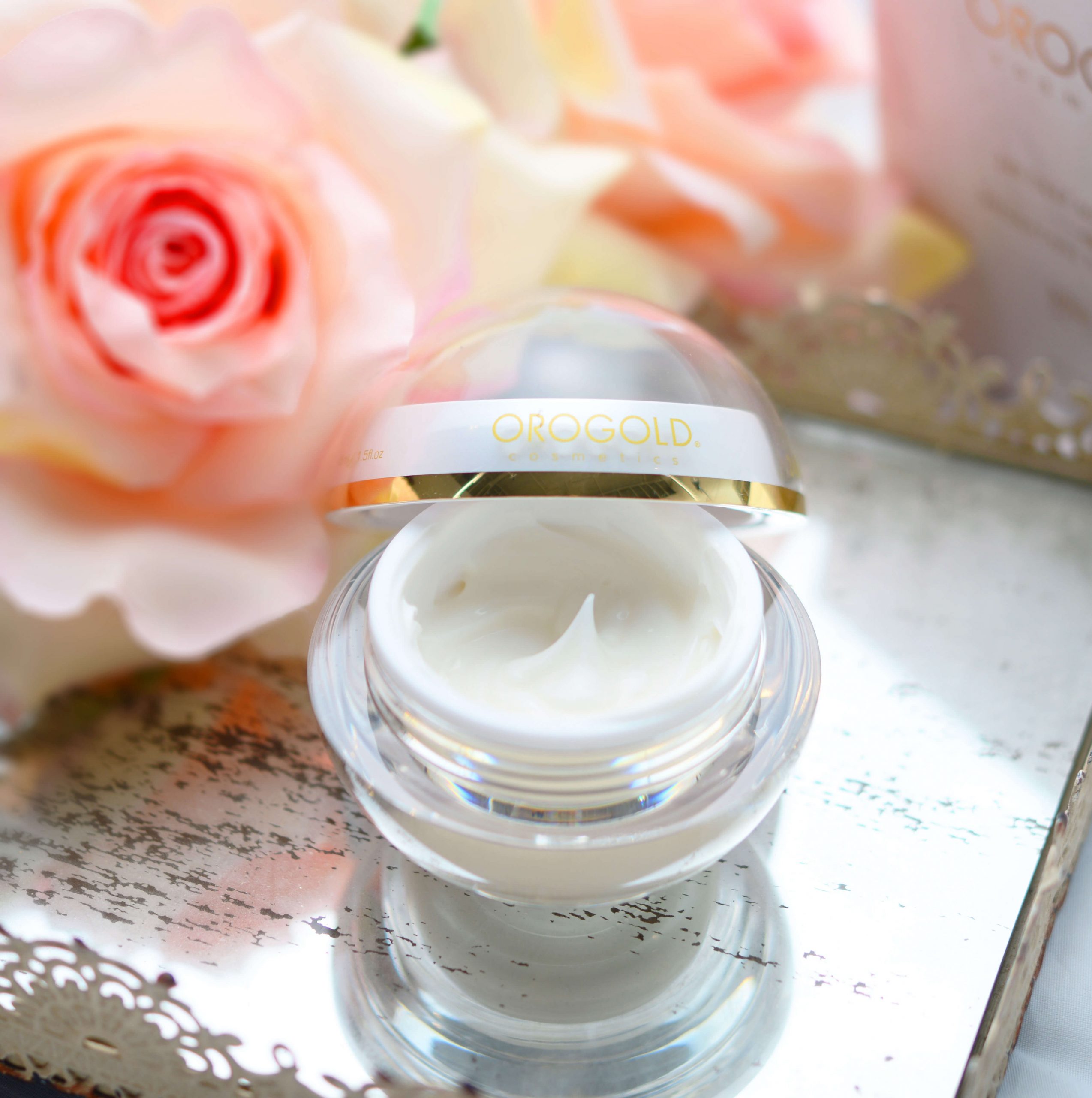 Since dry skin is characterized by a lack of moisture, it's important to have a potent moisturizer in the mix. Our product of choice for dry skin: the OROGOLD 24K Deep Moisturizer.
Like the 24K Rose Gold Hydro Mask, this product contains 24K Gold. However, this moisturizer is made even more moisturizing with Shea Butter and Vitamin E, two foolproof ingredients beloved by those with dry skin.
Oily Skin
On the opposite end of the skin spectrum is the oily skin type. With all of the moisture that dry skin lacks, oily skin has the propensity to overproduce sebum, which can often result in a shiny look.
If you think you have oily skin, here are other signs you should look out for:
Frequent breakouts

Blackheads and whiteheads

Large pores

Greasy skin, especially around the T-zone
One can be born with dry skin and start to transition to an oilier skin type during puberty. Exposure to warmer climates or hormonal changes can also cause the face to adopt a new skin type altogether.
When it comes to caring for oily skin, balance is key. You'll want to care for your skin without pushing sebum production over the edge and pick up excess oils without drying out the skin.
Here's how gold products skincare can work with an oily skin type:
24K Vitamin C Facial Cleanser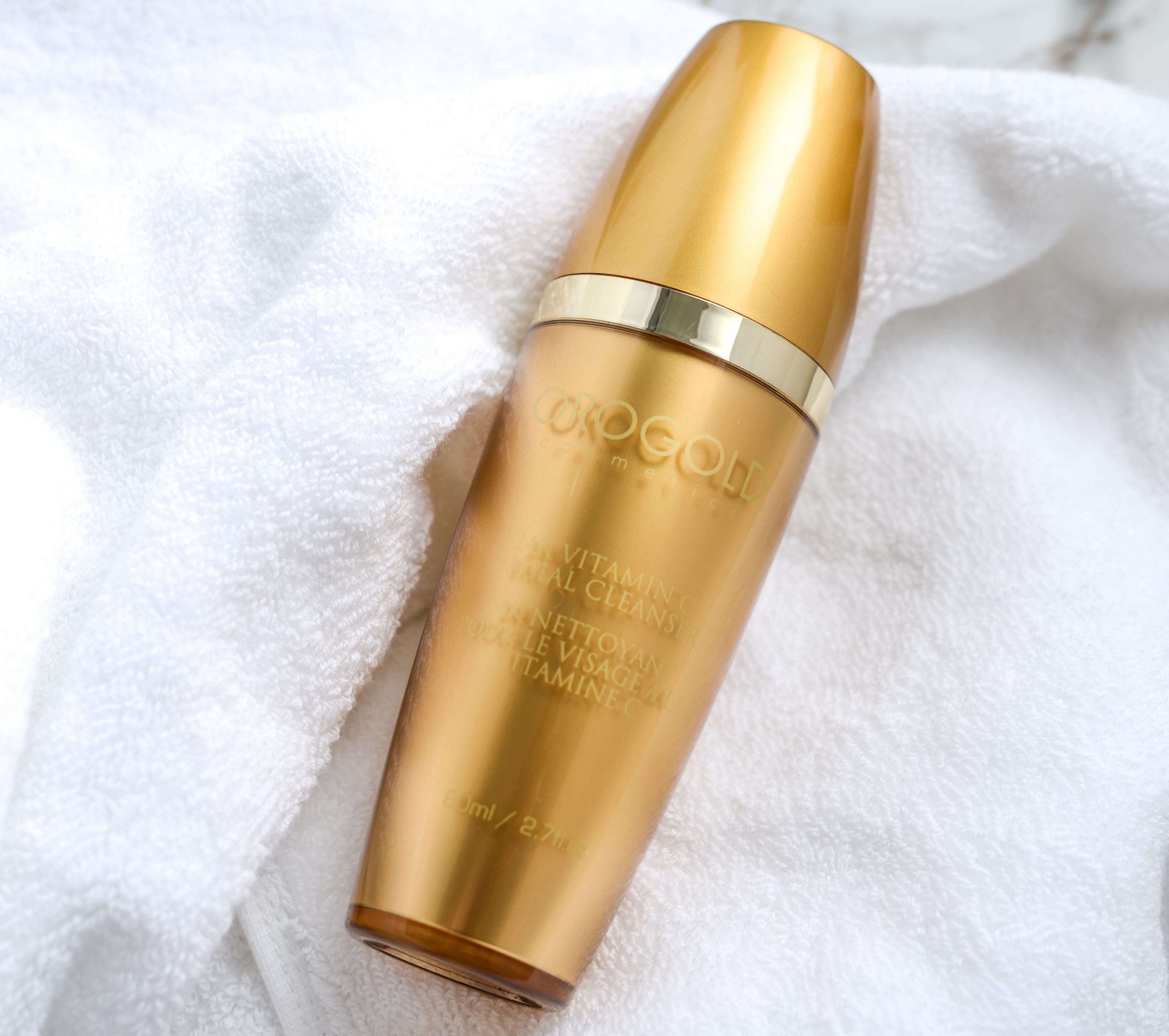 Vitamin C is an ingredient that needs no introduction, considering how well-loved it is all over the world.
The 24K Vitamin C Facial Cleanser harnesses the strengths of the ingredient. Together with Aloe Vera and Retinyl Palmitate, this cleanser is lightweight but not drying — perfect for washing off all the grime and grease after a long day.
24K Termica Activation Serum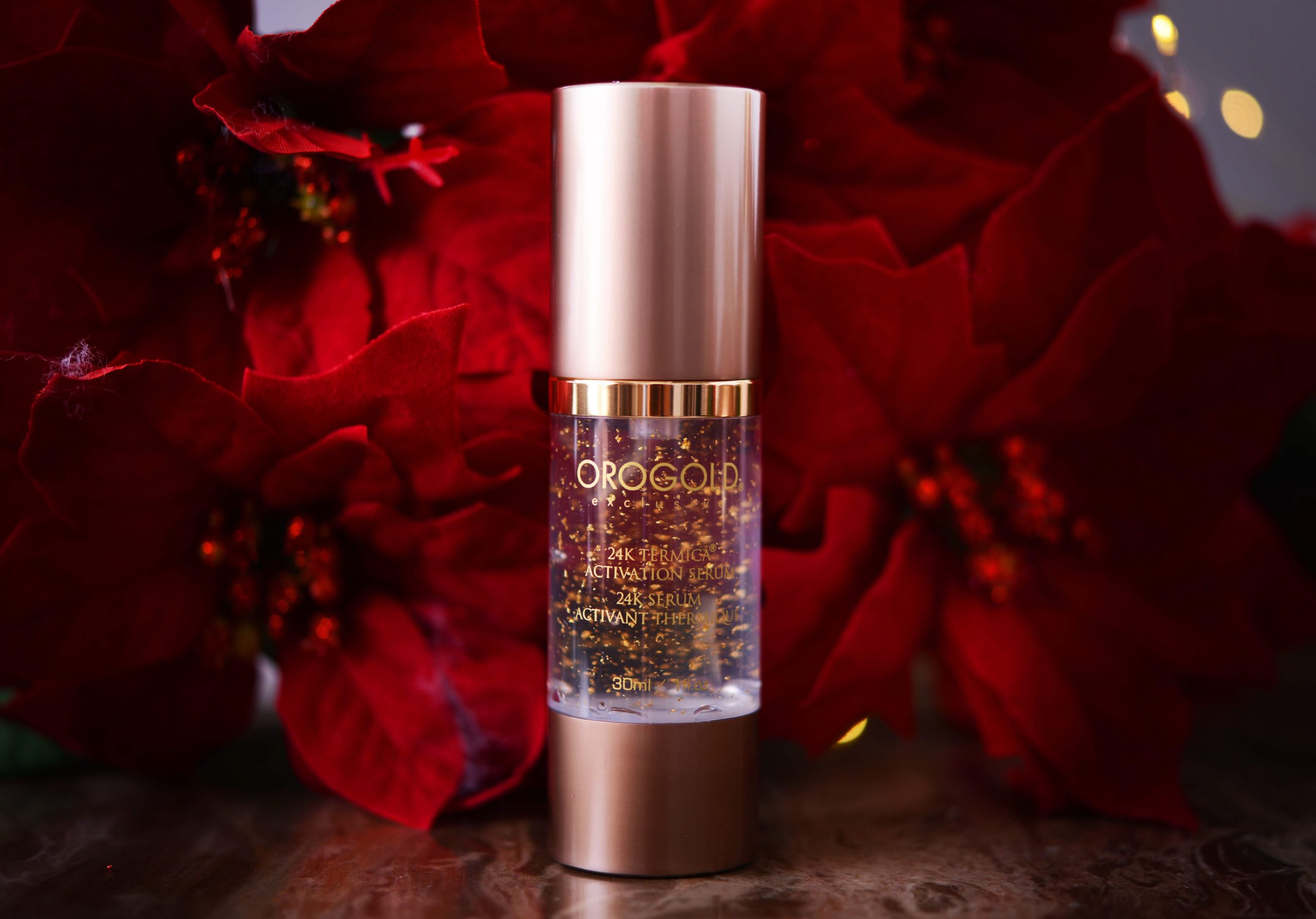 Gel-type formulas like the 24K Termica Activation Serum are a great match for oily skin. Because gel formulations are light and sink in easily, the 24K Termica Activation Serum's gel consistency serves as an ideal base for the skin-enriching gold particles within the product.
To complement gold's skin-defending benefits, the product also includes:
Witch Hazel Extract

Green Tea Extract

Seaweed Extract
All three of these ingredients are commonly found in formulations for oily or acne-prone skin due to how they leave the skin looking matte.
24K Termica HD Solution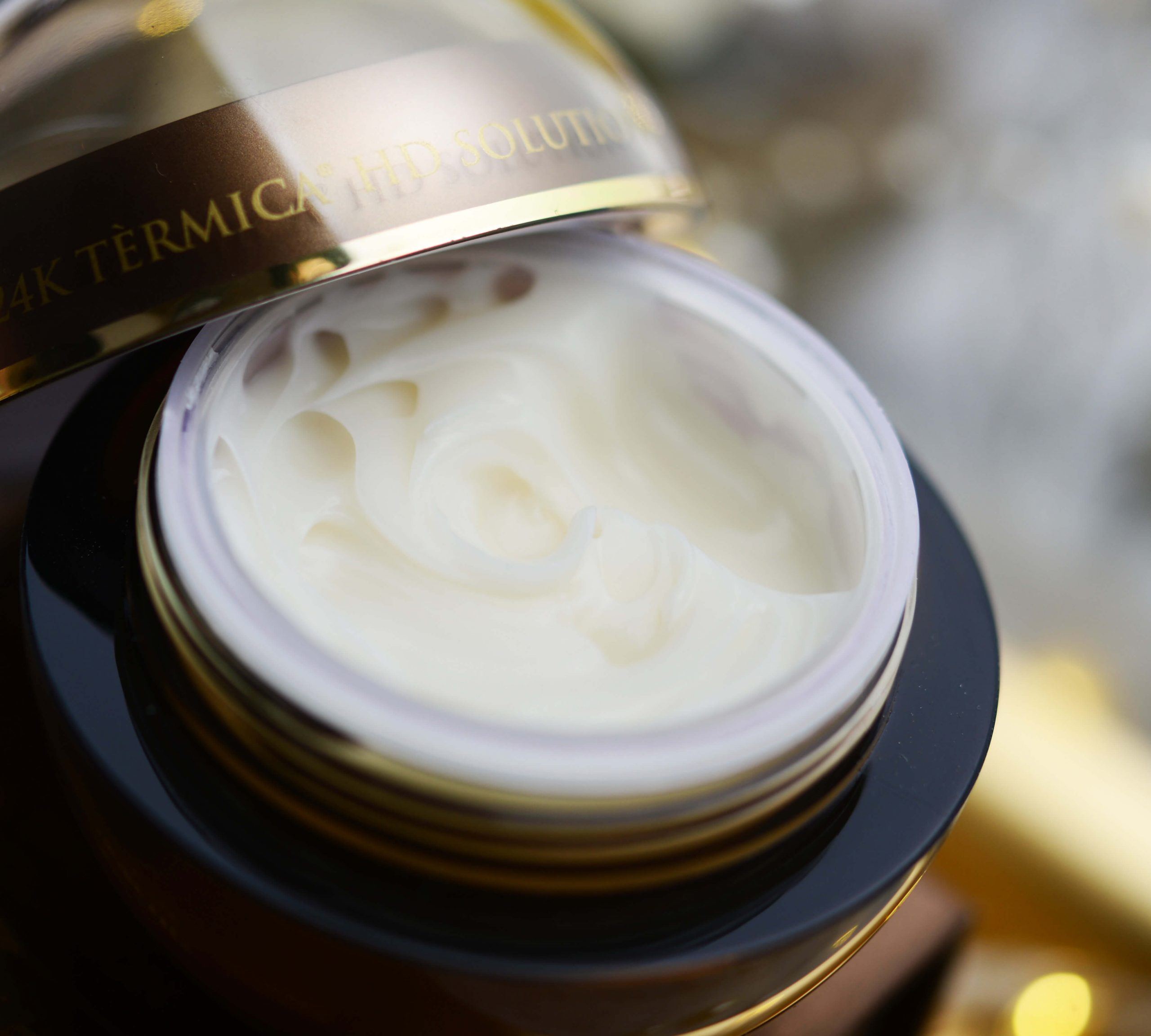 A follow-up to the Activation Serum, the 24K Termica HD Solution contains Vitamin A and Cucumber Extract. Both of these ingredients are a goldmine of benefits for oily skin.
By combining these ingredients with Glycerin and Sodium Hyaluronate, the 24K Termica HD Solution helps oily skin achieve that balance of feeling well-moisturized — but never greasy. Upon application, this formula smooths the appearance of lines and mattifies the skin, also making it work as a great makeup base.
Normal Skin
Normal or eudermic skin is the sweet spot of all skin types. Neither too oily nor too dry, this skin type is not prone to breakouts, sensitivity, or flaking.
Those with a normal skin type are often considered the lucky ones because of their well-balanced skin condition. However, nothing comes easy in skin care — and even these folks need to work to maintain what they have.
This is where gold products' skincare comes in.
Pure gold is beneficial for every skin type — even normal skin. It'll leave your skin looking better balanced.
If you have normal skin, here are some of the gold-infused skincare products you can include in your skincare routine:
24K Cryogenic Diamond Gommage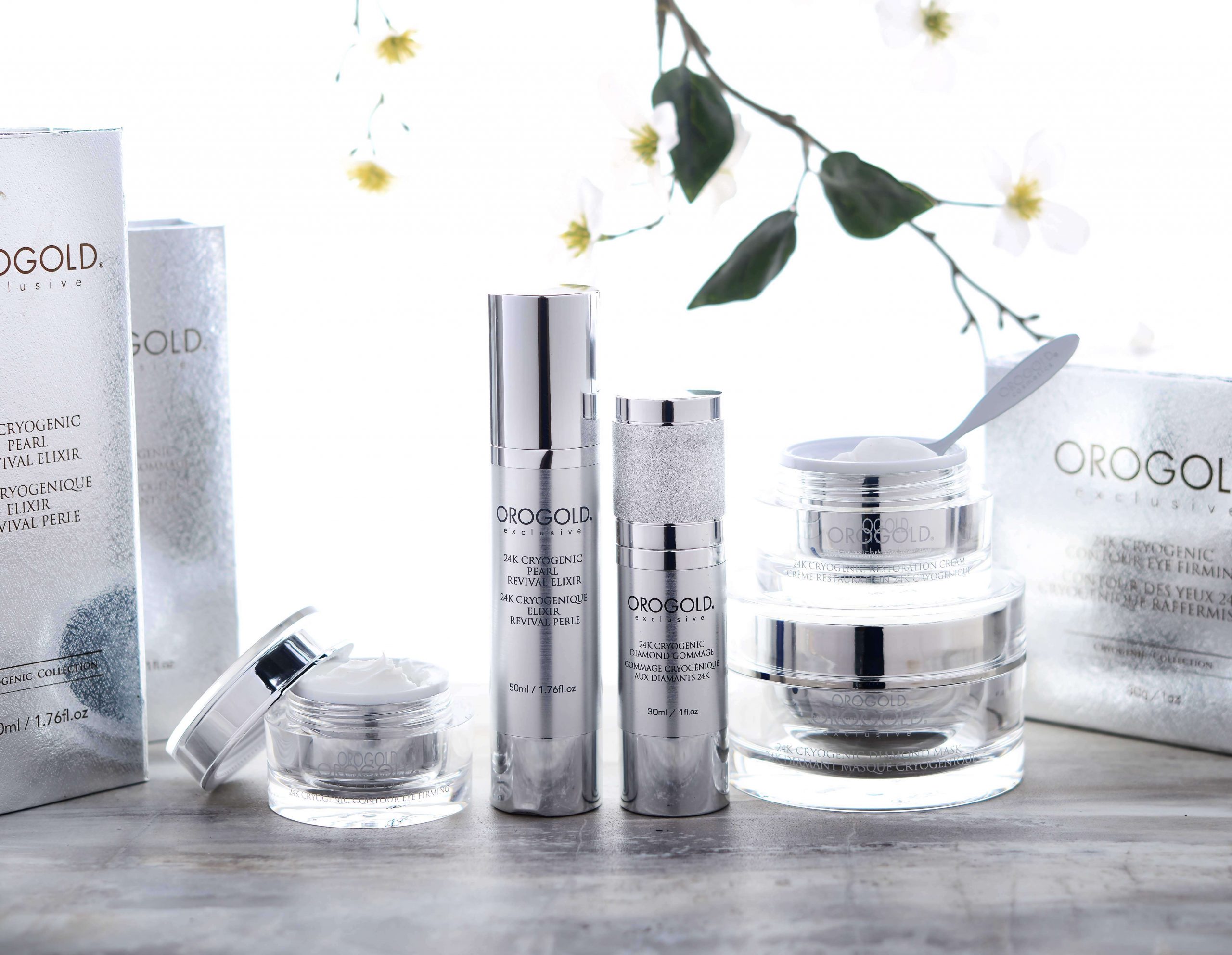 No matter how balanced or seemingly smooth your skin may look, there's always room for a little exfoliation. By ridding the skin's surface of dead cells and debris, you uncover a fresh layer of cells and allow products to penetrate more effectively.
OROGOLD's 24K Cryogenic Diamond Gommage is a gentle yet effective exfoliator for normal skin types. The word "gommage" comes from a French word that means "to erase"—a fitting name for a product that diminishes all the unwanted cells from the surface of the skin.
Feeling soothing as it sloughs, this product combines coconut-derived proteins with Green Tea Extract and popular K-beauty ingredient, Centella Asiatica.
24K Advanced Facial Mask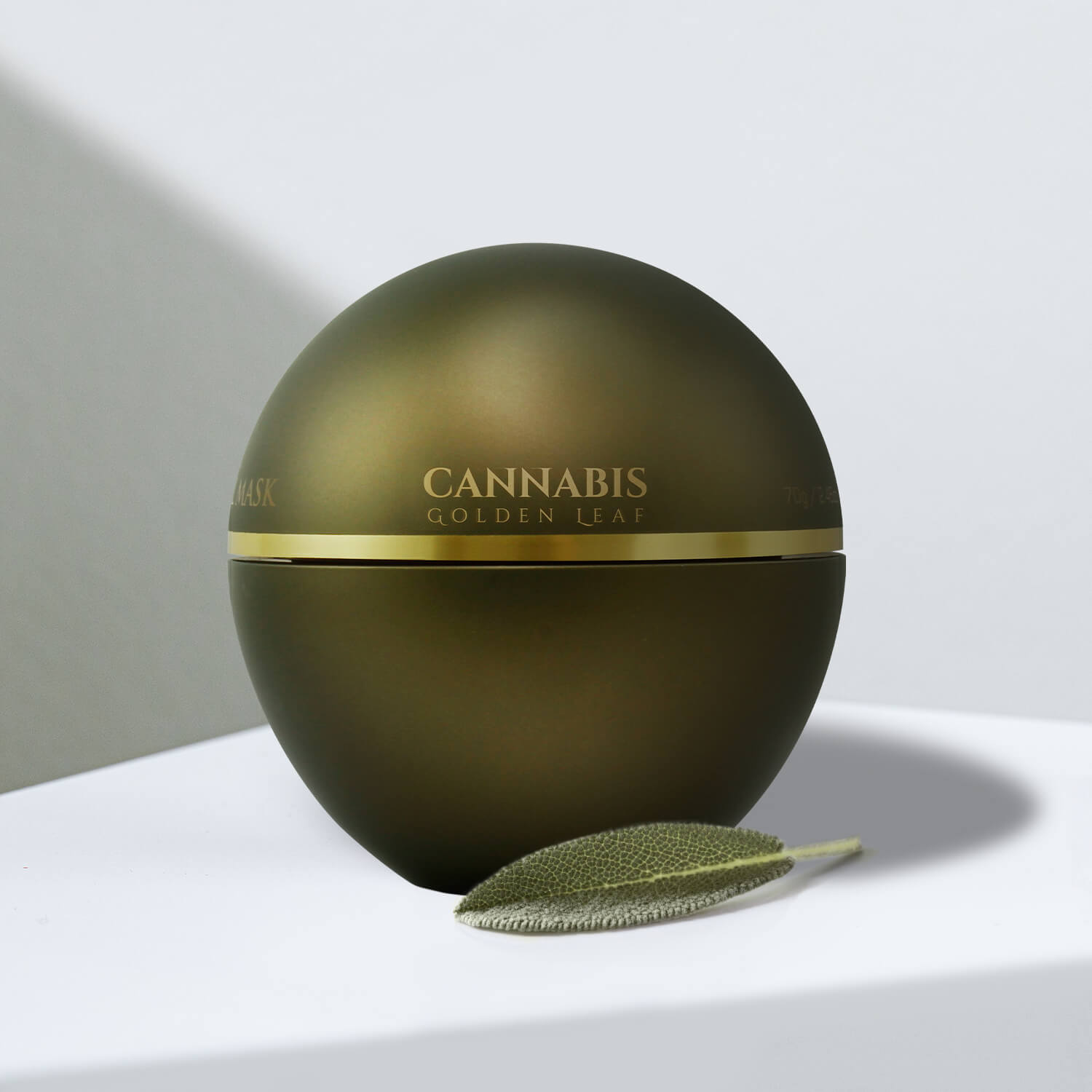 While Hemp Seed Oil remains controversial in some parts of the world, it is the key ingredient behind one of OROGOLD's gold products skin care lines.
Hemp seed oil brings a host of benefits to the skin. It gives the skin a hydrated and supple feel.
In the 24K Advanced Facial Mask, it is used in a creamy, gold-infused formula to restore the look of elasticity and firmness.
Sensitive Skin
Everyone gets a little red or itchy at times, but there's a skin type dedicated to people who are especially susceptible to sensations like itchiness, redness, flakiness, or burning. Those who suffer from skin conditions like rosacea often fall under this skin type as well.
Sensitive skin can be caused by genetic, environmental, or external factors like over-exfoliation. Given this, the key to dealing with sensitive skin is this: be gentle. Exposure to ingredients that are too harsh on the skin will not only trigger a breakout but may cause pain as well.
One of the benefits of a gold products skincare routine is that your skin will feel soothed. 
Here are some gold products skincare that is gentle enough for sensitive skin:
24K Purifying Toner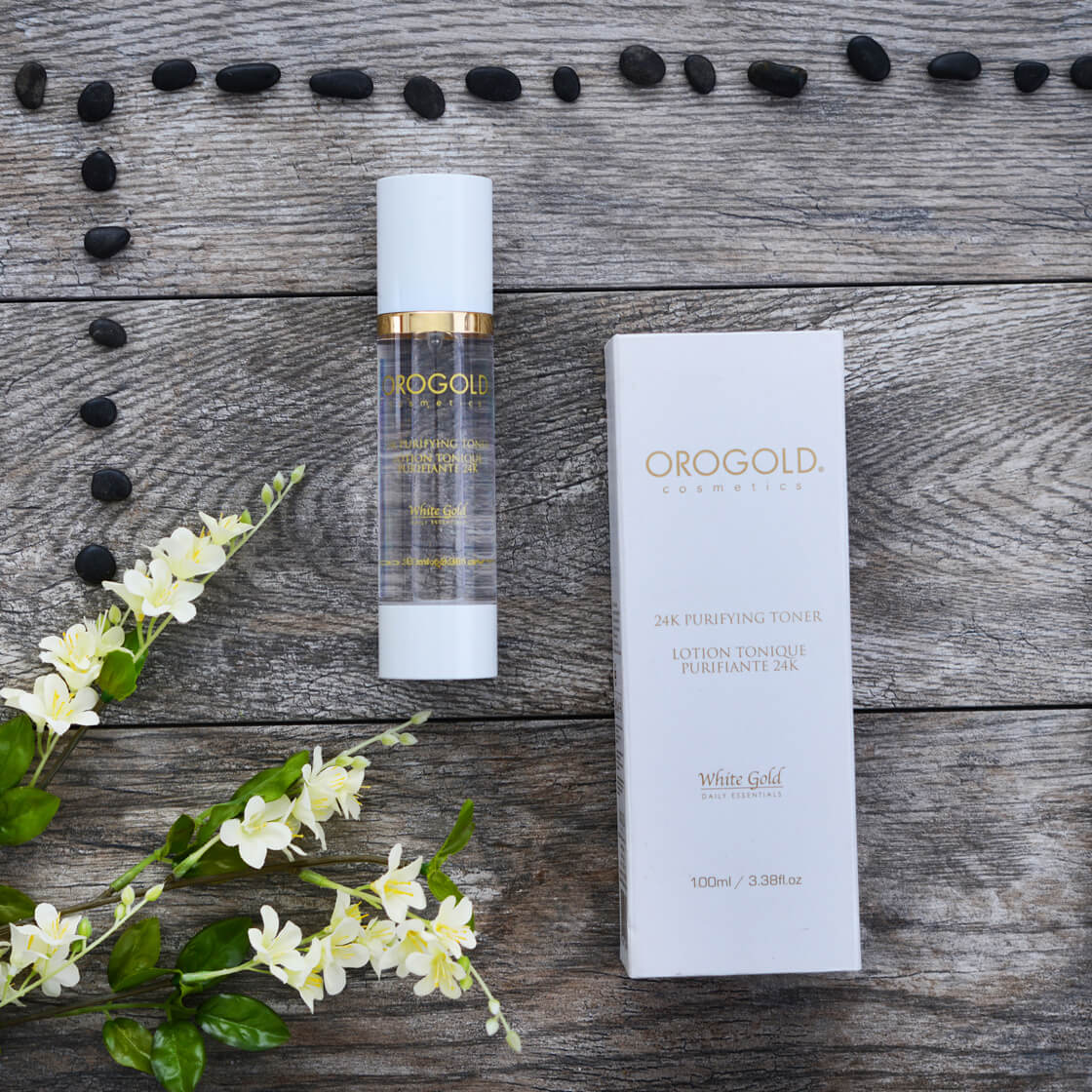 Depending on the product you use, your skin may feel tight, tingly, or dry after cleansing. The OROGOLD 24K Purifying Toner can help reduce this sensitivity by replenishing lost moisture with:
Aloe Vera Juice

Cucumber Extract

Allantoin
In the process, the toner also picks up the remaining dirt and debris left on the skin post-cleanse.
24K Skin Tone SPF 30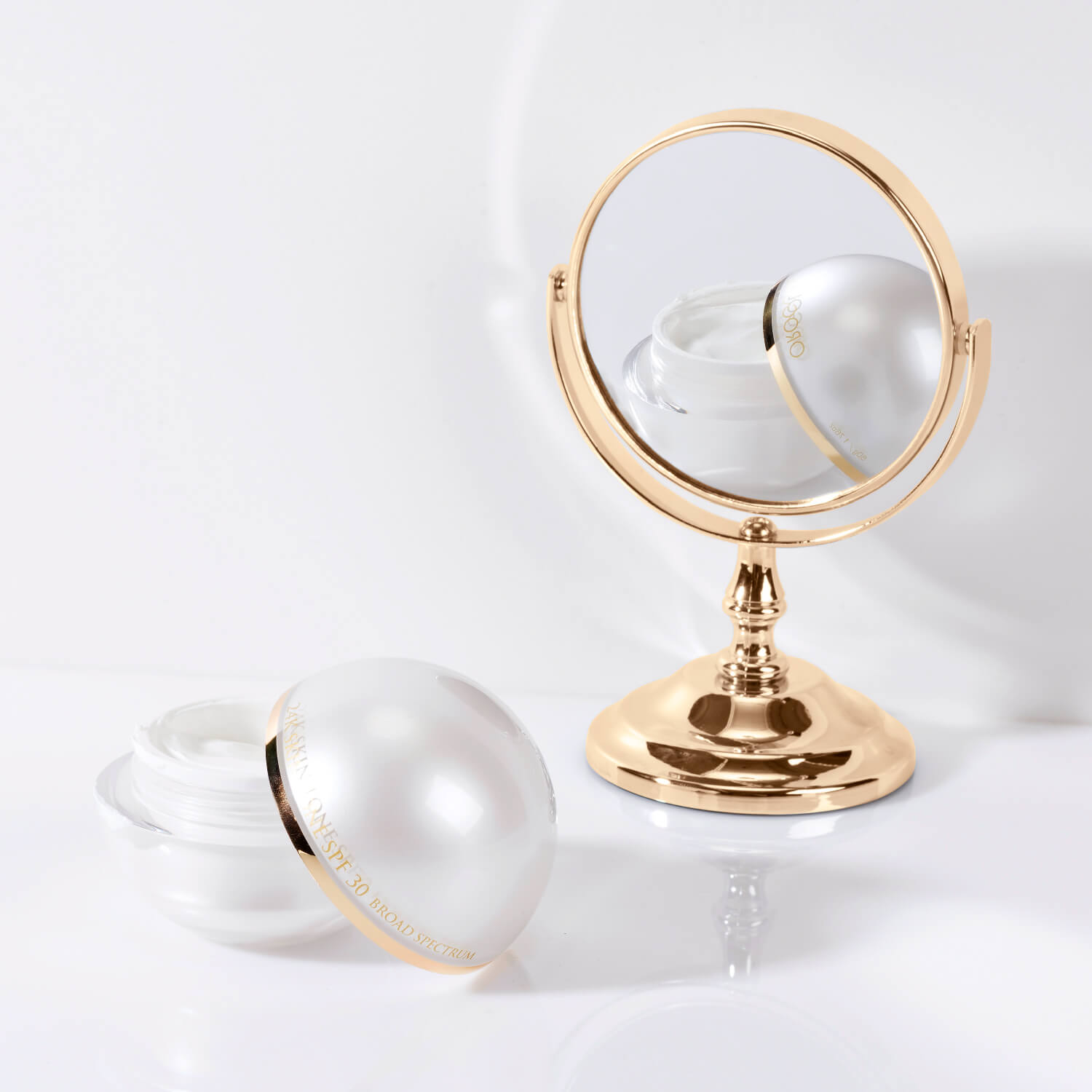 We often hear about how temperature, makeup, or abrasive skin care can cause sensitivity, but there's one trigger we need to talk about more often: UV rays.
It's a well-known fact that ultraviolet rays are the leading cause of aging. However, those with sensitive skin need to take extra care under the sun. Prolonged exposure can lead to the appearance of hyperpigmentation, spots, burns, or in extreme cases, skin cancer. Finishing your routine with a layer of sunscreen isn't optional, but a necessity.
The 24K Skin Tone SPF 30 sunscreen from OROGOLD strikes a balance between gentleness and protection. A broad-spectrum sunscreen, this product neutralizes UV rays while rehydrating the skin. Its formula is also lightweight and non-greasy.
Mature Skin
Aging is natural, and it comes with its fair share of physical changes. The regeneration process of our skin slows down, UV radiation takes its toll, and signs of mature skin begin to show through. These include:
Prominent wrinkles

Deeper lines

Age spots

Slacking, sagging skin
As inevitable as getting older may be, there are ways to slow down the visible signs that accompany the aging process. One such way is including gold products in your skin care routine.
However, gold alone is not enough, but these products combine it with everything else your skin could possibly need:
24K Caviar Elastin Restoration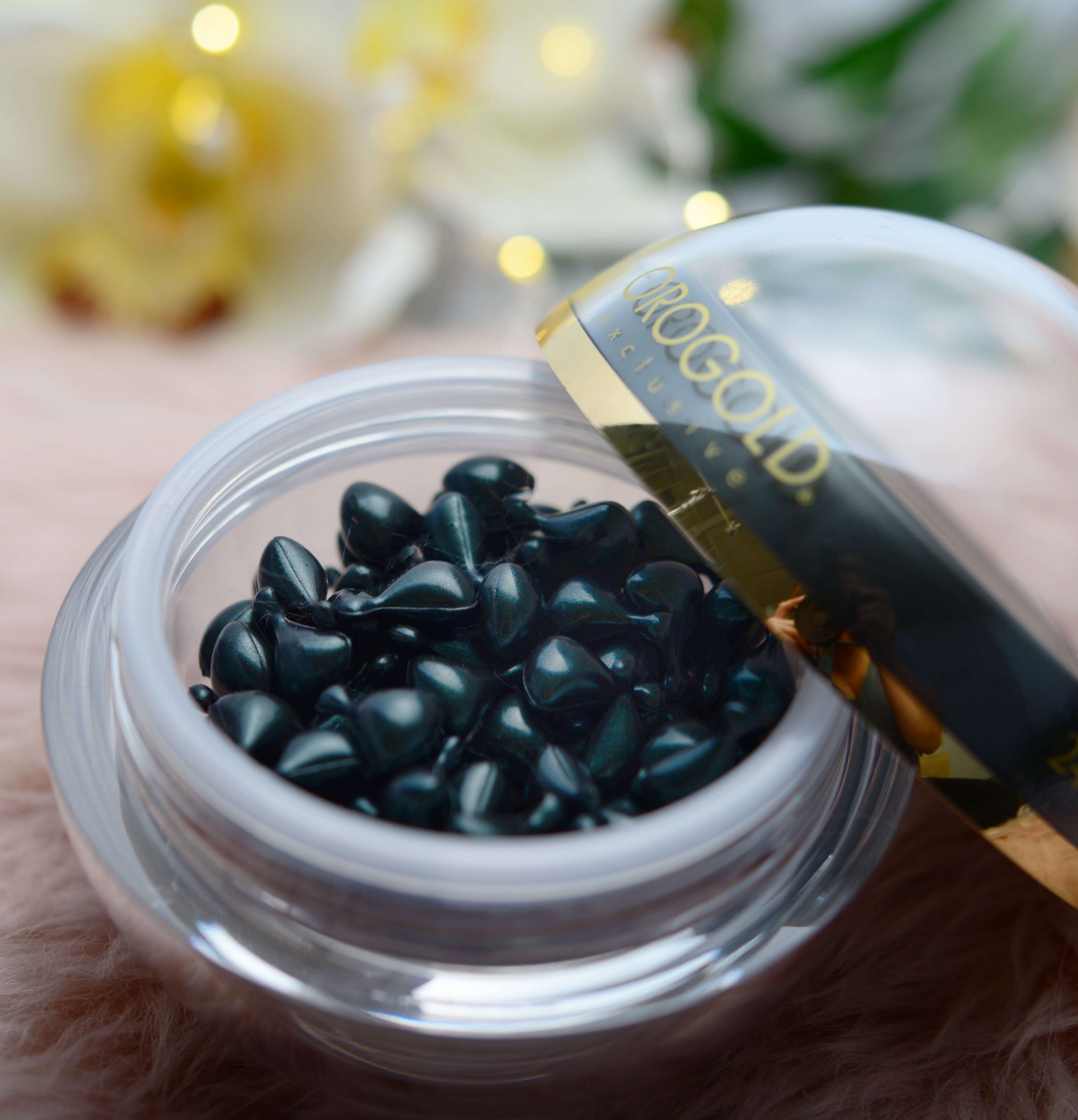 Mature skin also suffers the loss of radiance. This leads to dull-looking skin, which can cause one to appear tired or washed out. 
OROGOLD's 24K Caviar Elastin Restoration is a serum that will restore the look of radiance. Encapsulated in mini silica capsules, one to two capsules a week can help plump and hydrate the look of your skin for a rejuvenated appearance.
24K Multi-Vitamin Night Nourishment + Retinol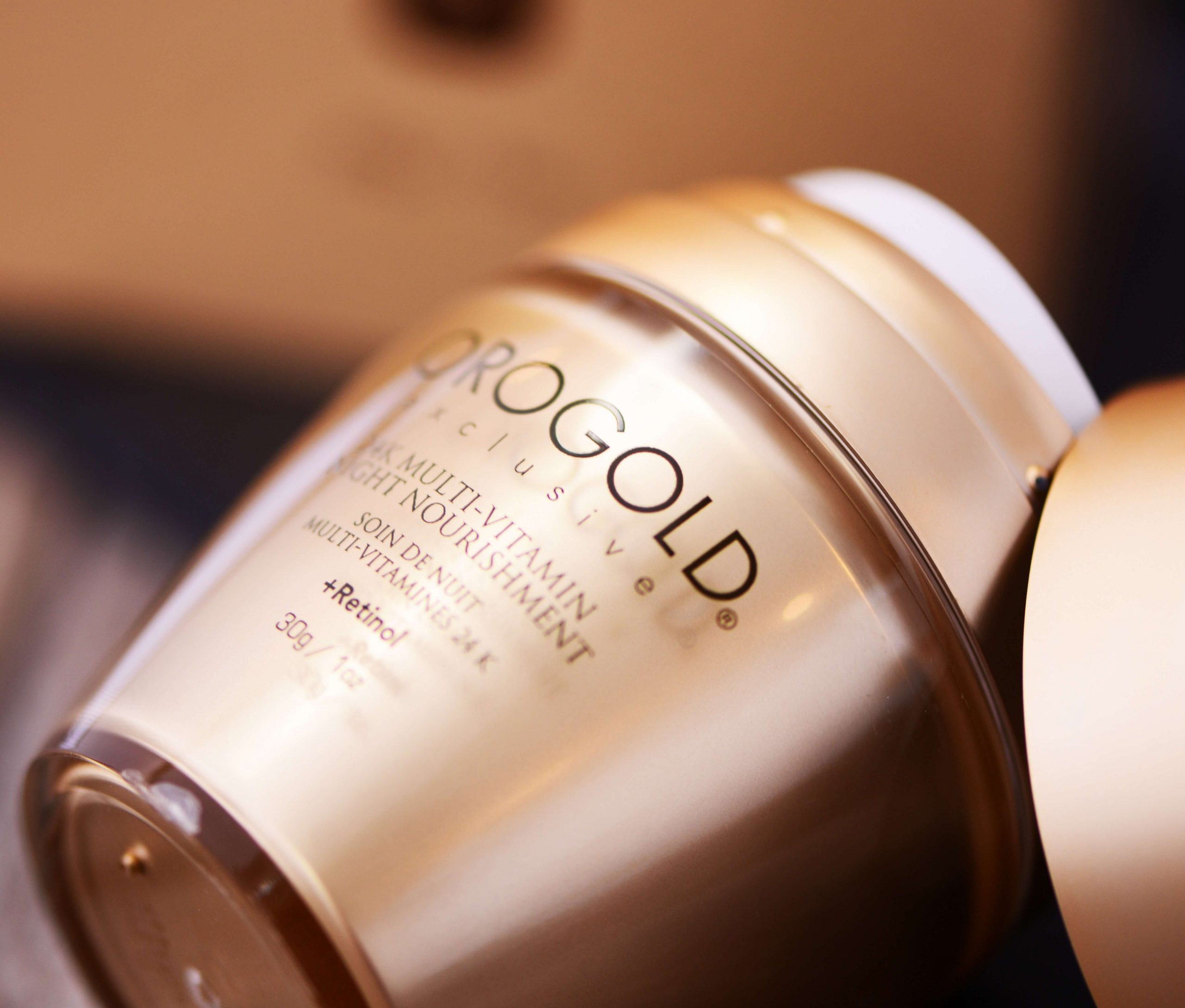 Designed for nightly use, the 24K Multi-Vitamin Night Nourishment + Retinol is a potent moisturizer.
Retinol, a form of topical Vitamin A, is known to reduce the appearance of fine lines and wrinkles. 
Depending on the strength and concentration of a product, Retinol may need to be introduced gradually. However, like all of OROGOLD's gold products skin care, the 24K Multi-Vitamin Night Nourishment + Retinol is carefully formulated.
By combining Retinol with ingredients like Vitamin E and Green Tea Extract, this moisturizer is kind enough on the skin to be used every night.
24K Anti-Aging Eye Serum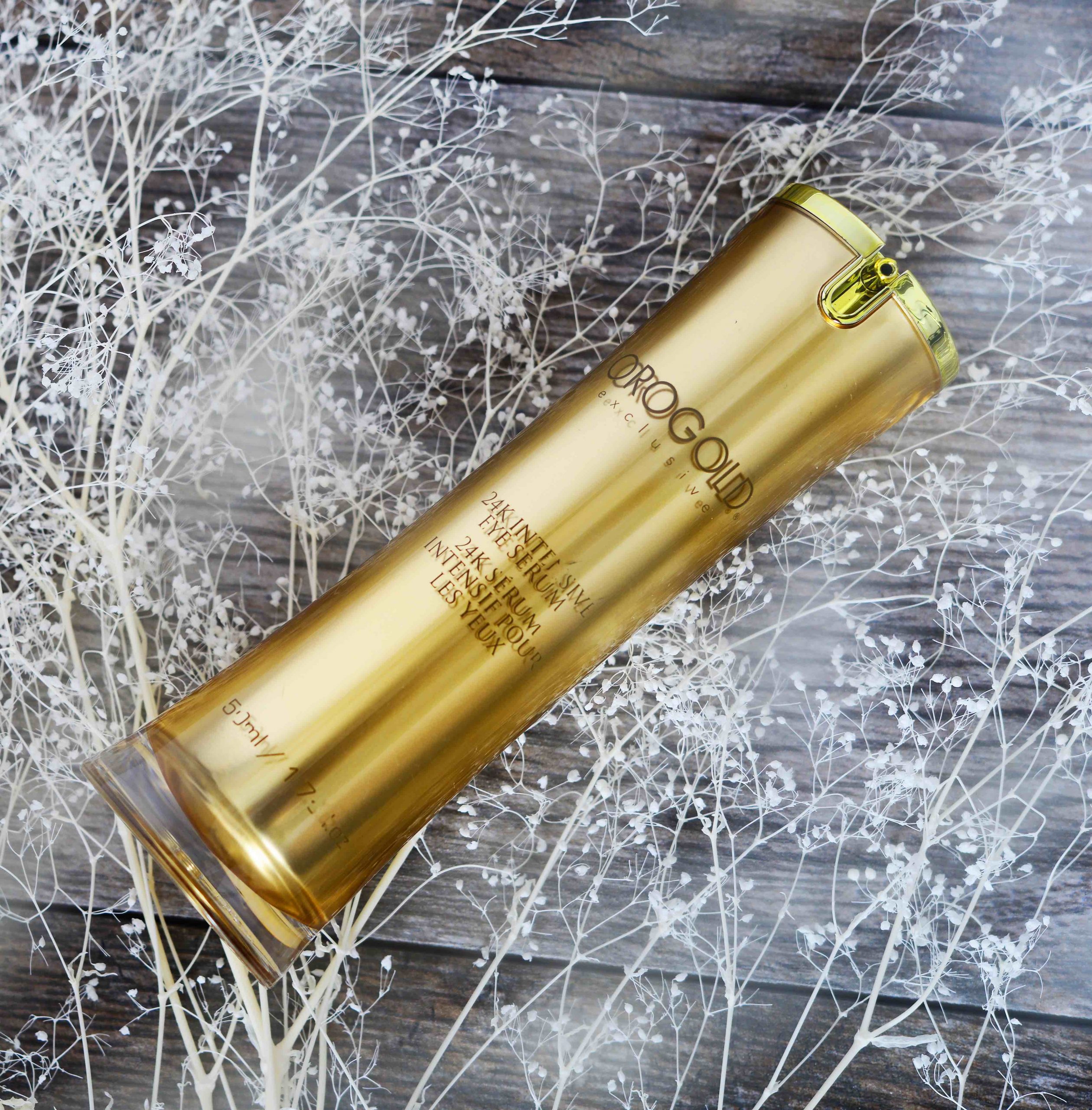 Because of its thin skin and fewer sebaceous glands, the eyes are one of the areas that are more prone to wrinkles. This is why visible signs of aging, like darkness, puffiness, and fine lines, are especially noticeable in this area.
With Vitamin C and Palmitoyl Oligopeptide, a blend of amino acid-rich fatty acids, the 24K Anti-Aging Eye Serum firms up the look of the delicate skin that frames the eyes. With continued use, this silky-textured serum will leave your eye area looking smoother and tighter.
No matter where you fall on the spectrum, you can rest assured that OROGOLD has a gold skin care product that can work seamlessly with your skin type.