The Secret to Effective Exfoliation
Posted on May 9, 2021
Exfoliation can sometimes sound intimidating when you're new to the skincare game. But anyone who loves pampering their skin to give it a gorgeous glow can tell you that it's the secret to a smooth, radiant, blemish-free complexion.
It's challenging to get into it when you're just starting out, especially with all the confusing things you hear online. Some say exfoliation can irritate your skin when it isn't done properly, others cry out that a few scrubs are bad for the environment, while most rave about it and think it's non-negotiable.
And then there's the trouble of picking out the exfoliator that is best for you. There are a plethora of options out there. Should you get that soothing, purifying cornmeal scrub you've always wanted to try, or a more luxurious, gold-infused vitamin C gel that sheds off dead skin with minimal effort from your end?
Today, we'll talk about the ins and outs of exfoliation and why it's needed to make your skincare routine more effective. We'll also let you in on a little OROGOLD 24 Deep Peeling review so you can take a peek at what makes our holy grail exfoliator tick.
First of All, What is Exfoliation?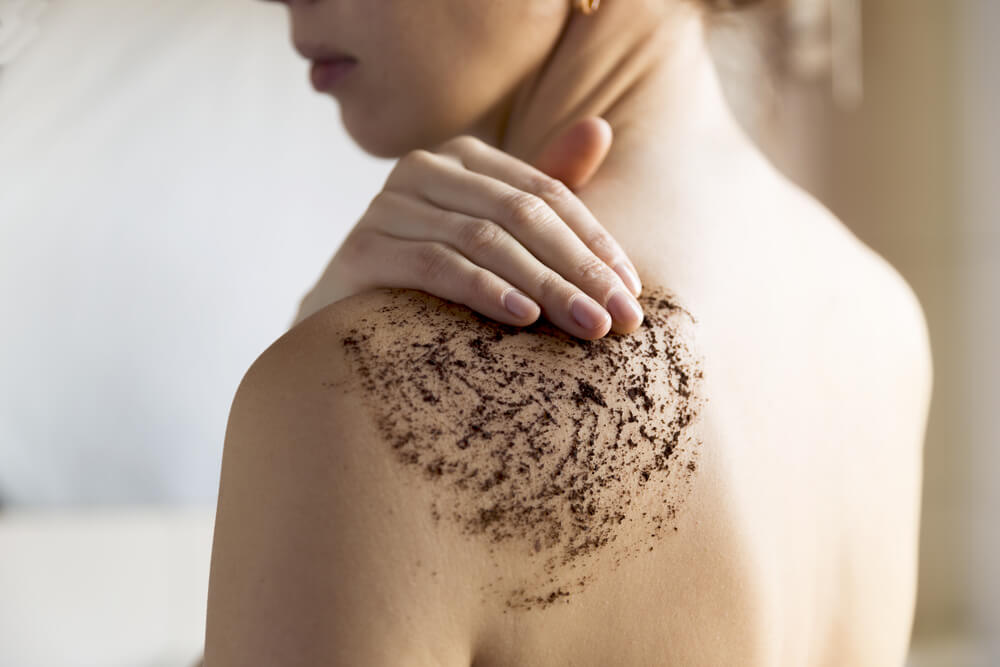 Essentially, exfoliation is the act of sloughing off dead skin cells that have built up on your skin. This process reveals healthier, newer skin underneath that is brighter and more rejuvenated.
See, your skin regenerates on its own and sheds the older layers of skin every 28-40 days. Skin cells are produced in the deeper layers of your skin, and over time, they reach the outermost layer called the epidermis.
When new skin cells grow, they push the older, dead cells out of the epidermis so that you're left only with fresh, renewed skin. This process is commonly referred to as "cell turnover."
Exfoliating with scrubs and acids in your skincare routine merely speeds up the cell turnover process. It hastens the shedding of dead skin to make room for your brighter, healthier complexion waiting underneath. More on that later when we dive deeper into our OROGOLD 24 Deep Peeling review.
Because exfoliation helps out with cell turnover, you can call it a collagen stimulator. And we all know that collagen is a must for plump, taut skin that always looks youthful. Given this, exfoliating is a must if you're building up an anti-aging skincare regimen.
Why Is Exfoliating Important to the Skin?
Since exfoliating washes away dead skin that makes your skin look duller by the day, it makes your skin look clear and glowy. But that's just one of the benefits of exfoliating your skin.
Exfoliating is also fabulous for unclogging congestion in your pores. Scrubs and exfoliating acids either push out or dissolve the stubborn sebum clogging your pores. This prevents acne breakouts or a build-up of blackheads. So it's also key in leaving your skin blemish-free.
This single step also helps empower your entire skincare routine. Why? Because dead skin cells form something like a barrier when they're just sitting on your face. That means that your expensive creams and serums are likely not penetrating your skin properly.
By exfoliating, you unstick these dead cells to turn your skin into a clean, blank canvas that can drink up all the good ingredients from your skincare routine, making your products more effective.
And if you have dark spots and an uneven skin texture due to acne scarring, you'll be happy to know that exfoliators can help with that too. It smooths down your texture by getting rid of the dead skin cells. This makes your complexion look and feel more even.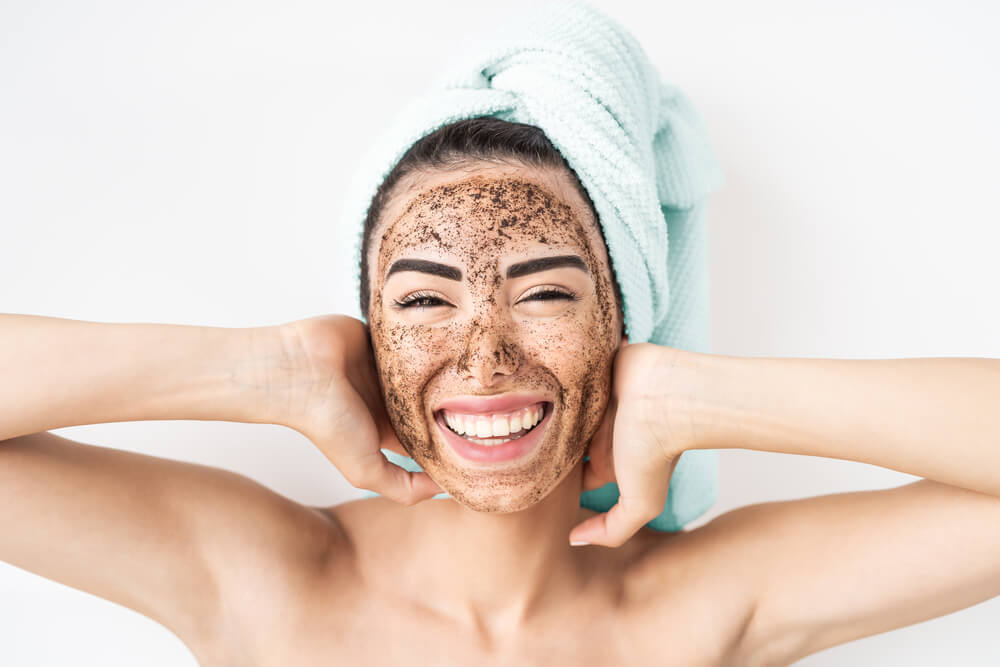 The Two Kinds of Exfoliation
There are tons of exfoliating products in your typical beauty store aisle, but not all of them work the same way. All exfoliators fall into two main types: physical and chemical exfoliators. Technically, their end goal is the same—to get rid of dead skin. But their plan of attack differs immensely.
Physical Exfoliators 
First, let's talk about physical exfoliators. These are the ones with microbeads, fine grains, and particles. You use them to manually scrub off dead skin lying on your skin's surface. You could also use loofahs and body brushes to exfoliate as well.
Some physical exfoliators use plastic microbeads and get a bad rap for not being eco-friendly. Using bigger exfoliants like shells and seeds can also be too abrasive and irritating on the skin. So when shopping for scrubs, look for fine, water-soluble grains, like salt and black sugar.
Chemical Exfoliators
Next up, we have the more sophisticated chemical exfoliants, which increase cell turnover by dissolving the dirt and debris on your skin with gentle acids. They eliminate dullness by unsticking the bonds holding dead skin cells together on your complexion.
And don't be intimidated by the word "acid"! It sounds a bit scary, but they're very effective and gentle on the skin. Tons of acids can chemically exfoliate the complexion, from glycolic acid to salicylic acid.
A Gentle, Luxurious, Effective Way to Exfoliate Your Skin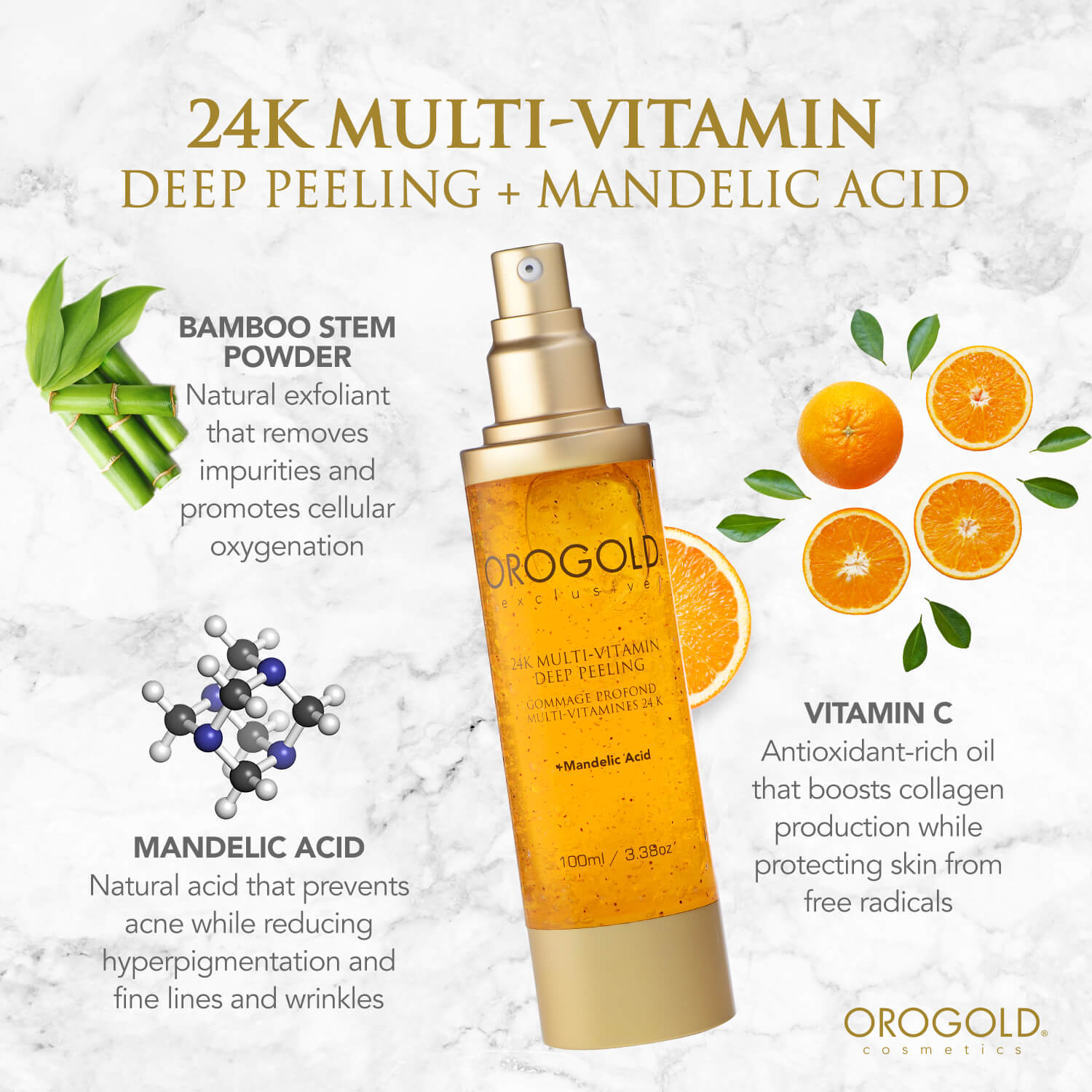 Your chemical exfoliant must be gentle and friendly to sensitive skin. Never buy one of those exfoliators that will peel your delicate skin off and tug at it without leaving any real effect on your skin.
That's why we developed the 24k Multi-Vitamin Deep Peeling — a lush and opulent gel that is as beautiful as it is effective at exfoliating your skin.
It's made with mandelic acid and vitamin C, which brighten the skin and eliminate dead skin cells. There's also some fine bamboo stem powder infused in the formula for gentle polishing and manual exfoliation without the risk of being too rough and abrasive on your complexion.
For a touch of luxury and lavishness, it's infused with gold. This adds some glimmer and a lively sparkle to your skin.
The best part is that it's a wash-off peel. Just apply it to your skin, leave it for a few minutes, and then rinse with water. None of those harsh and drying masks that you need to literally pull and peel off your face, leaving your skin irritated.
This peel leaves your skin feeling fresh and looking radiant and luminous. Go ahead and check out any OROGOLD 24 Deep Peeling review online and see how loyalists rave about its effects.
How the Star Ingredients in the OROGOLD 24K Deep Peeling Work Together
We can't stop raving about this product because of its plethora of powerhouse ingredients! And this OROGOLD 24 Deep Peeling review won't be complete without putting them under the spotlight for everyone to appreciate better. So how do they all work together?
First up, we have mandelic acid — an alpha-hydroxy acid known to be gentler than most acids, making it perfect for sensitive skin that needs a boost of radiance. It also hydrates the skin and even lightens dark spots as you exfoliate, leaving your skin adequately plump and clear.
Mandelic acid also promotes the healthy production of collagen, keeping wrinkles and fine lines at bay to keep you looking young and fresh.
Our peel also has vitamin C — everyone's favorite juicy antioxidant—to give your skin more glow. Vitamin C's antioxidant properties also help protect your skin from aggressors like pollution and sun damage.
It's also known to strengthen your skin to make its regeneration process more efficient. Vitamin C promotes skin-healing, encouraging and speeding up cell turnover, which is perfect for exfoliation.
If there's anything you should take away from this OROGOLD 24 Deep Peeling review, it's that it comprises of hardworking ingredients that are potent yet suitable for all skin types. You get exfoliating power, antioxidant protection, and brightening properties in one bottle.
Why Opt for Chemical Exfoliation Over Manual Exfoliation
Even if this OROGOLD 24 Deep Peeling review makes it sound impressive, you may be asking…
Why opt for a gentle get and sit and wait a while for noticeable results if you can grab a grainy scrub and scruff away the dead skin yourself?
Well, for many reasons, chemical exfoliation is better than physical exfoliation. Yes, physical scrubs give you instant gratification, but they can be super abrasive on your skin.
If you're too rough with your application, you can create small wounds in your skin called micro-tears. This ultimately damages your skin barrier, making you more susceptible to irritation and acne.
So while the acids in chemical exfoliants and peels sound scarier and more intimidating, they're actually gentler on the skin. Instead of roughly scrubbing away your dead skin, they merely dissolve it over time. They effectively do the same thing as your scrubs, just without the harshness.
What Happens to Your Skin When You Exfoliate Regularly?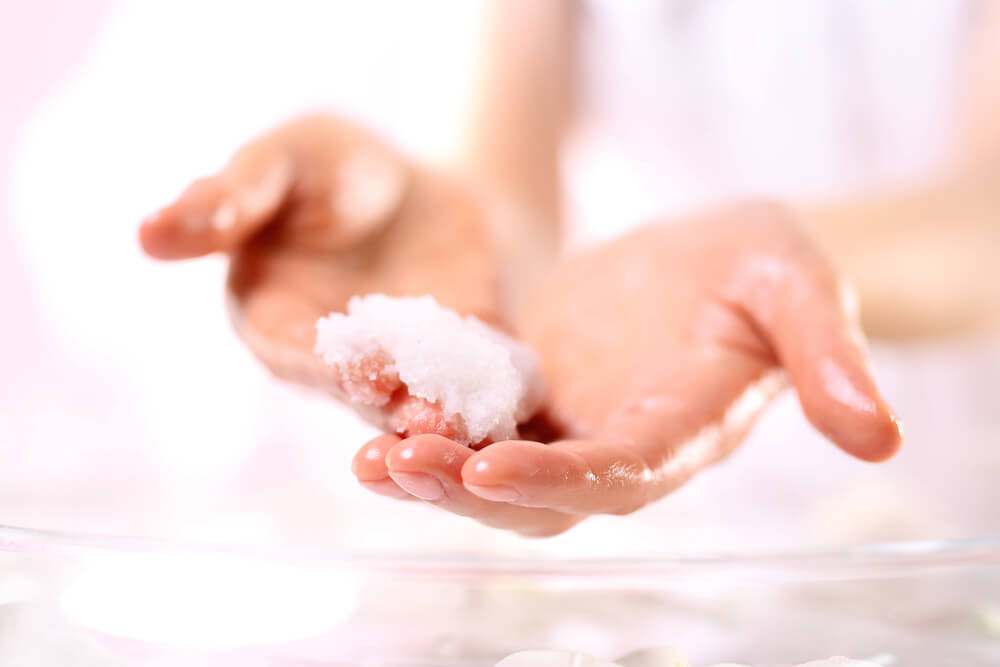 Incorporating an exfoliator into your skincare routine has amazing benefits in the long run. First and foremost, you'll always feel like your skin is clean and fresh, never clogged or congested. Because the exfoliating acids work to get rid of dead, dull skin, you'll always enjoy clear and luminous skin.
Chemical exfoliants also have anti-aging benefits that prevent the early onset of wrinkles and fine lines. This allows you to flaunt taut and firm skin for longer.
Take this OROGOLD 24 Deep Peeling review as a sign that you should treat your skin out to a luxurious exfoliating solution that will leave your skin feeling fresh and looking gorgeous.
Caution: Don't Over-Exfoliate! Why You May Regret It
Reading this OROGOLD 24 Deep Peeling review might tempt you to use the luxurious gel every day. After all, it promises glowing skin, right? But you should know that over-exfoliating your skin way too much can lead to a lot more harm than good.
When you exfoliate your skin too often, you could dry out your complexion, leaving redness and even more flakiness on your face. You might even notice some inflammation since you're essentially rubbing your skin raw by exfoliating too much when you don't need it.
You should only exfoliate your skin once or twice a week — any more than this is unnecessary. For those of you who are exfoliating physically or chemically for more than that, your skin is probably on the brink of intense irritation. If you keep up with over-exfoliating your skin, you could even develop red, patchy rashes!
Can you relate?
If you notice any of these over-exfoliation symptoms, stop your acids and scrubs right away and let your skin breathe a bit. When your skin barrier has recovered and doesn't feel sensitive and tender anymore, create a more appropriate schedule for your exfoliation.
Is Exfoliation Recommended for All Skin Types?
Yes, exfoliation is generally needed no matter what skin type you have.
Dry skin is probably the type of skin in the most dire need of exfoliation. This is because avid dehydration almost always leads to the issue of flakiness. And if you have dry skin, you know that flakiness does nothing but emphasize how parched your complexion is.
Without exfoliating your skin, all these flakes of dead cells can sit on your skin and accumulate. This leaves your skin looking rough, dull, and unkempt. This also renders your skincare products useless because of the blockage it causes.
That said, exfoliation is also beneficial to oily skin. When your skin produces a lot of oil and sebum, you're more prone to acne, blackheads, and whiteheads. Exfoliating with acids is a great way to keep these blemishes at bay and even fade dark spots left behind by previous breakouts.
Anyone can benefit from the magic of exfoliating. So, even if you have oily skin that doesn't battle with flakiness, you should still take this OROGOLD 24 Deep Peeling review to heart.
Conclusion
We know what you're thinking—exfoliation sounds like a lot of hard work, especially when you think about all the different types of exfoliators and what ingredients you should look out for. Hopefully, this OROGOLD 24 Deep Peeling review helps make things easier to digest.
It's really just a matter of informing yourself of what exfoliation does, what ingredients work for you, and what products will make you feel your absolute best.
Thankfully, the 24k Multi-Vitamin Deep Peeling does it all — anti-aging, shedding dead skin, brightening your complexion, and smoothing your skin texture, all while being gentle.
It's perfect for everyone, whether you have sensitive skin, need to do away with flaky dryness, or are trying to get rid of acne scars. It's a no-brainer exfoliator if we ever saw one. Just a couple of weeks with this holy grail gel, and you'll be flaunting plump, clear, glowy skin.