The Correct Way to Use a Scrub
Posted on August 30, 2021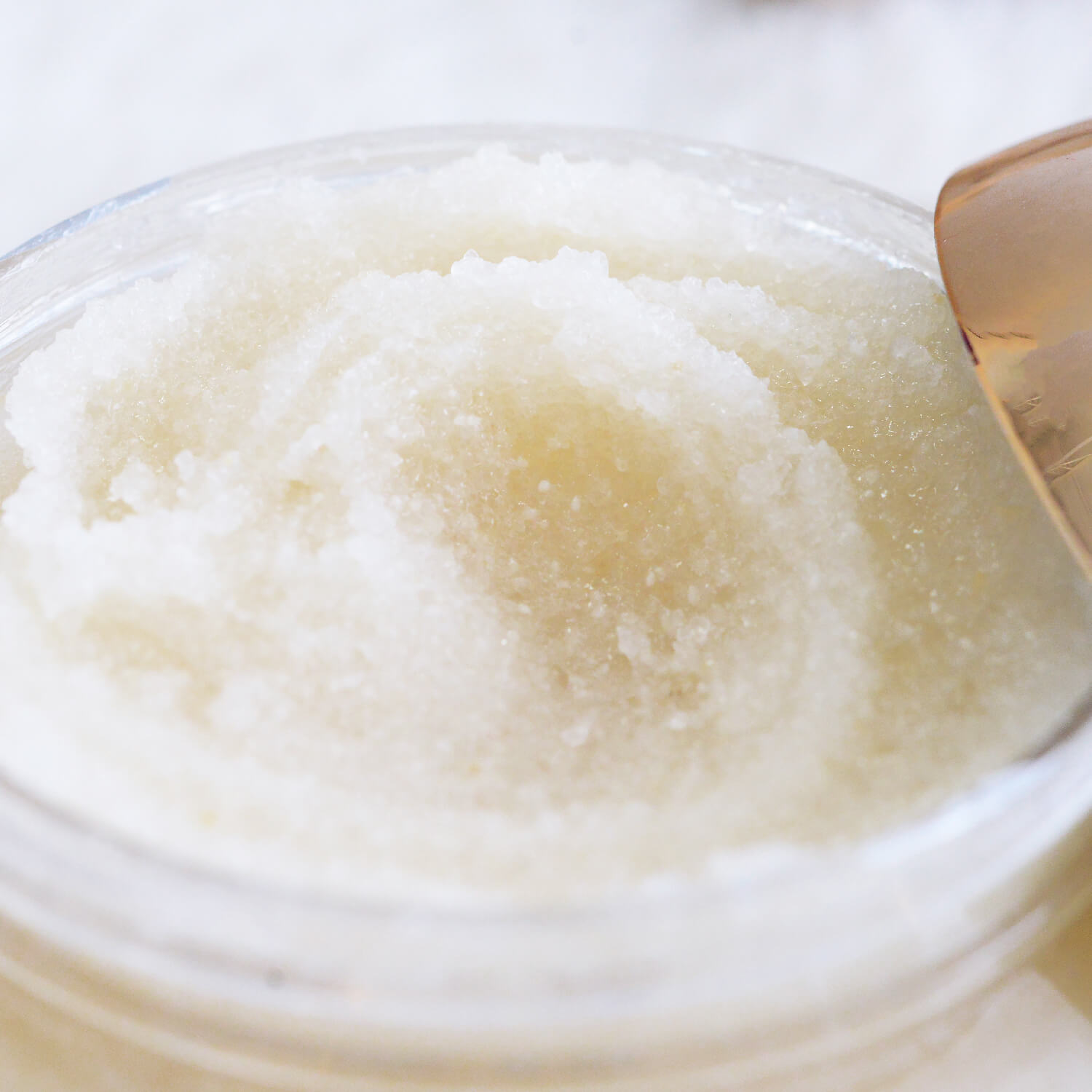 If you're a skincare enthusiast, chances are that you've used a scrub before.
Scrubs have been around for quite some time in the beauty industry, and they are instrumental in sloughing off all that dead skin and grime off your face and body.
Here at OROGOLD, our 24K Classic Body Scrub gives you the ultimate spa experience right from the comfort of your own home. This scrub gently but effectively removes your skin's outer layer, leaving it looking renewed.
The best part? It's gentle enough that you can use it on your facial skin as well. However, we also offer a few other exfoliating products too, so don't forget to also check them out.
Our gold scrub contains ingredients like glycerin, cucumber extract, and calendula extract that'll help revitalize the look of your skin, gently exfoliating without compromising your skin barrier. If you struggle with dull, dry skin, or need a pick-me-up, just grab this gold scrub because trust us, this bad boy does not disappoint. It's even enriched with luxurious 24K gold, perfect for that self-pamper sesh!
However, did you know that if you don't use a face scrub properly, it may result in more damage to your skin? Read on to learn more about the dos and don'ts of using a face scrub.
Why Do We Use Scrubs?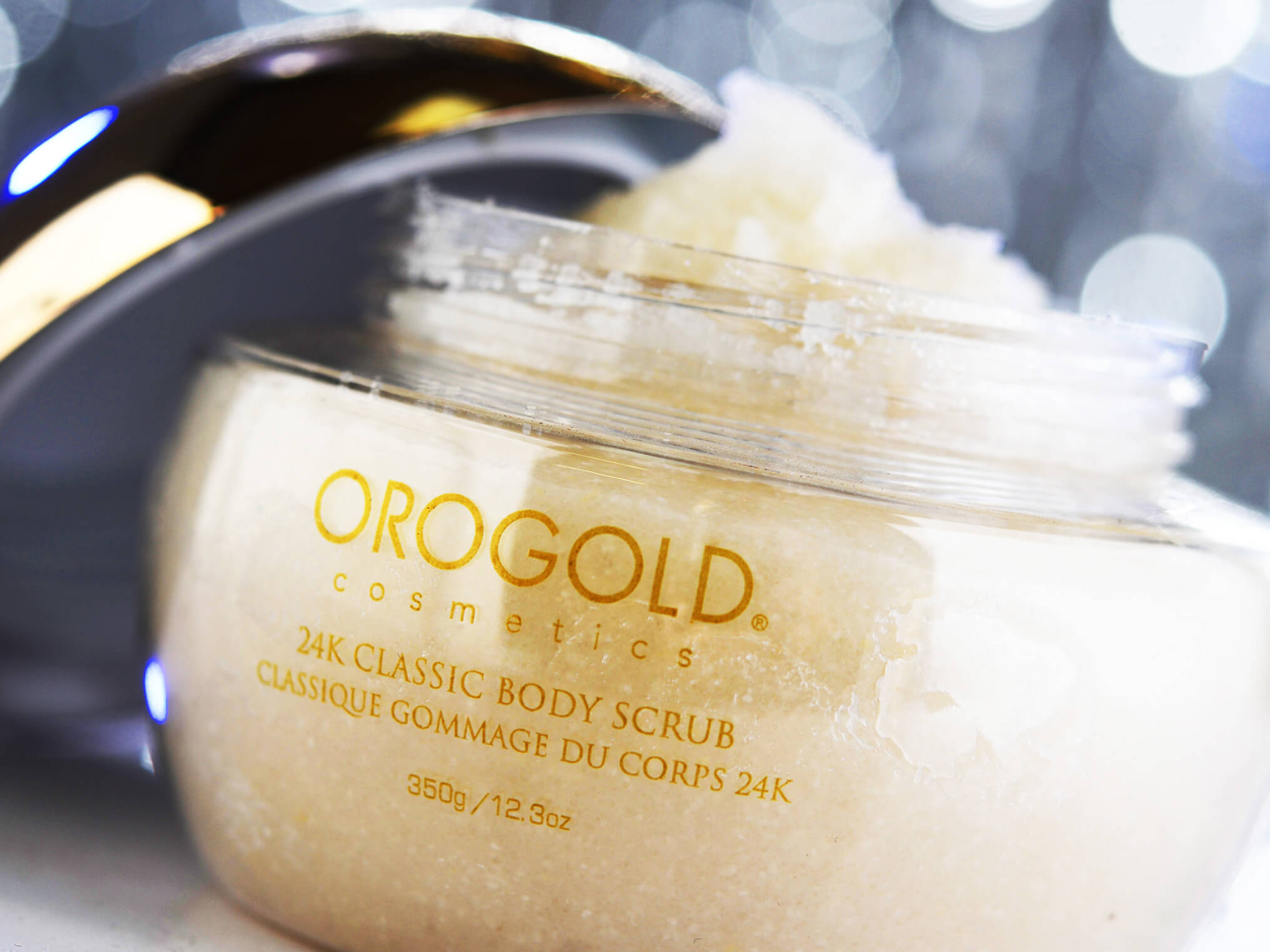 Body and facial scrubs are incredibly beneficial. By removing dead skin, they improve your skin's absorption of moisturizer. That way, any moisturizer applied after a good scrub will penetrate the skin more deeply.
Besides that, they unclog pores and keep ingrown hairs at bay. 
Body scrubs can aid in smoothening and evening out the look of your skin. If you don't remove dry skin, it causes your skin to feel rough to the touch, with a dull, cracked texture and appearance. You should have smoother and more even-looking skin after removing the dead, dry cells with our best-selling gold scrub.
When is the Best Time to Use a Scrub?

Face Scrubs
Scrubbing is a form of physical exfoliation, which is a tad different from chemical exfoliation. In general, chemical exfoliants can be used daily. On the other hand, using physical methods more than once a week may be too harsh.
Most experts would advise you to exfoliate two to three times per week. However, if your skin is delicate, you may only need to exfoliate every other week. Most people believe that just weekly exfoliation is enough for a newcomer, and it's a good place to start.
Apply the OROGOLD gold scrub to slightly damp skin and massage for 60 seconds in a circular motion over the entire face. To get the best results from a facial scrub, remember to not press hard on your skin, as this will cause irritation.  If you believe your skin could benefit from more exfoliation, use it for at least 90 seconds rather than applying more pressure. After rinsing, don't forget to apply toner, serum, and our 24K Deep Moisturizer.
Body Scrub
When's the best time to get exfoliatin'? Well, in the shower, of course!
It's preferable to use a body scrub while still in the shower immediately after washing to ensure that your skin is clean and ready to exfoliate. In general, you shouldn't use a body scrub every day or even every other day on your skin. This may result in dry or irritated skin.
Your skin type will determine how often you should apply a body scrub (or exfoliate in general). However, you shouldn't use OROGOLD's gold scrub more than twice a week. If you have sensitive skin, you should only use the gold scrub once a week.
Skin Types And Exfoliation Frequency
Since our skin type plays a major role in how much we should exfoliate and give ourselves a good scrubbin', here's a quick guide to that:
Mature Skin
When it comes to mature skin, try using a chemical exfoliant that is gentle two times per week. Redness or irritation should lead you to reduce the frequency of your use.
Enzymes or alpha hydroxy acid products are definitely recommended! You'll find a powerful yet gentle alpha hydroxy acid in the OROGOLD 24K Multi-Vitamin Deep Peeling + Mandelic Acid. This is a one-of-a-kind exfoliating gel that uses Mandelic Acid, vitamin C, and bamboo stem powder to gently polish skin without the use of harsh scrubs. Your skin will feel radiant and revitalized after using this peeling solution.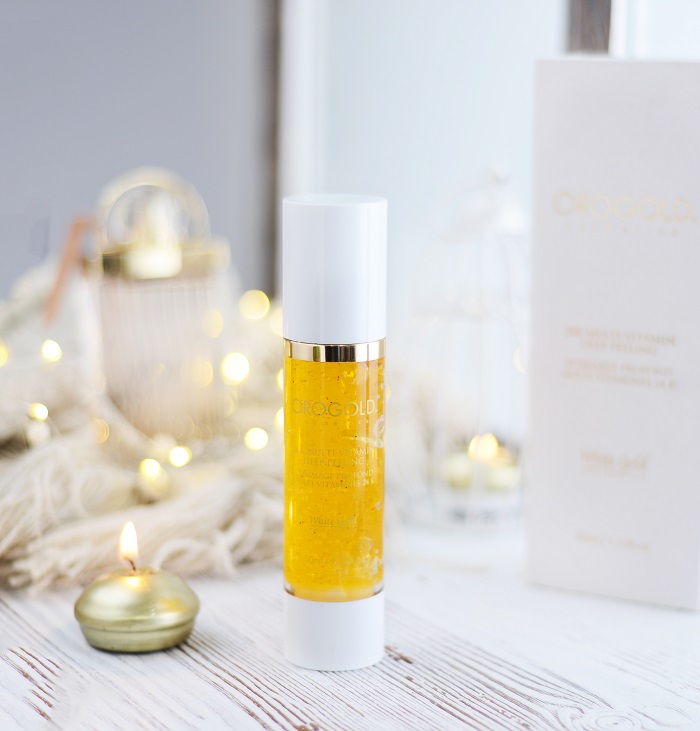 Combination Skin
Combination skin is probably the hardiest skin type around. You can go either way and even mix and match scrubs, acids, and enzymes.
If it's suitable for your skin, exfoliate two or three times per week.
Those with combination skin could try making ingredients like mandelic acid your BFF. Mandelic acid helps to remove excess oil from the face while remaining gentle enough to use on dry skin.
Besides the gold scrub, you could also try our 24K Multi-Vitamin Deep Peeling exfoliator.
Oily/Acne-Prone Skin
If your skin can tolerate it, those with an oily or acne-prone skin type can exfoliate the face two or three times per week.
Dermatologists also recommend using products that are oil-soluble, like salicylic acid.
BHA, or beta hydroxy acid, aids in unclogging pores without interfering with oil production. Not only can it prevent breakouts, but it can also treat them. Additionally, people with oily skin should try physical exfoliation to help remove any buildup that isn't oil or sebum.
Other than adding our gold scrub to your facial routine mix, you could also invest in this 24K Deep Facial Brush Set for some added exfoliation. Enhance your facial cleansing experience with this two-in-one system that exfoliates and guarantees proper dispersion of topical skincare treatments with an attachable soft bristle brush and a gentle silicone brush.
Dry/Sensitive Skin
Be cautious if you have dry or sensitive skin because harsh cosmetics and skincare can irritate the skin, causing it to become even more dry or sensitive.
Only exfoliate once or twice a week for these skin types.
An enzyme is the best exfoliator for those with extremely sensitive skin, and if you're on the dry side, lactic acid is your go-to exfoliant. That being said, you don't have to avoid physical exfoliants because sensitive skin types can handle physical exfoliation to a certain degree.
You could alternate your usage of the OROGOLD gold scrub with another one of our bestselling exfoliators, the 24K Cryogenic Diamond Gommage. This is a ground-breaking leave-on solution that exfoliates the skin's surface softly. This luxurious homage cleanses excess oils and dirt with coconut, green tea, and chamomile extract!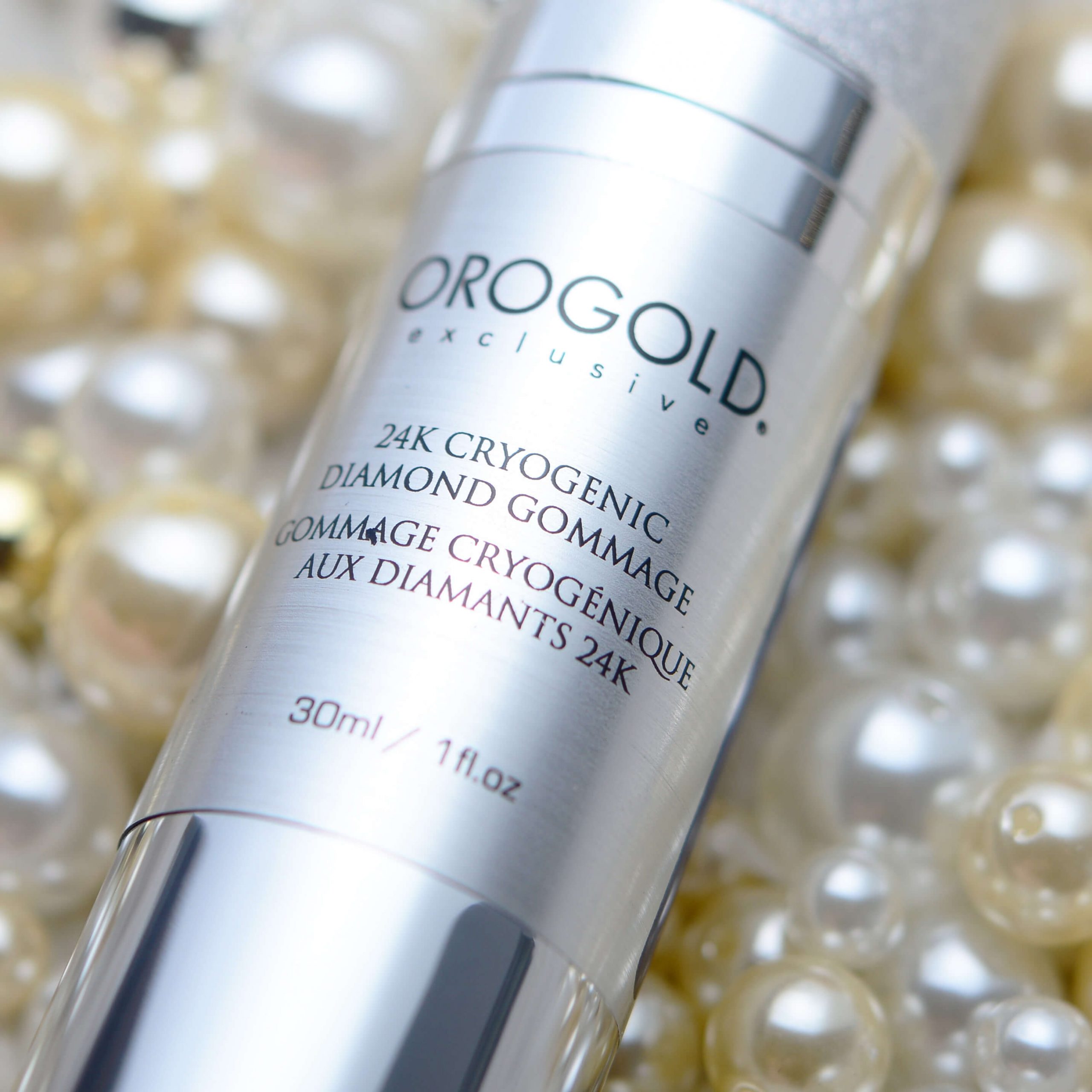 Should You Be Worried About Using Scrubs?
Using scrubs excessively may dry out your skin, which doesn't sound like a good idea. To prevent skin irritation, dermatologists recommend applying a lotion or moisturizer as soon as possible to seal in the moisture and to avoid dryness.
Studies have shown that exfoliating the skin, while helpful in maintaining a youthful look, can also disrupt your skin barrier for a short time. 
So, what can you do to make sure scrubbing your skin doesn't cause more harm than good?
Don't over-exfoliate!

Don't go out in the sun too much, and always remember to slather on some SPF.

Use skin barrier repair products.

Avoid saunas and bathing in very hot water.
Face Scrubs: Fact Or Fiction?
Can exfoliating with scrubs damage your skin?
Scrubbing does not imply skin damage. You'll only damage your skin if your scrub has large and sharp grinding particles in the scrub that can cause tears in your skin.
What's great about the OROGOLD gold scrub is that it's made of corn kernels and sugar, which are much gentler on your skin. However, excessive pressure when massaging the scrub can also be harmful.
If you feel a tingling sensation when scrubbing your face or body, that means that the product is effective, right? 
False. That tingling sensation could be a sign of sensitive skin, meaning your skin barrier might be compromised. Unless your scrub contains menthol or other cooling ingredients, stay away from scrubs that make your skin tingle.
Can scrubbing your skin cure acne? 
Facial and body acne can be challenging to deal with, but exfoliating too much with scrubs could make things worse.
A scrub alone cannot treat or heal acne. It would be better to supplement your routine with acne-busting ingredients like BHA's and benzoyl peroxide.
Will a scrub remove scars on your face?
Using scrubs can definitely lighten the overall look of scars but not make them disappear immediately. 
Natural scrubs are better, right?
Some scrubs that use natural ingredients are often terrible for the skin. For example, nuts, fruit pits, and salt are all-natural, but they can be pretty harsh on the skin. Other natural ingredients like jojoba beads, oatmeal, silica, and rice bran are gentle and effective. 
However, the only thing that should be considered is how fine the scrub particles are, whether they dissolve when used to avoid overdoing it and whether the formula also contains hydrating ingredients.
When testing out a scrub, try it on the back of your hand to determine how abrasive the granules are so you don't develop microtears when you use it.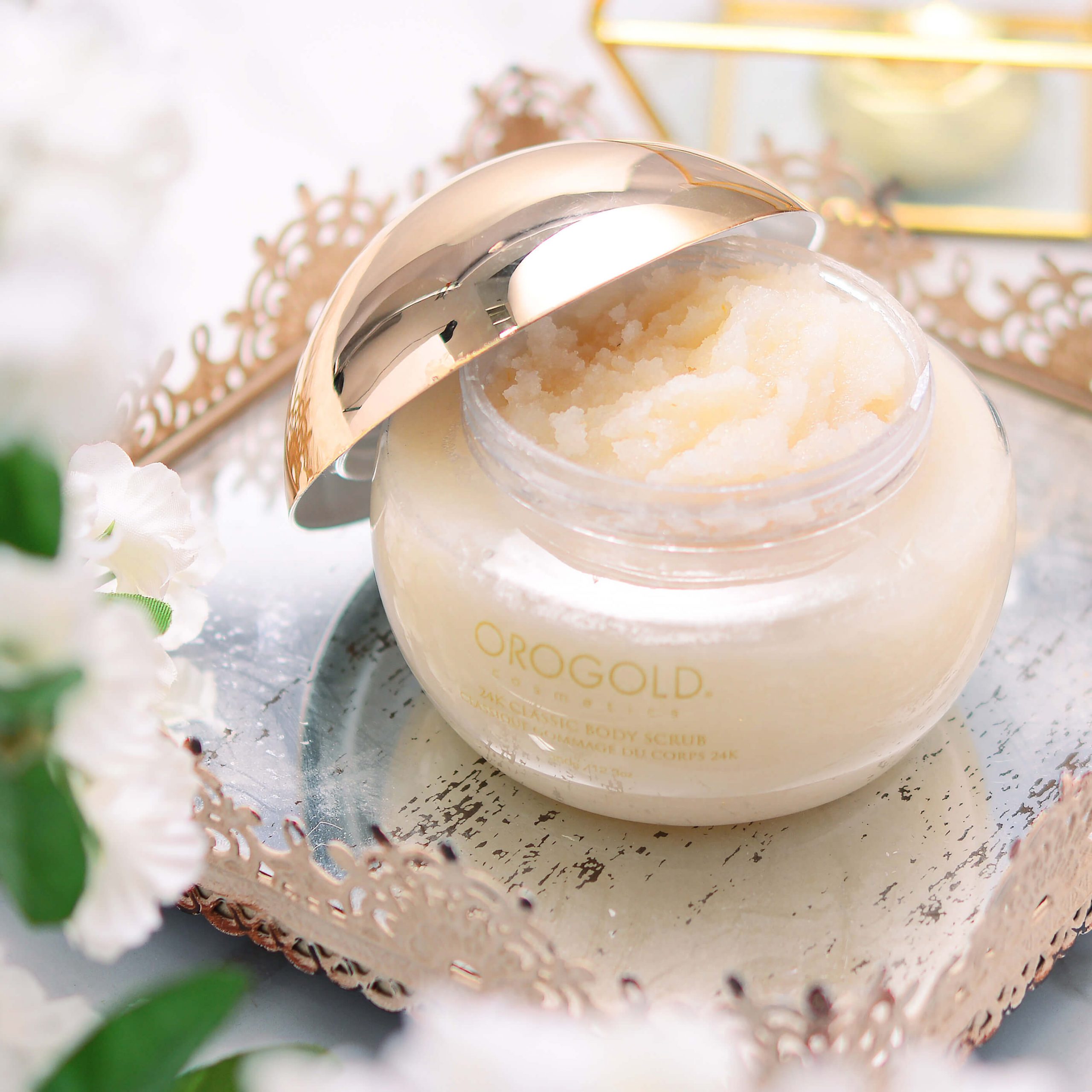 Can scrubs get rid of blackheads?
Blackheads originate deep in the pore, so face scrubs are powerless against them. When applied to blackheads, a face scrub will only be able to remove the uppermost, visible portion of the blemish.
Using a facial scrub on a regular basis can do wonders for your skin. You will have skin that feels soft and smooth when you remove dead skin cells and excess sebum oil from your face.
That's why we recommend adding the OROGOLD gold scrub to your everyday routine. It's suitable for both facial and body skin, so just follow the guidelines above, and you'll have the skin of your dreams in no time.
If you'd like to treat yourself to a luxurious gold scrub, you'll find everything that you need here.