5 Uses for Gold in Skincare Products
Posted on July 20, 2021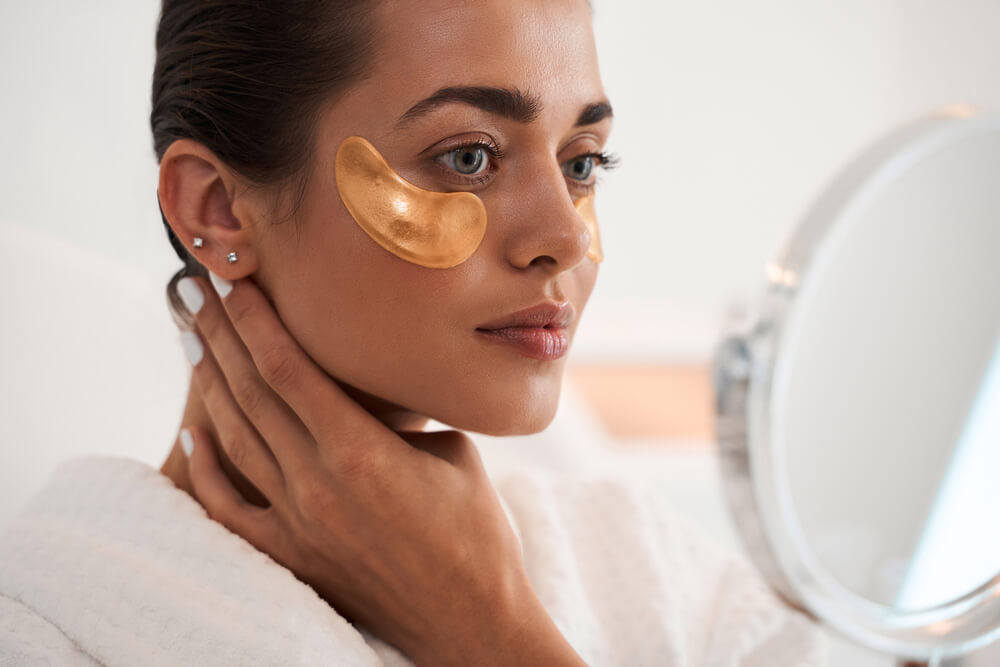 When we think about gold, most of us envision gold bars, piles of money, and fine jewelry. We've been conditioned to equate gold to wealth, after all. From cartoons to film to real life, we've been shown that gold is something to work for and long for, a status symbol in its own league.
However, gold brings more to the table than just luxury and prestige.
Throughout history, mankind has discovered a diverse array of gold uses for products. From medicine and dentistry to beauty, this precious mineral has proven itself to be much more than just a status symbol. Want to know why you'll find 24K gold in each and every OROGOLD product? Read on…
Golden History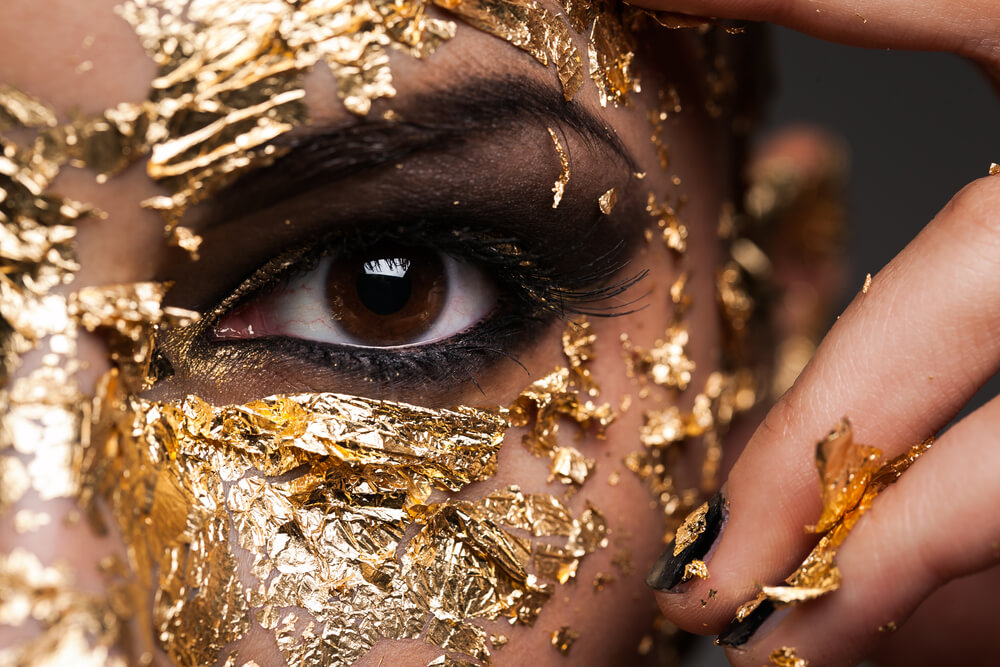 Trendy ingredients come and go, but gold has remained a prominent player in the realms of beauty and health for centuries. The metal has gone down in history for being not only a staple in the routines of some of the most powerful women across the world but as a medicinal marvel as well.
Several key historical moments have taught us about the multiple gold uses for products:
Ancient Egypt
Many gold products on the market reference Cleopatra in their names. The reason behind this is simple: the Egyptian ruler is the best (and first) known figure to use gold for beauty. 
It's been said that Cleopatra was a staunch believer in the anti-aging benefits of the mineral. Historians claim that the Egyptian ruler covered her face in a mask made out of pure gold every night. This is why, in her honor, we named one of our collections the Cleopatra Regimen.
Ancient China
For a time, Ancient China was recognized to have the most advanced applications for gold. In the Ming Dynasty, gold was used by surgeons and physicians to treat a variety of skin conditions. In particular, gold was applied to smallpox and skin ulcers to remove toxins from the skin.
Ayurvedic Medicine
Ayurvedic medicine, which is one of the world's holistic healing systems that hails from ancient India, also employed gold, among other metals, for therapeutic and medicinal purposes. According to a 2011 study, it continues to prove useful in alleviating chronic and debilitating diseases.
Throughout history, cultures from all over the world have passed down their beliefs in the healing, anti-aging, and beautifying powers of gold. Today, we continue to harness these benefits in our skincare.
Ahead, discover five of the top uses for gold in beauty products. These are just a few of the reasons why OROGOLD products all contain pure 24K gold. 
Soothes Sensitivities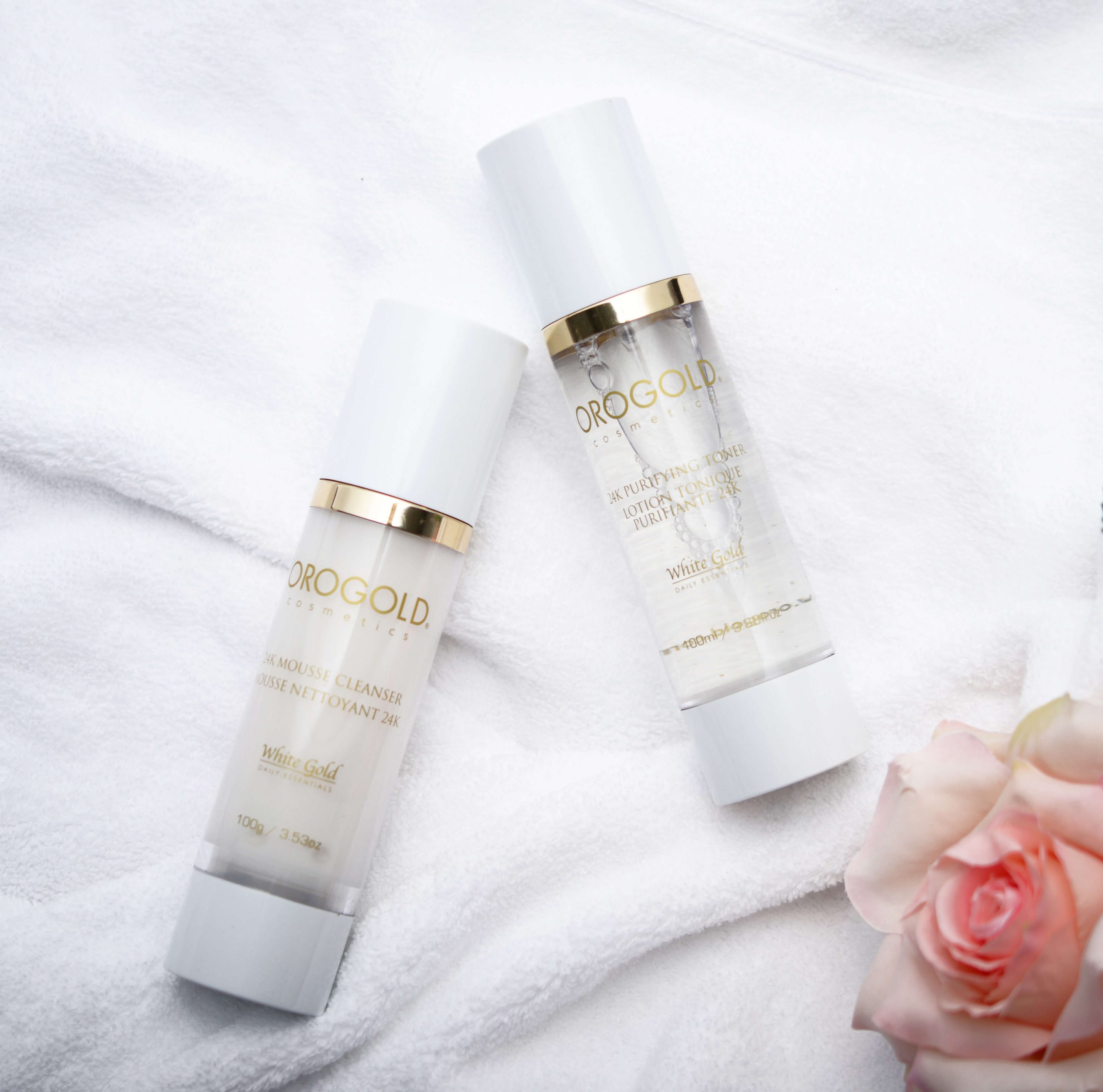 Colloidal gold has been used to cure rheumatoid arthritis, an autoimmune inflammatory sickness that plagues 1% of the world's population. In more recent years, scientists have been exploring gold's potential in treating cancer.
The reason behind many of gold's medicinal uses lies in its anti-inflammatory properties.
When applied in skincare, gold uses for products are just as promising. 
Those with sensitive or acne-prone skin would benefit largely from gold's ability to combat inflammation and reduce redness. However, to truly reap the rewards of your regimen, it's recommended to combine gold with other soothing ingredients.
The 24K Purifying Toner
Take Orogold's 24K Purifying Toner, for instance. Toners pick up remaining debris after cleansing while simultaneously balancing the skin. However, this product adds an additional benefit: calming the skin. This is especially important if your cleanser has the tendency to overly strip your skin of its natural oils.
While this toner has 24K gold at its core, it also contains a couple of other ingredients to help fortify its anti-inflammatory abilities:
Aloe Barbadensis Leaf Extract or Aloe Vera Leaf Juice is one of the stars of this blend. It is used in many countries to heal wounds. Additionally, it also helps promote skin regeneration.
The 24K Purifying Toner also contains Cucumber Fruit Extract which is a common ingredient in curing balms. Apart from its soothing and cooling abilities, cucumber is known to alleviate swelling.
The 24K Intensive Eye Serum
Compared to other portions of the face, the eye area is especially prone to swelling and wrinkling due to how delicate the skin is. To solve this, Orogold's 24K Intensive Eye Serum hinges on one of the best gold uses for products, while adding other soothing powerhouses into the mix:
Calendula Officinalis Flower Extract, a triple-threat with antifungal, antibacterial, and anti-inflammatory properties. Because of its multiple benefits, Calendula is used to heal wounds and treat skin concerns like eczema and rosacea. When infused into skincare, it also helps the skin hold on to collagen and elastin to maintain suppleness.
Camellia Sinensis Leaf Extract, otherwise known as Green Tea Leaf Extract, another skincare favorite

also used to treat rheumatoid arthritis.

Ginkgo Biloba Leaf Extract, a plant-derived antioxidant that smooths, soothes, and keeps the skin's moisture in check. This ingredient also

contains quercetin

, a flavonoid that can combat inflammation.

Hydrolyzed Wheat Protein, which is a barrier-protecting found in many cosmetics and hair care products. Forming a film-like shield, it counteracts the sensitizing effects of other ingredients that may irritate the skin.
Combats Environmental Stress
If you're a skincare fanatic, chances are you're aware of antioxidants and what they do for your skin. Commonly found in Green Tea Leaf Extract, Aloe Vera, Resveratrol, and Vitamins A, C, E, and B3, antioxidants keep free radicals at bay. This not only protects the skin from pollution but from UV damage and other common causes of everyday skin trauma as well.
This is just another of the many gold uses for products. Pure gold is antioxidant-rich, making it a great ingredient for reducing skin stress in the long term.
The 24K Multi-Vitamin Collection
While there is no shortage of antioxidant-infused products, OROGOLD's exclusive Multi-Vitamin Collection combines them in potent amounts to build a line-up of truly protective skincare.
Here are some of the products you'll find in the 24K Multi-Vitamin Collection:
Fights Premature Aging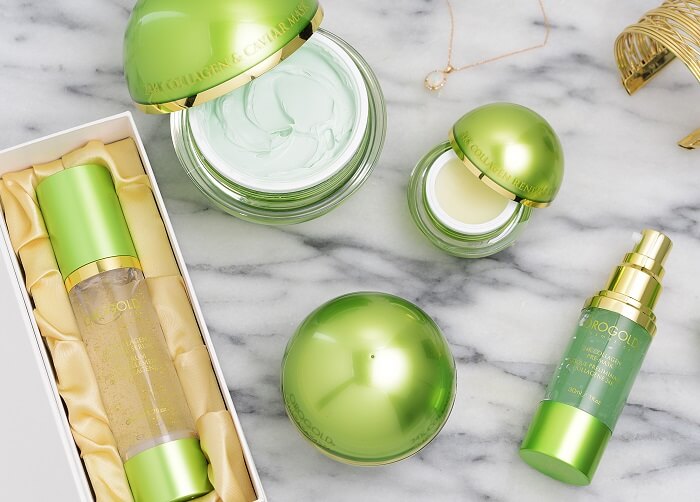 Gold is widely used in prestigious mask treatments that promise to deliver anti-aging benefits. What exactly is it that helps these treatments tap into the fountain of youth?
The answer is the boost of elasticity that comes from the precious mineral. By reinforcing the skin's firmness, fine lines are lessened, wrinkles run less deep and sagging is improved. Anti-aging is one of the most common gold uses for products, after all — but gold alone is not enough.
To make a visible, lasting difference in a shorter time, skincare containing pure gold should be used in tandem with other anti-aging actives.
The 24K Caviar Collection
Orogold's 24K Kelp Caviar Micro-Bead Serum is a prime example of gold in the anti-aging frontier. Formulated for nightly use, this product delivers more than just a pretty, gold-flecked formula. Some of the ingredients that work alongside gold to combat aging include:
Acetyl Hexapeptide-8, sometimes dubbed "botox in a jar," cracks down on wrinkles by

reducing their depth and length.

Glycerin, a naturally occurring moisturizer that can be found in the outermost layer of the skin. It helps the skin hold on to water and keep lipids healthy.
Camellia Sinensis Leaf Extract.
Calendula Officinalis Extract.
Chamomilla Recutita Flower Extract, otherwise known as German Chamomile Flower Extract. It comes from the same stuff you find in a cup of relaxing chamomile tea and

combats inflammation and environmental stress.

Tocopheryl Acetate, which is Vitamin E in one of its pure forms. Compared to other iterations of the ingredient, Tocopheryl Acetate promises a more stable formulation and extended shelf life.
These ingredients come together to form an age-defying skincare cocktail.
Another notable product from the same collection is the 24K Kelp Micro-Bead Cream. Use it daily for maximum benefits. 
Dive into the ingredient list and you'll find a wealth of antioxidants and vitamins to support gold's anti-aging abilities. Among them are Vitamin E, Vitamin A, and Kelp Extract, which is rich in amino and fatty acids to fortify the skin.
Maintains Skin Moisture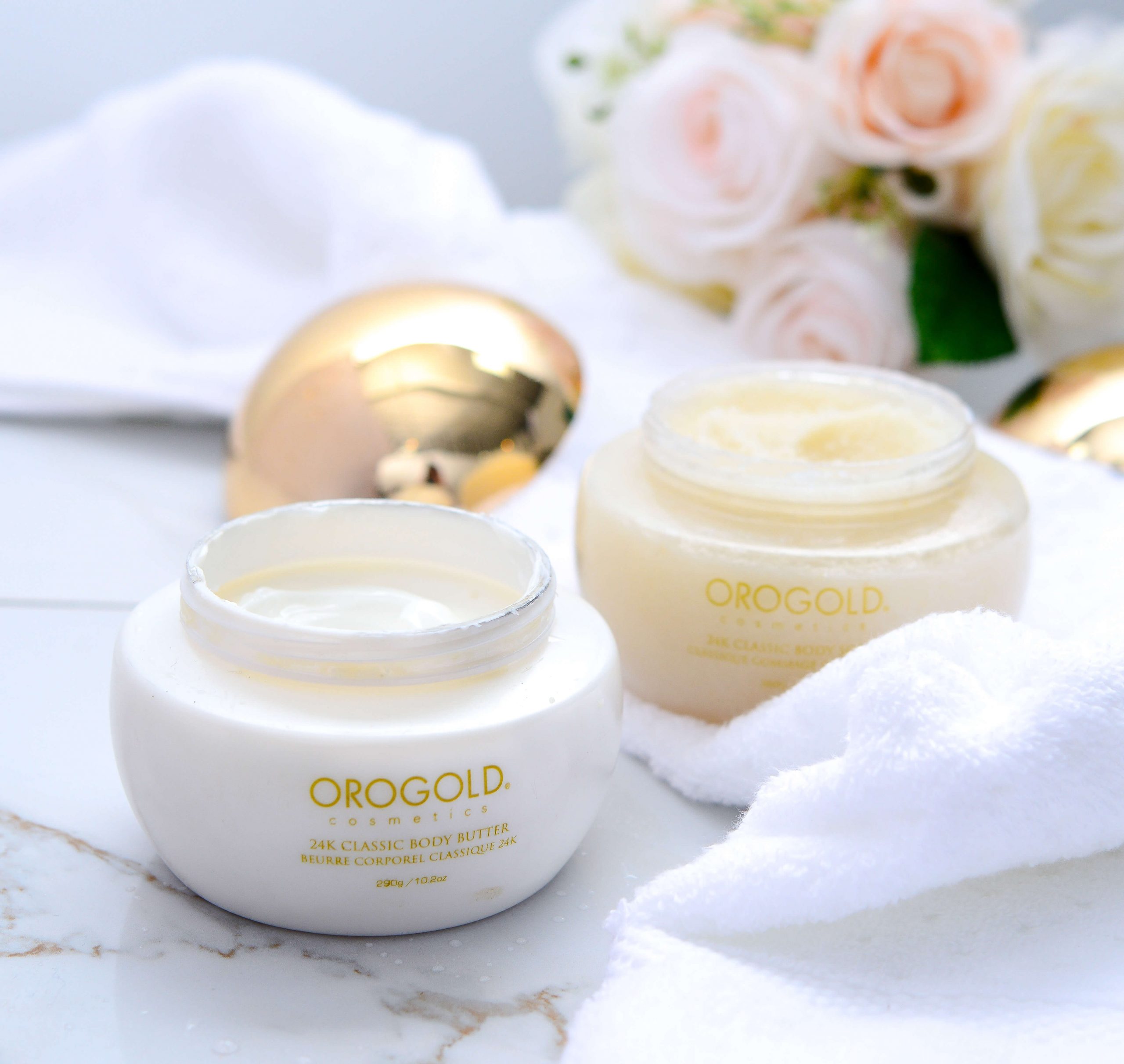 Even as we talk about gold in skincare, we must remember that it is still a metal and mineral. As such, it has ions that are said to benefit the body by stimulating our cells. This heightened stimulation leads to better blood circulation and improved skin moisture.
While gold isn't widely recognized for its moisturizing abilities, this actually goes hand-in-hand with gold's ability to combat premature signs of aging. Remember, dryness can cause the skin to look old and fatigued.
However, when we talk about skin moisture, our faces shouldn't be the only thing we keep in mind. Moisturizing the rest of the body — neck, hands, and body — is just as important.
The 24K Classic Body Butter
This is where Orogold's 24K Classic Body Butter comes in. Harnessing one of the lesser-known gold uses for products, it nourishes the skin with a little help from cult favorite ingredients like glycerin, sunflower oil, and shea butter.
By now, we know that Vitamin E and antioxidants do wonderful things for the face. The same goes for the body—and thankfully, sunflower oil has both of these in spades. While fighting off inflammation and irritation, its emollient properties help the skin cling to moisture throughout the day.
Shea butter, on the other hand, is nothing short of a body care holy grail. It's no wonder that it's such a widely used ingredient in lotions and balms with this extensive list of benefits:
Hydrates and calms the skin

Plumps the skin up with a layer of moisture, especially during the colder months

Treats skin concerns

like sunburns, cracks, and peels
While the 24K Classic Body Butter is fragranced, its mild scent is anything but overpowering. For best results, the body butter should be massaged on to clean daily.
Boosts Radiance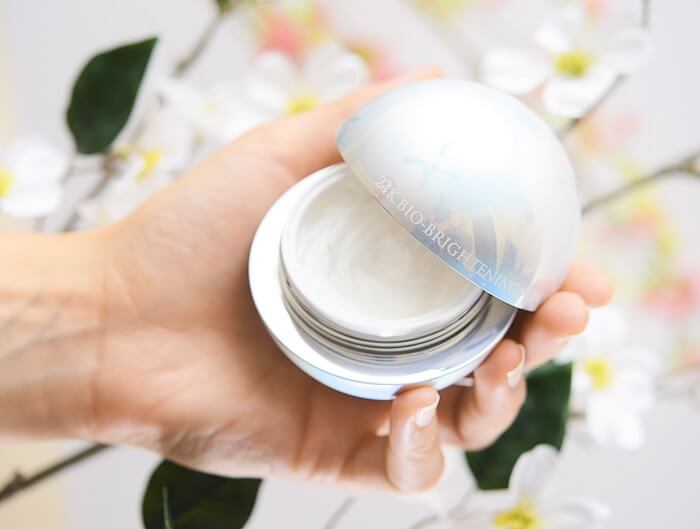 Many gold uses for products do the work behind the scenes, but they ultimately materialize in boosted glow and noticeably radiant skin.
Over time and through technological developments, we've seen gold take various shapes and forms. We see it in flakes, in powders, and in liquefied forms, but studies show that products with gold nanoparticles or nanopeptides not only penetrate deeper into the skin but can help with hydration, elasticity, and a more youthful glow overall. 
The 24K Bio-Brightening Collection
Harness this mineral's ability to amp up the skin's radiance with Orogold's 24K Bio-Brightening Collection. Expertly crafted to undo rid the skin of hyperpigmentation and brighten the complexion overall, this collection is made up of two products:
The 24K Bio-Brightening Dark Spot Solution, which is sold exclusively in a set with the Bio-Brightening Pigment Balancing Mask, does the heavy lifting by chipping away at discoloration caused by acne or sun damage.
Apart from gold, the 24K Bio-Brightening Dark Spot Solution also contains Kojic Acid to lighten problem areas, Retinyl Palmitate and Ascorbic Acid to brighten, and Lactic Acid to gently unveil new skin.
The 24K Bio-Brightening Pigment Balancing Mask, on the other hand, is available as a standalone product or as a part of a set. After the Dark Spot Solution does its magic, this product comes in to finish the rest of the job by evening out the skin tone.
Superstar ingredients in this formula include sebum-regulating Bentonite, brightening Oligopeptide-68, and moisturizing Allantoin and Panthenol. And, of course, a healthy dose of good ol' gold.
With benefits and breakthroughs aplenty, this much is clear: gold is more than just a passing skincare gimmick.
Across cultures and through history, we've learned that this luxurious mineral can soothe, heal, moisturize, brighten—and all this is just the tip of the iceberg. As more products and innovations come to light, so will more gold uses for products.
Discover more gold-infused skincare innovations from OROGOLD.