REINTRODUCING THE 24K BIO-BRIGHTENING COLLECTION
Posted on May 11, 2015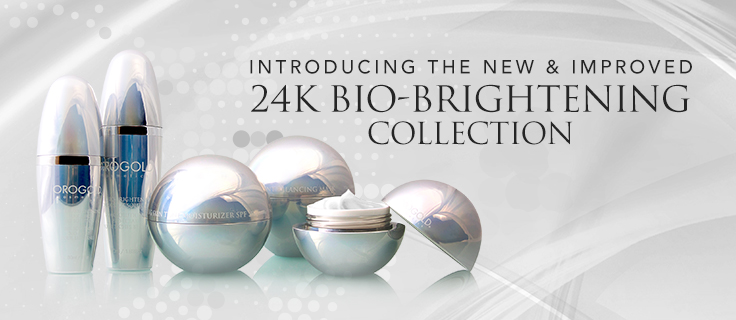 OROGOLD Cosmetics is delighted to announce the relaunch of the improved 24K Bio-Brightening Collection. This skin care set has always allowed you to target skin concerns like hyper-pigmentation and discoloration but now it also offers preventative benefits with SPF protection. The product formulas contain a combination of ingredients which let you enjoy more even and brighter looking skin tone with just 6 simple steps – the 24K Vitamin C Facial Cleanser, 24K Bio-Brightening Complex Peeling, 24K Bio-Brightening Dark Spot Solution, 24K Bio-Brightening Dark Circle Eye Solution, 24K Bio-Brightening Skin Tone Moisturizer SPF 30 and the 24K Bio-Brightening Pigment Balancing Mask.
Our skin is exposed to the damaging rays of the sun on a daily basis and can also be subjected to common irritants such as pollution, stress and improper diet. To top things off, we often end up skipping steps in complicated skin care routines, or not caring for our skin at all, after a long and tiring day because it just seems too bothersome. The revamped Bio-Brightening Collection has been designed to not only help you take one step toward reducing signs of aging an uneven skin tone, but also to transform your skin care regimen into something you look forward to as a way of de-stressing after a long day at work.
The high-end ingredients contained in this collection offer your skin a lavish array of benefits to help reduce the look of years of sun damage in order to reveal a glowing and vibrant look. If you're not sure about how to best use this luxurious collection from OROGOLD, just check out our video, which step-by-step instructions for using the 24K Bio-Brightening Collection and reaping all the benefits that it has in store for your skin.