OROGOLD Exclusive: High-End Skincare at its Finest
Posted on June 29, 2021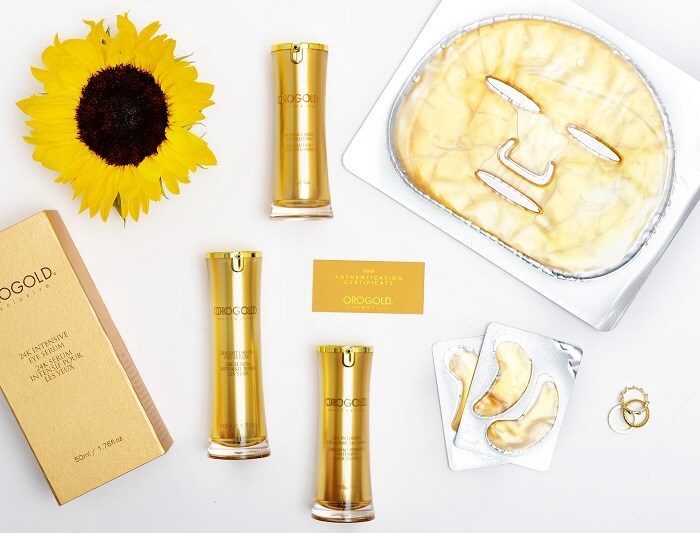 There's nothing wrong with liking the finer things in life. Having a penchant for luxury may cost a pretty penny when you're out shopping, but investing in the things that matter to you is never regrettable, especially when they're beneficial for your health and wellness in the long run.
Expensive taste can translate into personal shopping, like for your skincare routine. There are many luxury beauty brands out there, so the choices are endless.
But some skincare brands merely slap on a hefty price tag without justifiable reason. Because of that, it can be difficult to look for high-end skincare lines that give you the quality you're paying for.
The high-end OROGOLD Exclusive collections are made with exquisite ingredients and innovative skincare technologies. Let's not forget their gorgeous packaging too. Whether it's by using heat technology to maximize a hydrating mask or exfoliating your skin with brilliant, shiny diamonds, these opulent skincare lines give you your money's worth.
Luxury Has Always Been at the Heart of OROGOLD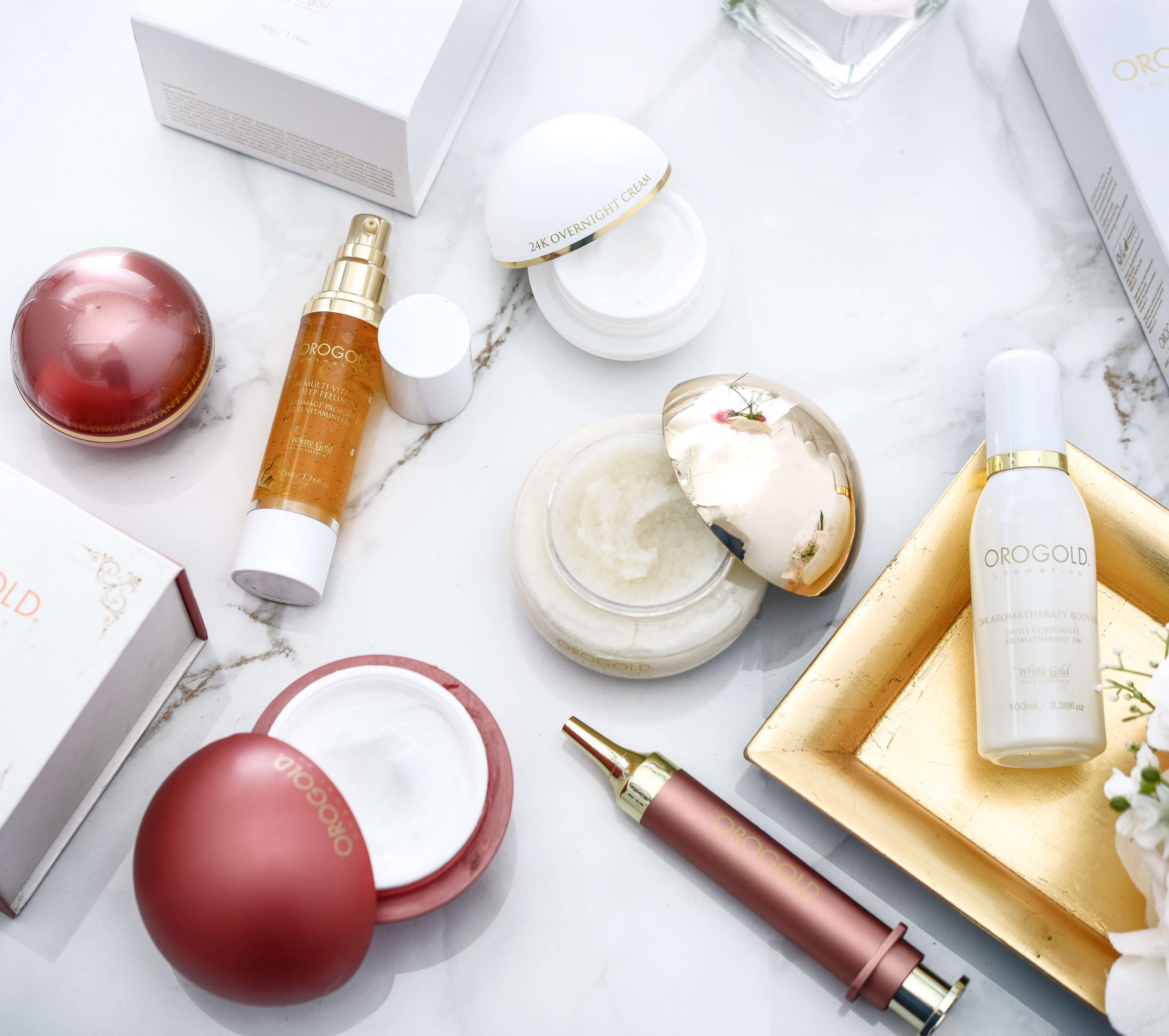 OROGOLD has never been one to shy away from luxurious skincare ingredients. Gold is at the forefront of most, if not all of our products. We believe that it's key to giving your skin the glowing finish it deserves.
Our products make the glamour and opulence of gold more accessible to everyone, so that we can be like our ancestors before us who used gold in their daily beauty regimens. 
But our OROGOLD Exclusive lines are a little different. They're on the pricier side, but for a good reason. These collections are the crème de la crème that OROGOLD has to offer.
Not only are they infused with 24K gold, but they're formulated with the latest technologies in skincare. They'll give you the most relaxing, effective, and sumptuous beauty experience.
Ready to dive into our finest and most luxurious high-end skincare lines? Here are six of the best OROGOLD Exclusive collections we have:
Use Caviar to Pamper and Strengthen Your Skin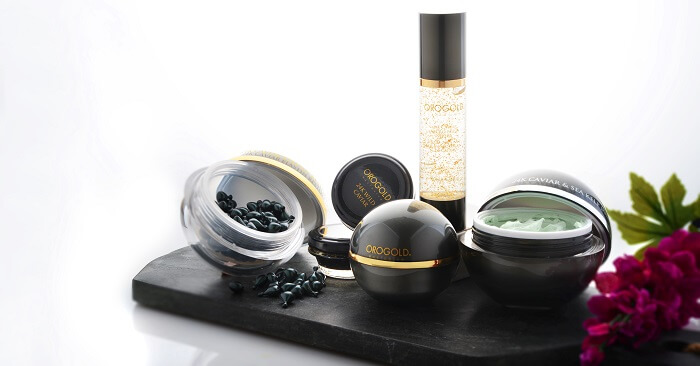 The first OROGOLD Exclusive line we'll look into is the 24K Caviar Collection — a moisturizing line that features sea kelp and opulent caviar as its main ingredients.
This line is all about moisturization. The 24K Kelp Caviar Micro-Bead Cream, for example, makes use of vitamins A and E alongside kelp extracts to leave skin looking soft and dewy. This also reduces the appearance of harsh wrinkles and fine lines in your complexion.
For something more lightweight, you can use the 24K Kelp Caviar Micro-Bead Serum, infused with green tea and gold. This nighttime serum leaves your skin feeling soft and touchable when you wake up.
The most exciting product in this collection is the 24K Wild Caviar. This unique mask involves crushing real caviar eggs and applying the serum (which consists of majestic gold, soothing tea tree oil, and moisturizing caviar) to your skin.
The line also includes serum capsules rich in sodium hyaluronate and an ultra-hydrating mask that turns from white to gold as you massage it into your skin. The collection is rooted in innovation to give you the most luxe experience possible.
Treat Your Skin to All the Vitamins it Needs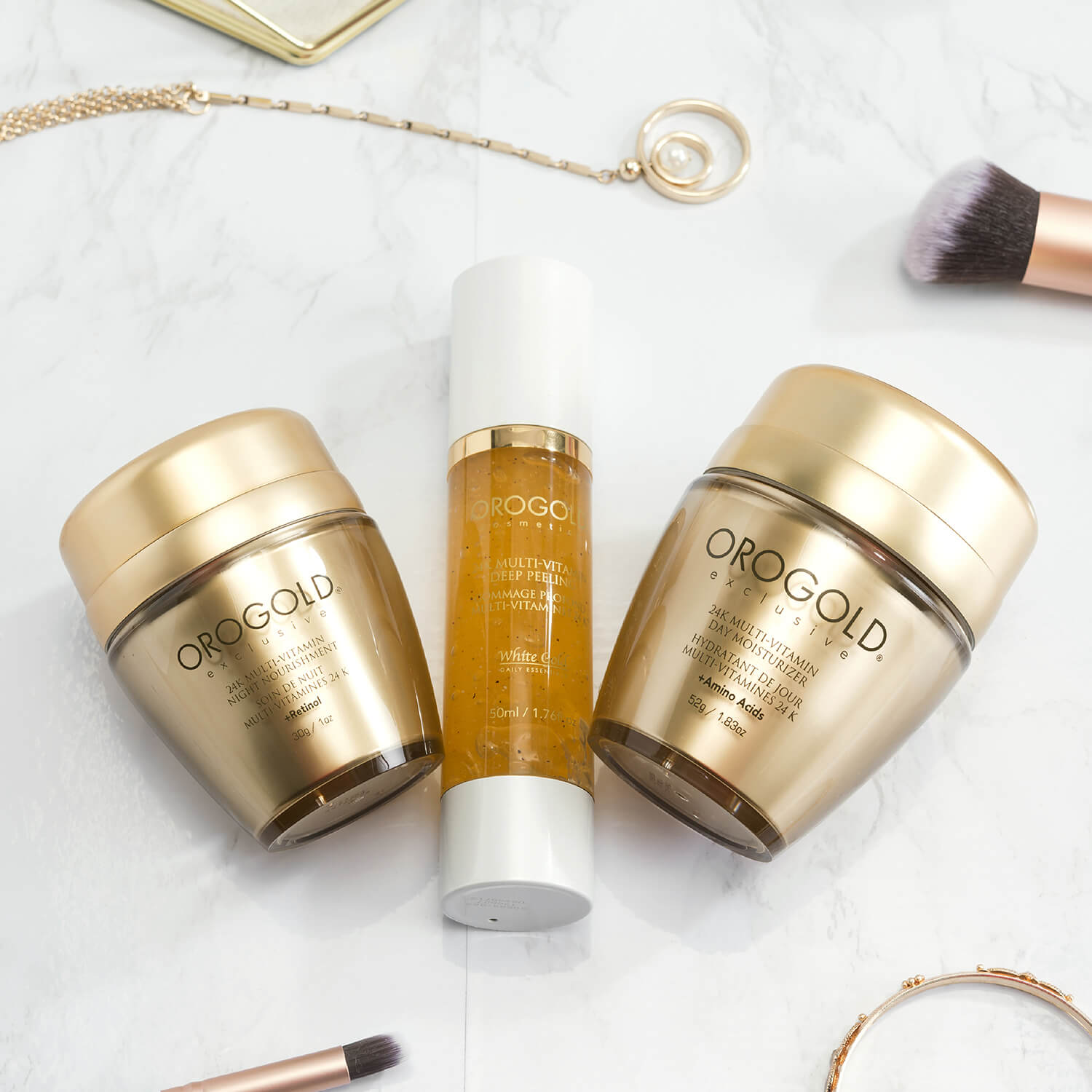 Feed your skin the vitamins it needs to look bright, plump, and wrinkle-free with the OROGOLD Exclusive 24K Multi-Vitamin Collection. It combines vitamins C, E, and A to give the skin a revitalized look.
Experience the magic of retinol with the 24K Multi-Vitamin Night Nourishment + Retinol. This moisturizing night treatment is infused with retinol (a derivative of vitamin A), green tea extracts, and vitamin E to give your skin a more elastic look.
Another product you'll love from this line is the 24K Multi-Vitamin Deep Peeling + Mandelic Acid. With exfoliating ingredients like mandelic acid and bamboo powder, this gel serum will shed all the gunk and dead cells from your skin to reveal a more radiant-looking complexion.
Mandelic acid is a gentle alpha-hydroxy acid extracted from almonds. It breaks down grime and dead skin cells, exfoliating your skin thoroughly for a texture that feels smooth, soft, and even. Meanwhile, vitamin C will give your skin a brighter appearance.
This collection also carries a day moisturizer rich and a hand lotion that provides your skin with jojoba and sunflower seed oils. This OROGOLD Exclusive line cares not just for your face, but other skin areas you want to keep looking smooth and youthful, too.
Moisturize with Rosehip Oil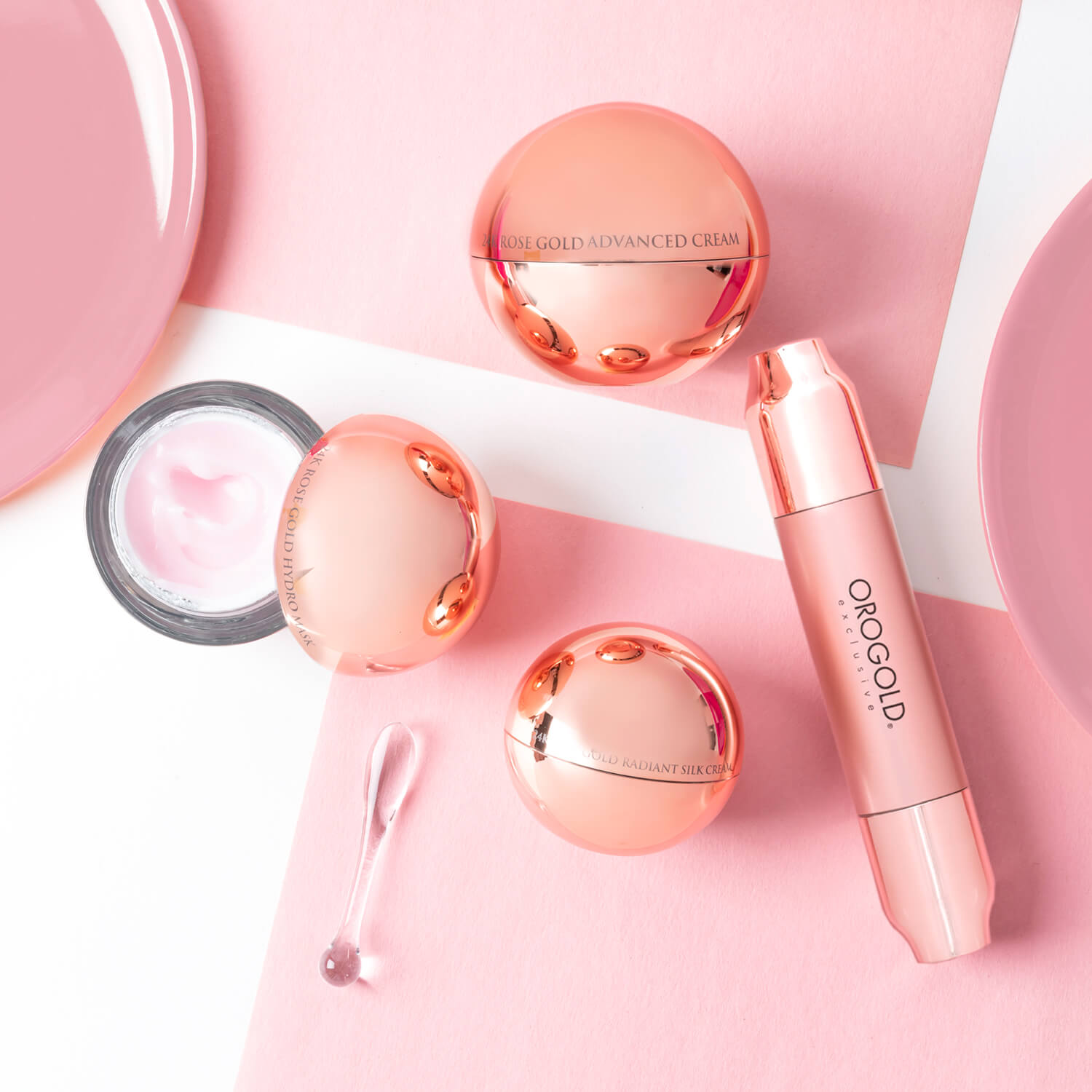 If you have incredibly parched skin that's always thirsty for moisture, you'll enjoy the 24K Rose Gold Collection, which puts a stunning rose gold color and rosehip oil at the forefront of its products.
Rosehip oil keeps the skin feeling plump and firm – a priority for mature skin.
The most advanced and arguably most opulent product in this line is the 24K Rose Gold IV Filler Concentrate. It's a powerful solution that zaps away the appearance of pesky lines. It's formulated with DMAE and retinyl palmitate (a derivative of retinol).
The rest of the collection uses rosehip extracts, vitamin E, and sunflower seed oil to moisturize the skin. These products come in a rich nighttime cream, a hydrating mask, and a mattifying day cream.
Get a Complexion That Looks Brighter and Clearer by Exfoliating with Diamonds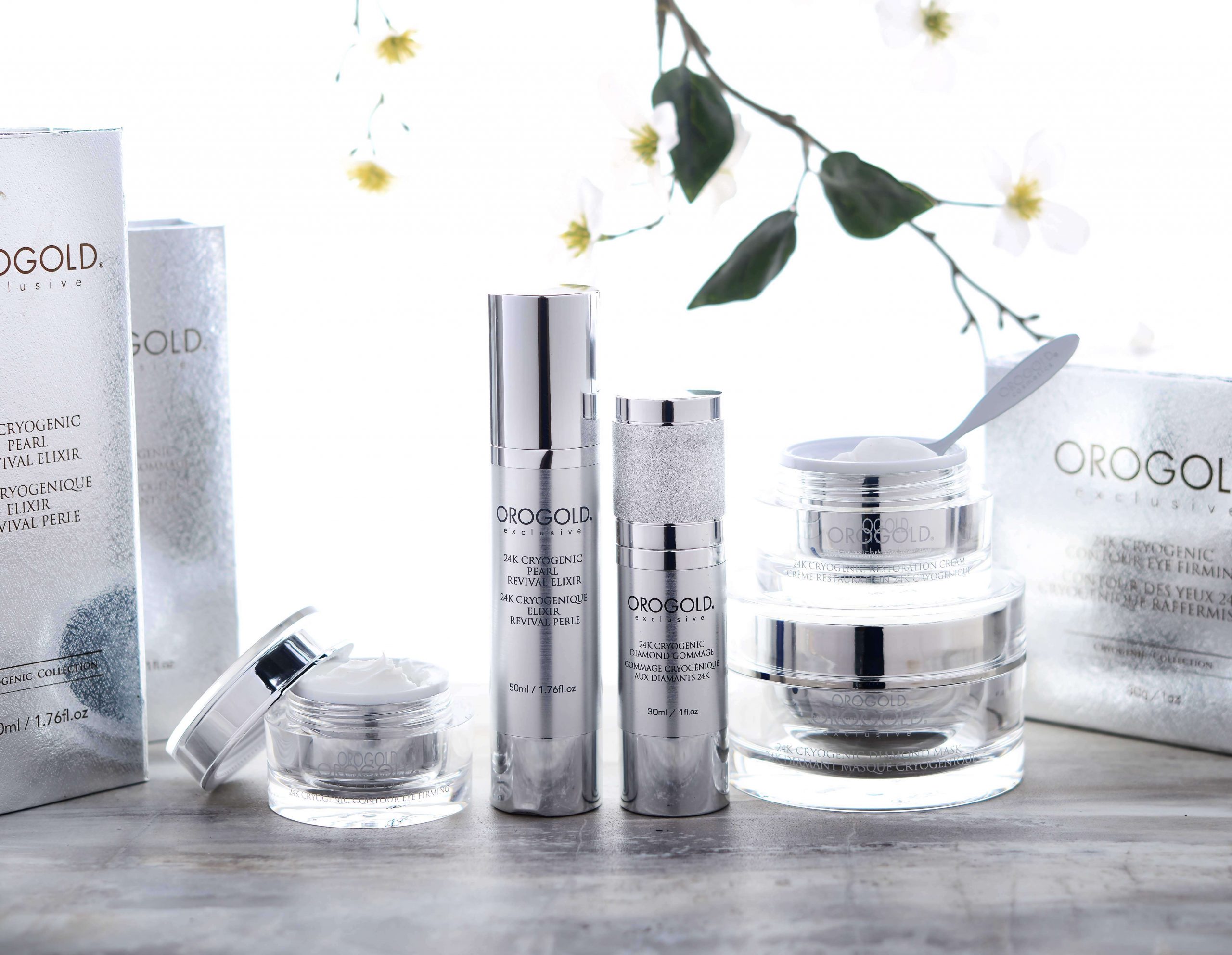 If decadence and sparkle are your kryptonite, then there's no doubt that the 24K Cryogenic Collection will get you super excited for your daily skincare routine. It makes use of diamond dust and AHAs to exfoliate your skin to keep it looking clear, smooth, and stunningly radiant.
The 24K Cryogenic Diamond Gommage is one product in the line that exfoliates the skin without being too harsh on it. This leave-on serum sheds off dead skin and washes away excess sebum. It's infused with coconut, chamomile, and green tea to soothe the feel of the skin and replenish it with any lost moisture.
Another interesting product from this line is the 24K Cryogenic MagnoLift Mask. This mask is made with rosemary extracts, coconut oil, and sunflower seed oil to make your skin feel soft and supple.
What's cool about this mask is that you use a special magnet to lift the mask away after letting your skin soak in it for 5-10 minutes. It's an innovative skincare technology that allows for a richer, more opulent masking experience.
Intensify Your Beauty Regimen with Heat Activation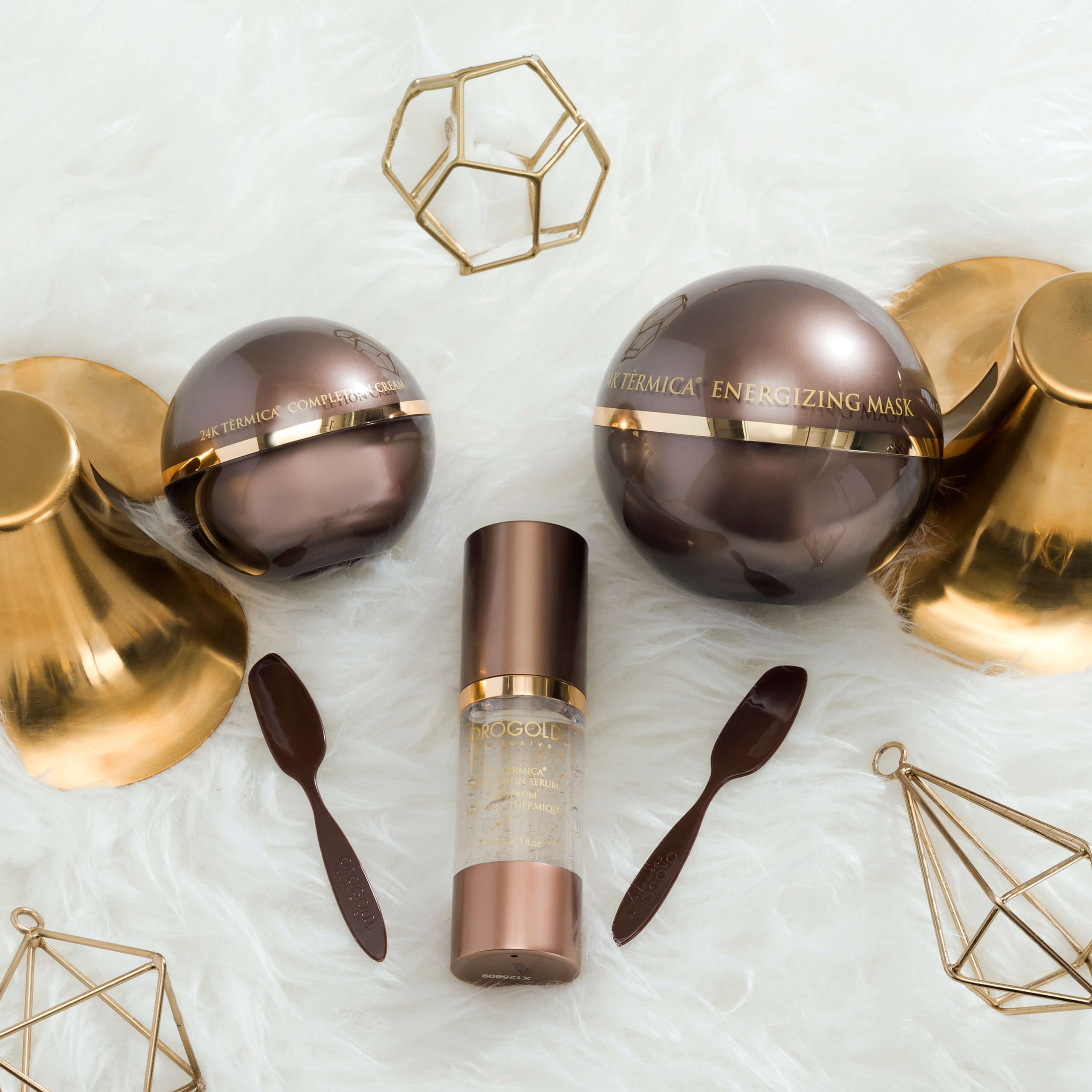 Energize and wake up the feel of your skin with a bit of self-heating technology in this 24K Tèrmica® Collection. Heat technology will leave your skin looking brighter than ever.
The star product in this line is the 24K Tèrmica® Energizing Mask. It's rich in vitamins A, C, and E. The mask has a heating effect that warms up your skin for a relaxing experience.
You can make the mask above a little more intense by applying the 24K Tèrmica® Activation Serum, a gel infused with witch hazel, seaweed, and green tea. This serum eliminates the appearance of lines and wrinkles.
 The collection even includes the 24K HD Touch. This is a face massager that helps you apply your creams and serums smoothly on your skin. It leaves the skin feeling super-relaxed.
Give Your Skin the Ultimate Royal Treatment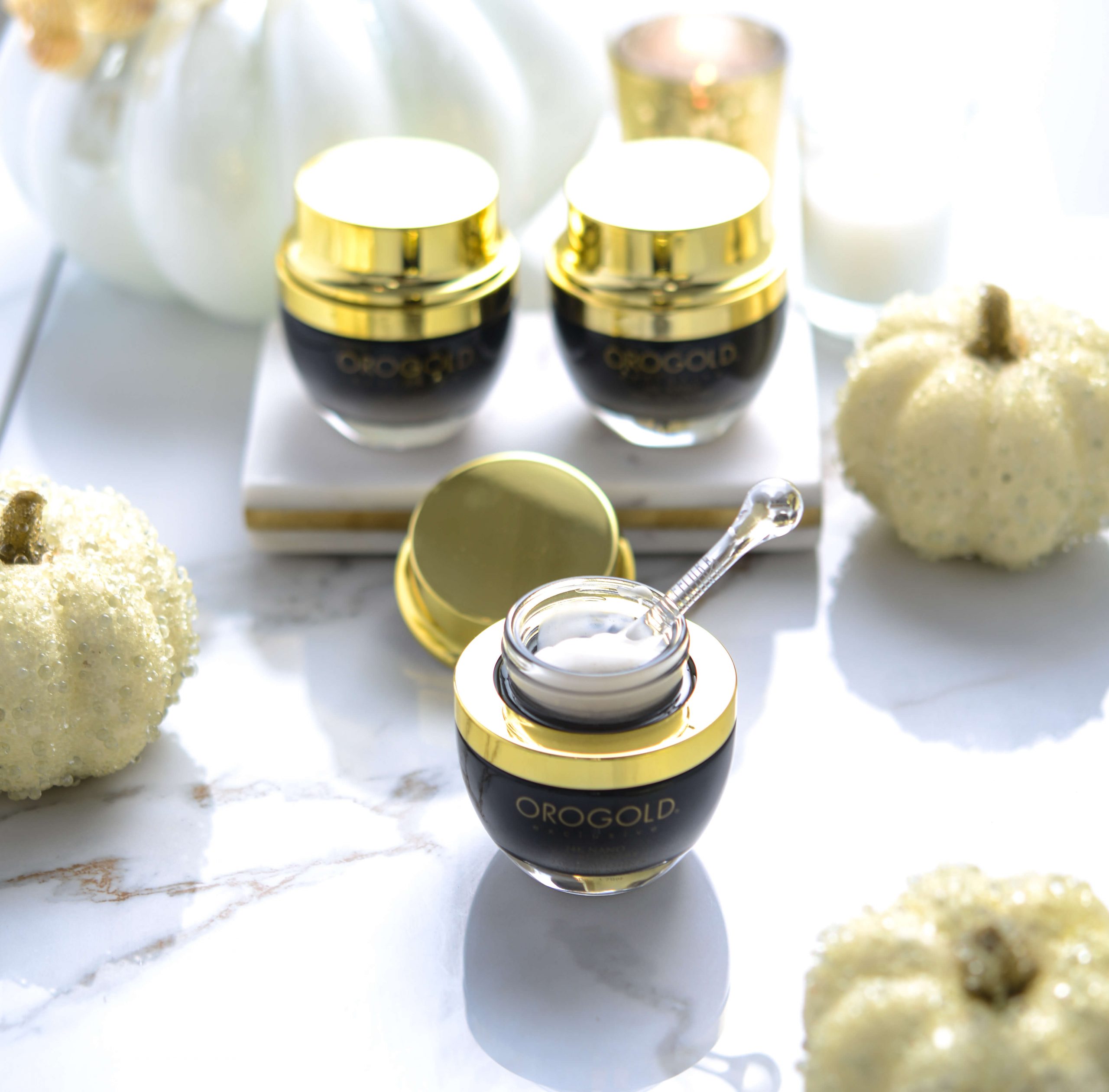 Feel like a queen with this indulgent 24K Cleopatra Nano Regimen — a three-part skincare routine that packs a punch. In this collection, you get a face cream, a lush serum, and sheet masks made with real gold. Together, they work to help you achieve a fresh, dewy, and radiant complexion.
Start with the 24K Cleopatra Gold Sheets. The delicate, gold-infused masks come in envelopes that have three sheets to be placed on different areas of your skin. Apply them to your forehead and each side of your face. Leave the masks on your face to absorb into your skin for 20 minutes.
Your next step is the 24K Cleopatra Nano Serum. Simply massage this serum into your skin until the gold specks melt into your complexion. Finish off with the 24K Cleopatra Nano Silk Cream. It will seal all that fresh, moisturizing goodness in, and you're good.
If you can't be bothered to go through too many steps in your routine but still want something posh and luxurious, this regimen is definitely for you.
Why It's a Great Idea to Invest in High-End, High-Quality Skincare
Shopping for new skincare products is a constant battle between drugstore and high-end options. Don't be afraid to splurge a little more for your skincare steps. When you pay a higher premium than usual, you know you're getting top-quality goods. Just like those in the OROGOLD Exclusive lines above.
You shouldn't scrimp when it comes to caring for your skin. Your skin is part of your body, unlike clothes you take off at the end of the day, or makeup that you can simply wash off. You must care for your skin with the best products you can afford. It's not just a vanity thing — it's for your health, too.
A high-end price tag is a sign that your ingredients are high-quality and properly sourced. When the ingredients are in their purest form, the more potent and effective your product will be. This calls for a more expensive price.
Another factor that can affect the price of a skincare line is how stringent and challenging they are to manufacture. This means that products with the latest skincare innovations may come at a luxury price. When the formula is more precise and is harder to perfect, the more you have to pay to get your hands on it.
Serums that are encapsulated or facial masks you peel with magnets are just some of the more creative and innovative products you'll find in the OROGOLD Exclusive collections. Investing in opulent formats like these not only makes your skincare routine more fun, but gives you a unique experience, too.
In a nutshell, investing in high-end skincare products like those in the OROGOLD Exclusive lines assures you that you're using high-quality products—ones that had a lot of thought and rigorous formulating behind them. You're only getting the best of the best.
Conclusion
Don't get us wrong — we're not skincare snobs. We can appreciate a good eye cream or moisturizing serum that costs less than twenty bucks at the drugstore. But, once in a while, your skin deserves something more rich and lavish, like the products in these OROGOLD Exclusive lines.
Whether you're targeting the look of fine lines and wrinkles, looking for a way to replenish intensive moisture into your dry skin, or just plain curious about the latest, top-of-the-line technologies in the skincare world, there's an OROGOLD Exclusive collection suitable for you.
Check out any of the collections above to see how you can pamper your skin and treat it like a queen. Whichever one you choose, know that you'll be walking away with skin that looks happy, healthy, and glowing.