Cosmetics With Gold: 6 Products to Transform Your Appearance
Posted on September 15, 2022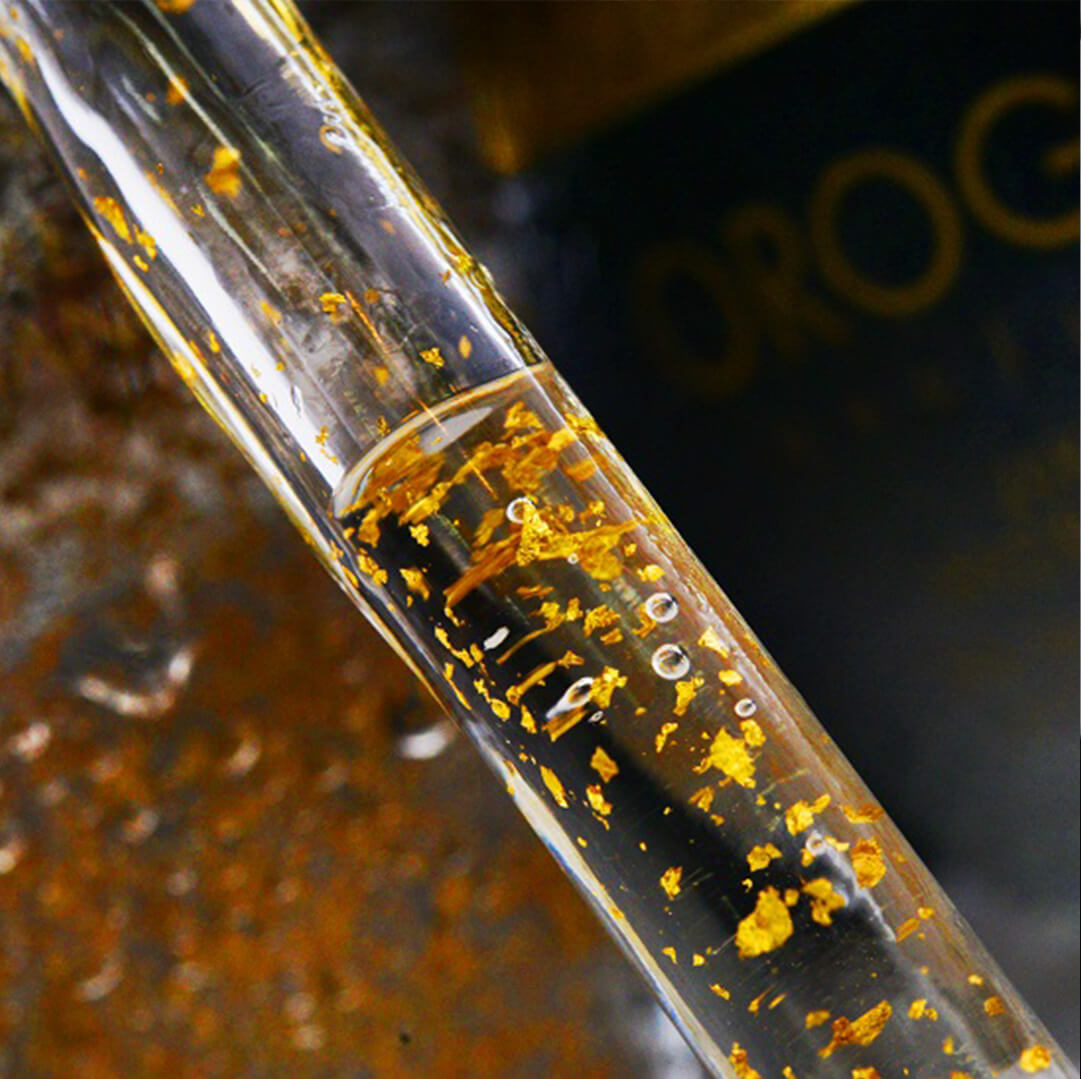 Intrigued by the idea of cosmetics with gold? It may sound like an extravagance, but the concept is nothing new – gold has been used for cosmetic purposes since Ancient Egyptian times, with cultures all over the world embracing its beautifying properties.
It's a powerful multi-tasking ingredient that can address a variety of different skincare concerns, making it a popular choice for people of all ages. Once people learn more about the benefits of cosmetics with gold, it doesn't take long for them to start looking for ways in which they can dazzle up their skincare routine with potent gold-infused formulas.
Where do you start when it comes to searching for the best gold-infused skincare products? Right here. At OROGOLD, 24K gold is at the center of each and every one of our formulas. Read on to learn why this is, and then prepare yourself to meet some of our most popular gold-laden skincare products.
Why Choose Cosmetics With Gold?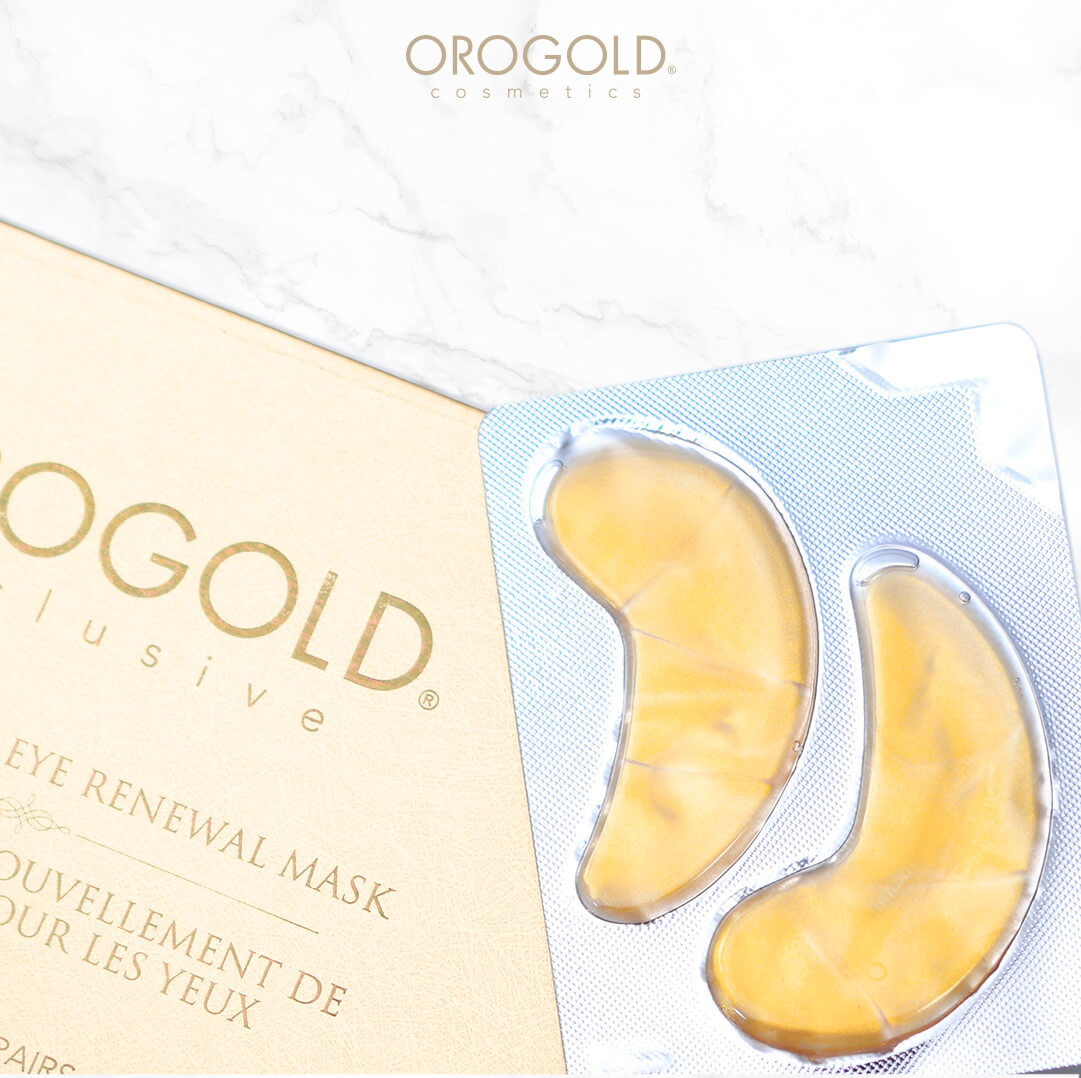 What's so special about cosmetics with gold?
Well, for starters, it's a great ingredient for minimizing the appearance of wrinkles. Whether you're dealing with frown lines on your forehead, crow's feet at the corners of your eyes, or wrinkles around your mouth, cosmetics with gold can make those creases less visible.
It's also a good ingredient for soothing the feel of the skin. It calms the look of inflammation and redness, leaving the complexion balanced, even, and bright.
Speaking of bright, some ingredients are known for how they lighten and brighten the appearance, and gold is one of them. Dark spots due to sun damage, hyperpigmentation from teenage acne breakouts, melasma from pregnancy – whatever may be plaguing your complexion, regularly using cosmetics with gold will leave your appearance significantly brighter.
Convinced that cosmetics with gold have a place in your skincare routine?
If so, read on. Here are some of the gold-infused products that our customers can't get enough of:
The 24K Vitamin C Facial Booster Serum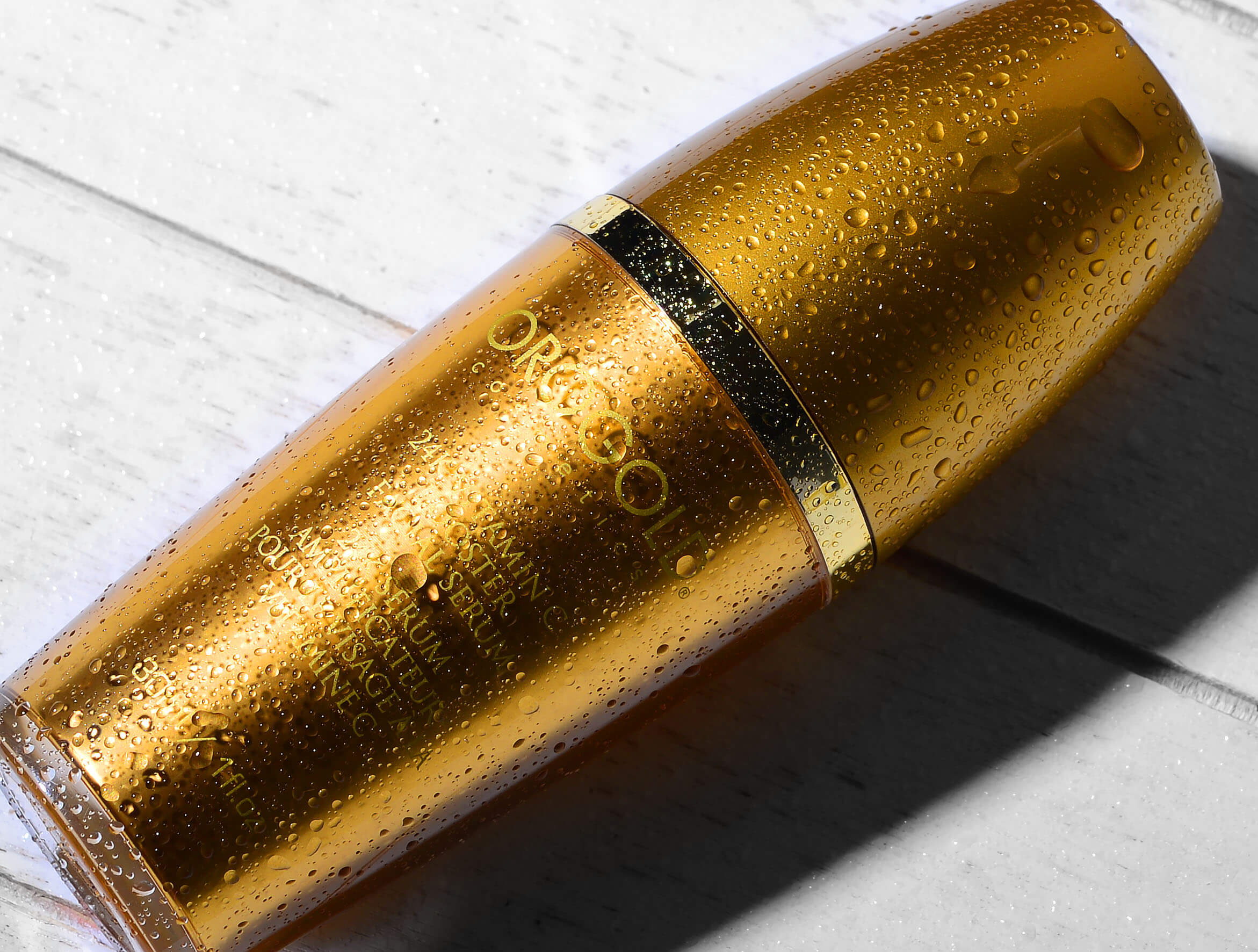 Let's start with OROGOLD's take on the classic vitamin C serum – a must-have in every skincare routine.
Vitamin C is loved for how it brightens and tightens the appearance, which basically supports all that gold does too. As a result, the two work in perfect harmony together, making the 24K Vitamin C Facial Booster Serum double trouble when it comes to fighting the visible signs of both aging and hyperpigmentation.
Other than its 24K gold content, there are a few other ingredients in this silky formula that help to set it apart from the many other vitamin C serums on the market.
The first is the mighty duo of tetrahexyldecyl ascorbate and ascorbyl palmitate. That's right, this serum contains not one, but two forms of vitamin C. This means that you'll see results much faster than if you were to use a serum with just one type of the antioxidant.
Of course, vitamin C isn't the only kid on the block worth paying attention to. Vitamins A and E are also just as worthy, both of which have also been included in this serum. Add to that some wheat germ oil to leave your skin feeling even more fortified and strengthened and you have yourself one of the very best cosmetics with gold ever to be crafted.
The 24K Rose Gold Hydro Mask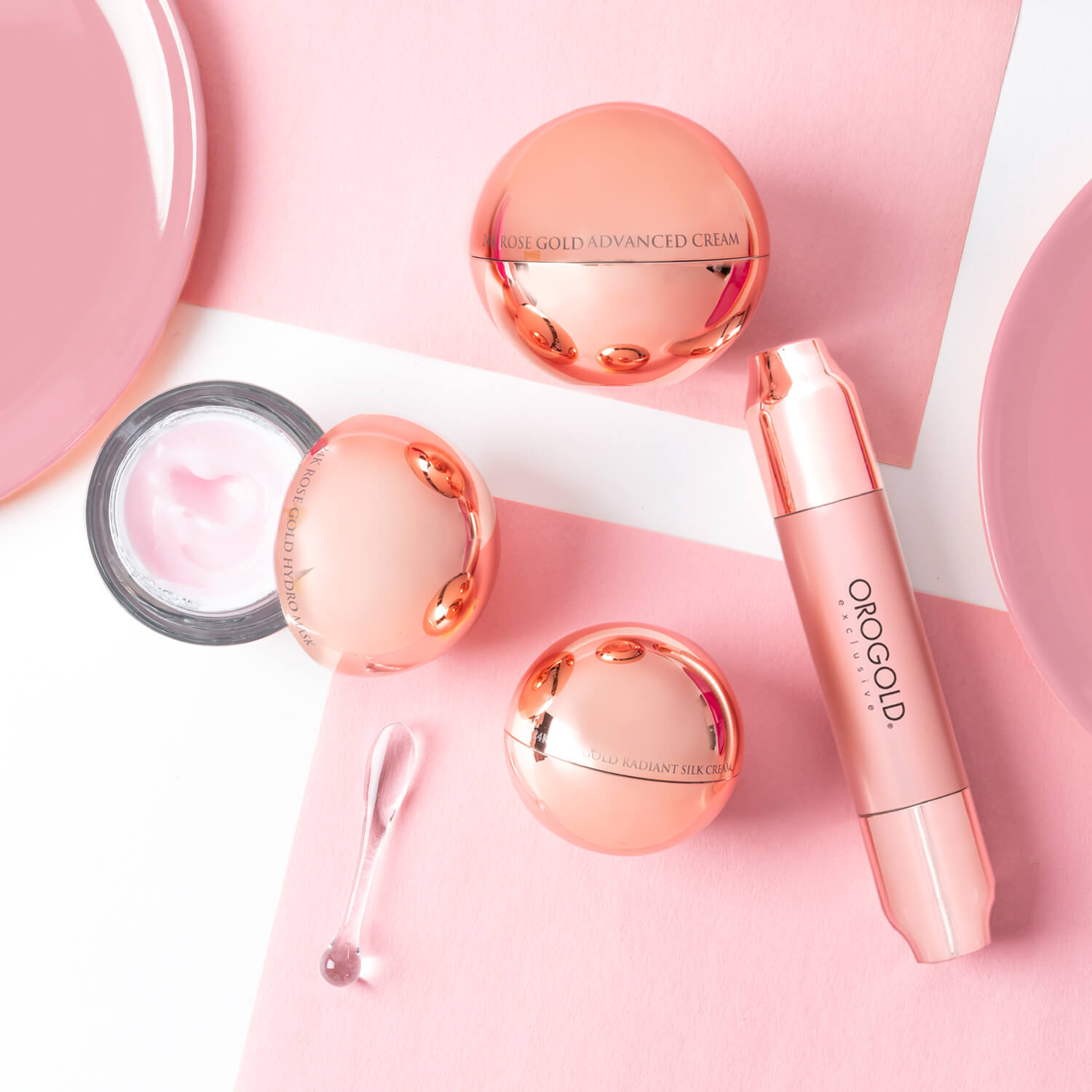 When you think of gold, chances are that you think of items that are actually gold in color. Or maybe gold bars or nuggets come to mind. Either way, it's easy to forget that there are other types of gold out there, one of which is rose gold.
Here at OROGOLD, we have an entire collection dedicated to the beauty of rose gold and roses. All of the products in the collection are exquisite, but today, we'd like to draw your focus to the 24K Rose Gold Hydro Mask.
Designed to revive the look of dull and tired skin, this leave-on formula is perfect for when your complexion needs a quick pick-me-up. It's a creamy mask that's bursting with a curated selection of botanicals. Rose hip extract, seaweed extract, lime extract, avocado oil – this mask both feels and smells wonderfully decadent. We've also added in some caffeine to perk up the look of your skin, along with some sodium hyaluronate to give your complexion a plumper and smoother finish.
As mentioned, this is a leave-on mask, so you won't have to deal with the messy aftermath that some face masks can leave you with! Instead, simply apply it onto dry but cleansed skin and massage it in. As you do so, the mask will transform into liquid droplets. Continue to massage these until your skin has soaked them up. Then, follow on with your favorite moisturizer.
The 24K Skin Tone SPF 30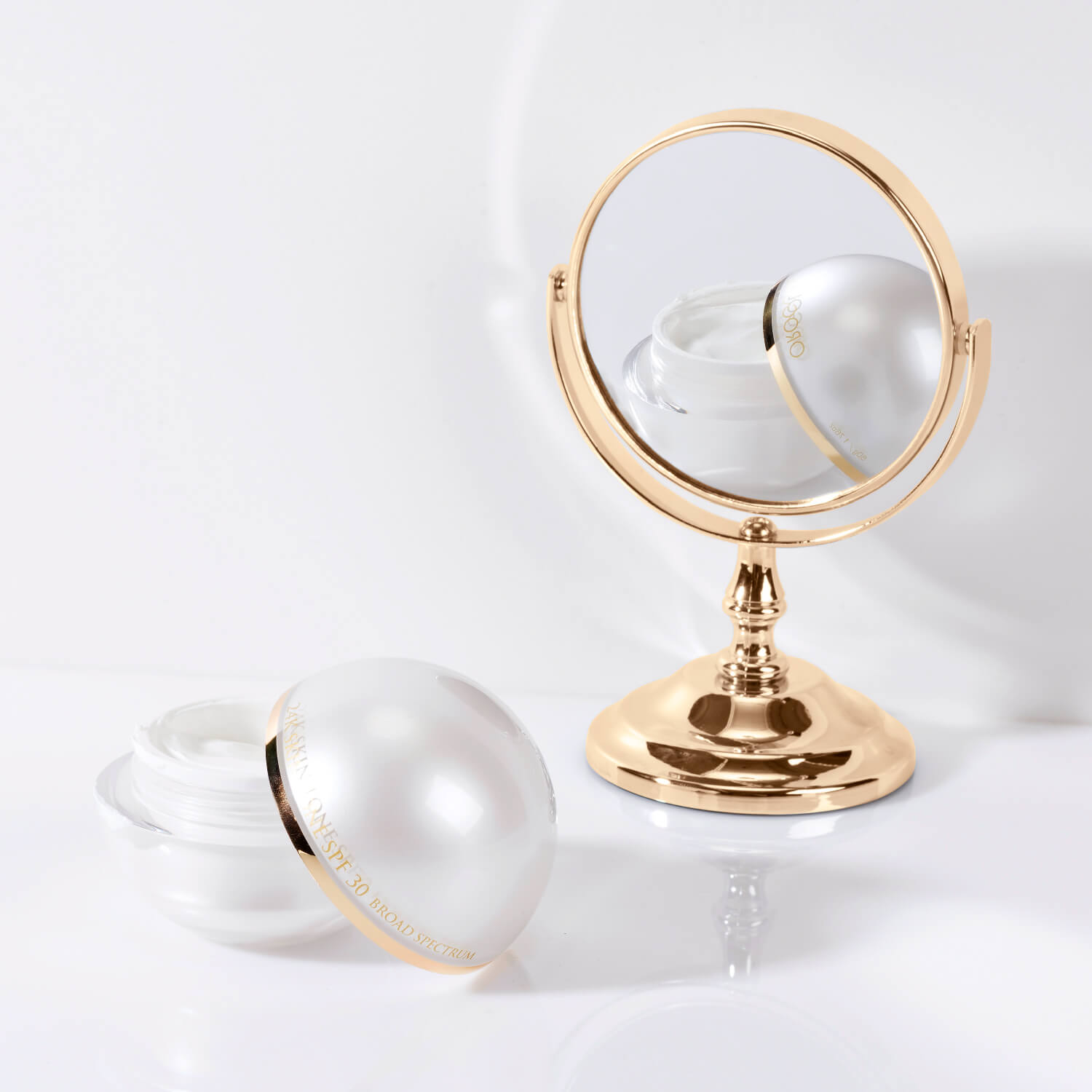 It's not every day that you come across a sunscreen that contains real gold, which is what makes the OROGOLD 24K Skin Tone SPF 30 so special. Compared to other cosmetics with gold, this one provides extra value for money because of how it not only moisturizes your skin, but also protects it from UV rays.
SPF 30 is widely recommended by dermatologists for most skin types. This means that you won't need to apply a separate sunscreen over the top of your skin at the end of your skincare routine. Instead, this moisturizer will do that same job, plus so much more.
In addition to its UV-blocking agents (it's a broad-spectrum formula, meaning that it'll protect against both UVA and UVB rays), it also contains aloe vera to keep your skin looking soothed and calm, even in the sun. We've also added in some green tea extract, which is loaded with antioxidants that will quickly have your skin feeling more protected than ever.
Keep in mind that the UV filters in this product work in the same way as UV filters in a regular sunscreen. This means that you'll need to apply the moisturizer at least 15 minutes before stepping into the sun. You should also reapply it every couple of hours through the day to ensure that your skin remains adequately protected.
The 24K Multi-Vitamin Deep Peeling + Mandelic Acid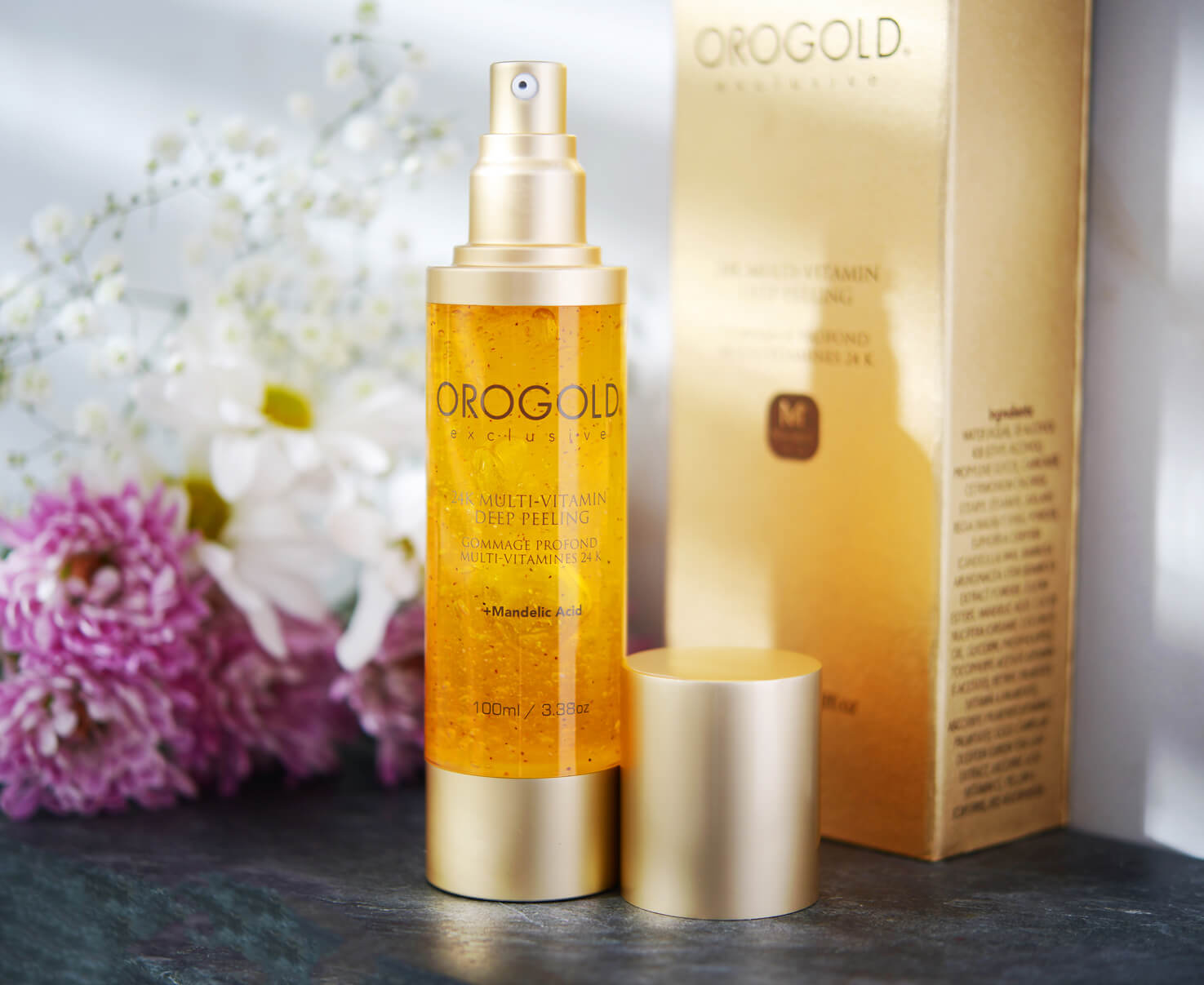 We've already spoken about how gold can make the complexion brighter and more radiant. So, if you want to maximize on these effects, then it only makes sense to look for cosmetics with gold designed to exfoliate the skin.
Our top choice would be the 24K Multi-Vitamin Deep Peeling + Mandelic Acid. It's a facial peeling gel, which means that it works in a slightly different way from chemical and physical exfoliants. It is super gentle but incredibly effective at removing dead skin cells, which leaves behind a bright and healthy-looking glow.
It's worth noting that, when it comes to ingredients, this product really isn't like most other exfoliants. Not only will it exfoliate your skin, but, thanks to its vitamin content, it'll help to reduce the visibility of skin aging too. Vitamin A will minimize the appearance of wrinkles, vitamin C will tighten the look of your skin, and vitamin E will keep your skin feeling moisturized. It really is the perfect combo!
How do you use it? It's easy. We recommend using it once a week by applying it to dry skin. Massage it in until you feel the gel forming small clumps. Once this happens, rinse it off with cool water. You can then carry on with the rest of your skincare routine.
The 24K Neck Duo Treatment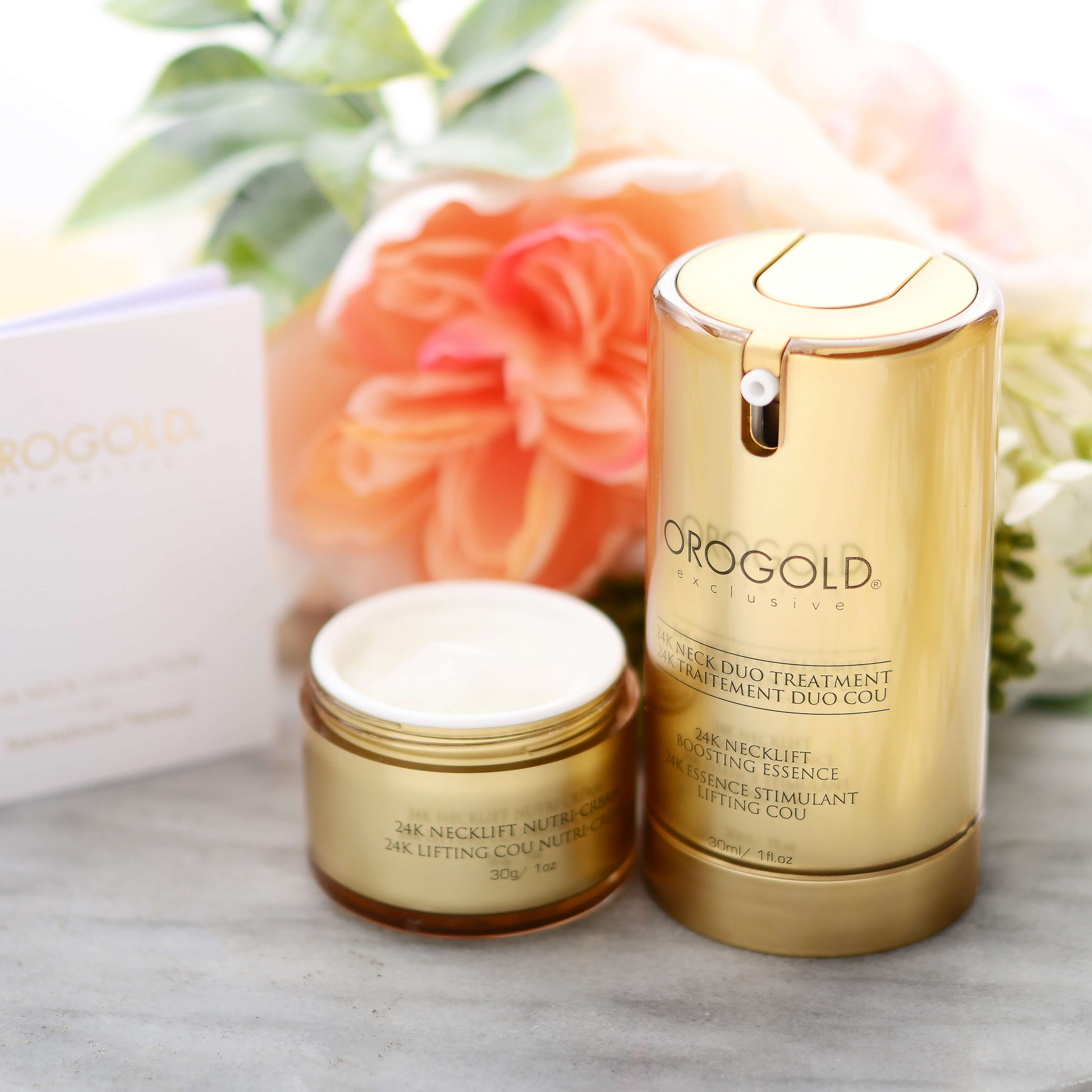 The neck and the chest are areas that are highly prone to premature aging. This means that you may experience neck wrinkles before they appear on your face.
What can you do about neck lines and the dreaded turkey neck?
Turn to OROGOLD's 24K Neck Duo Treatment.
This is a two-part system that has been designed to lift and tighten the look of the neck. It'll make any wrinkles and creases less visible, while giving your neck and chest area a firmer and smoother look.
You begin by applying the 24K NeckLift Boosting Essence, which is packed with an assortment of vitamins.
Then, follow up with the 24K NeckLift Nutri-Cream. With vitamins, plant oils, and amino acids, this cream contains everything that the skin on your neck needs to regain its youthful appearance.
For best results, we'd recommend using this product daily. Don't forget to also protect your neck and chest area with a sunscreen each day. After all, you don't want those UV rays to undo all of this product's hard work!
The 24K Renewal Lip Balm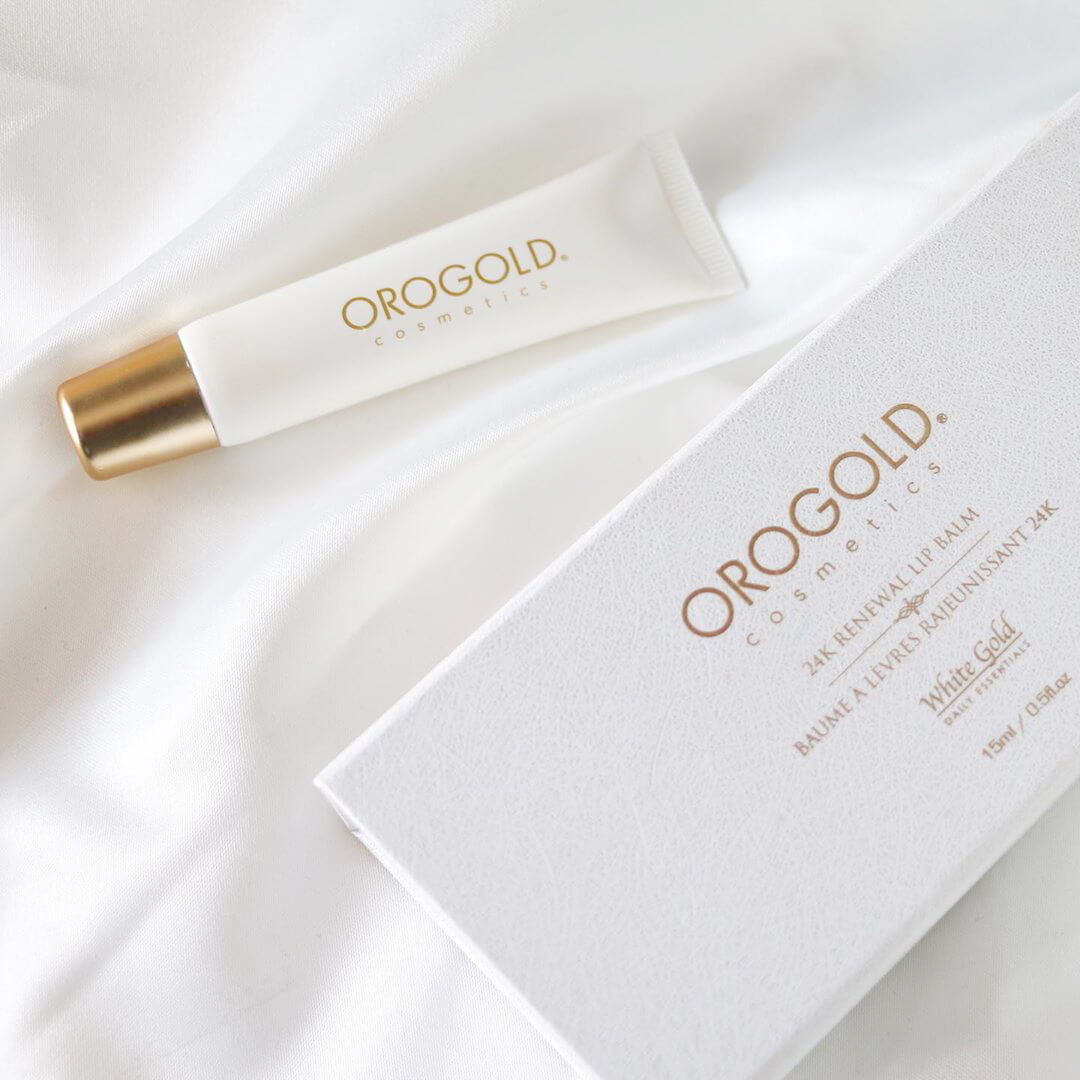 When we talk about skincare, we often focus on the face and neck, but neglect to pay attention to the lips. However, the skin on the lips is just as important as the skin everywhere else on your face and body. In fact, since it's thinner and contains very few oil glands, some would say that it's even more fragile and therefore even more deserving of some TLC.
With the 24K Renewal Lip Balm, you can give it just that. This product will enable you to treat your pout to all of the beautifying benefits of 24K gold.
It's also infused with several plant oils that will moisturize the feel of your lips. Jojoba, baobab, mimosa, avocado, moringa, shea…the list goes on! All of these natural oils will give your lips a plumper look and a much softer touch. They'll feel more kissable than ever!
Are Cosmetics With Gold Worth Buying?
When it comes down to it, cosmetics with gold really do have that extra special touch that your skin would more than likely benefit from. Not only does gold offer its own array of skin-loving benefits, but it's also a great supporting act for so many of the other must-have skincare ingredients out there, making it a worthwhile addition in any formula.
Want to browse more cosmetics with gold? Click here to explore OROGOLD's full range of bestsellers.