A 7-Step Body Care Routine for a Radiant Glow
Posted on August 15, 2022
When it comes to skincare, a lot of people don't think about caring for the skin on their bodies. While your face might require a little extra TLC, it's also important to make sure you're not neglecting everything else.
Fortunately, a solid body care routine is much the same as your facial skincare — with a few minor tweaks here and there. If you want to know what's the best body care routine for a radiant glow, OROGOLD is here to tell you all about it!
Our skincare products are infused with the finest ingredients that the beauty world has to offer. As a little nugget, we'll be recommending some of our top body care products along the way so you can get the results you need! Here are 7 body care steps to make your skin glow: 
Exfoliate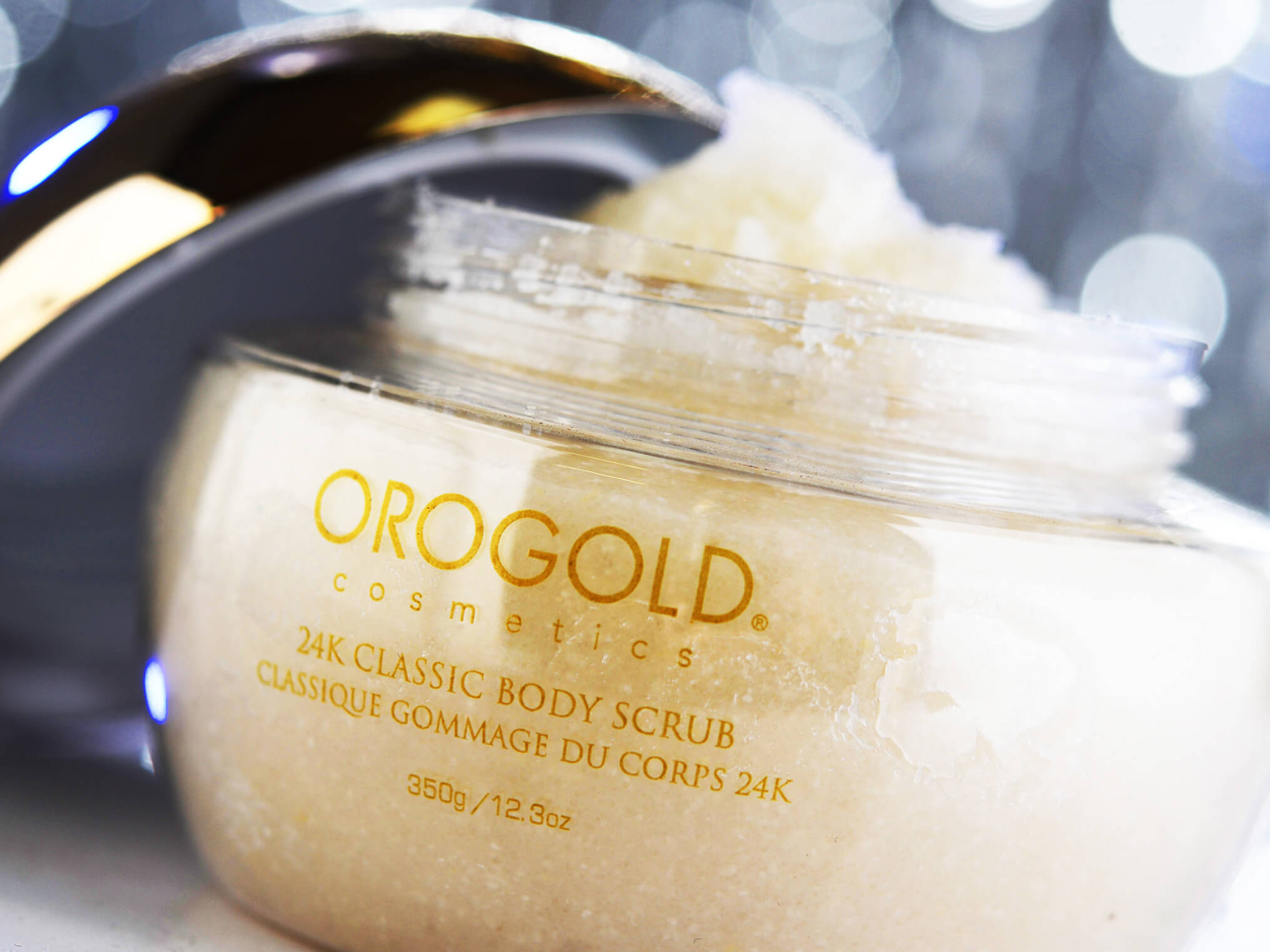 Exfoliation is a necessary part of a good body care routine. So, don't let anyone else tell you otherwise!
Exfoliating your skin has numerous benefits for improving its overall look and feel. Although your body does exfoliate roughly every 28 days, the process gradually depletes as you age. This often leaves your skin with built-up oil, makeup particles, and debris from your surroundings. Exfoliation removes the dead, dull cells from the top layer of your skin, ridding it of all dirt and debris. It'll reveal a fresh new layer of skin underneath, giving you a more radiant complexion.
This step in your skincare routine will also help minimize the look of pores and diminish the visibility of aging, including wrinkles, fine lines, sag, and hyperpigmentation.
We've got a sensational scrub for you to try out the next time you exfoliate. Our 24K Classic Body Scrub will bring the spa to your home with its sensational formula! It's infused with rich botanical extracts, including aloe vera, sunflower seed, cucumber fruit, dragon's blood, and chamomile! These work sensationally to moisturize your skin and enhance its overall look.
The gentle exfoliating blend also incorporates vitamin E and gold for a true luxury skincare experience. This exquisite body scrub will pamper your skin while gently exfoliating it, leaving it feeling velvety soft and smooth! Experience an invigorating sense of renewal with this sensational scrub.
How to Exfoliate Your Body
For the best results, we recommend using our scrub in the shower, so your skin is soft and wet before scrubbing. To apply, take a generous amount and spread it across your skin. You can use a damp washcloth or an exfoliating brush as well. These will help you easily brush away the top layer of your skin. Make sure you don't use anything abrasive as it can lead to tears in your skin, damaging it in the long run.
Massage gently in circular motions with minimum pressure. Do this for roughly 30 seconds and then rinse off with warm water.
It's important to note that exfoliating your body shouldn't be a daily step as too much can be bad for your skin. If you have oily, acne-prone skin, it's good to exfoliate twice a week. However, if your skin is on the dry side, exfoliating once a week should suffice.
Wash Yourself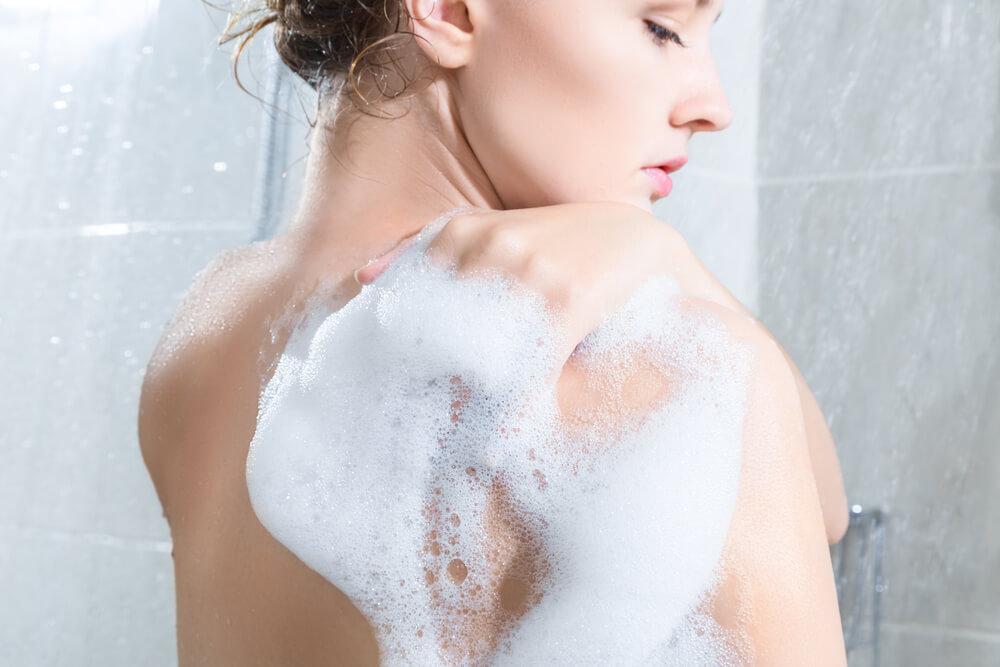 There is an ongoing debate about whether you should exfoliate or clean yourself first. We're here to tell you that neither one is wrong. There are pros associated with both, so you can decide for yourself how you want to approach these two steps.
Cleansing First
Cleansing yourself first before you exfoliate is a great way to start; it gives you a clean slate. As you cleanse your skin from residual dirt and debris, following with exfoliation helps to really get into those pores!
Exfoliating First
On the other hand, by ridding your skin of dead cells and excess oil first, you allow your cleanser to work its magic more effectively afterward. If you prefer this way, it's better to use physical exfoliation rather than chemical to help give your skin a smooth texture and a bright look! Just make sure that you don't use anything for your body that might cause irritation, as exfoliation tends to leave your skin dry and sensitive.
Tone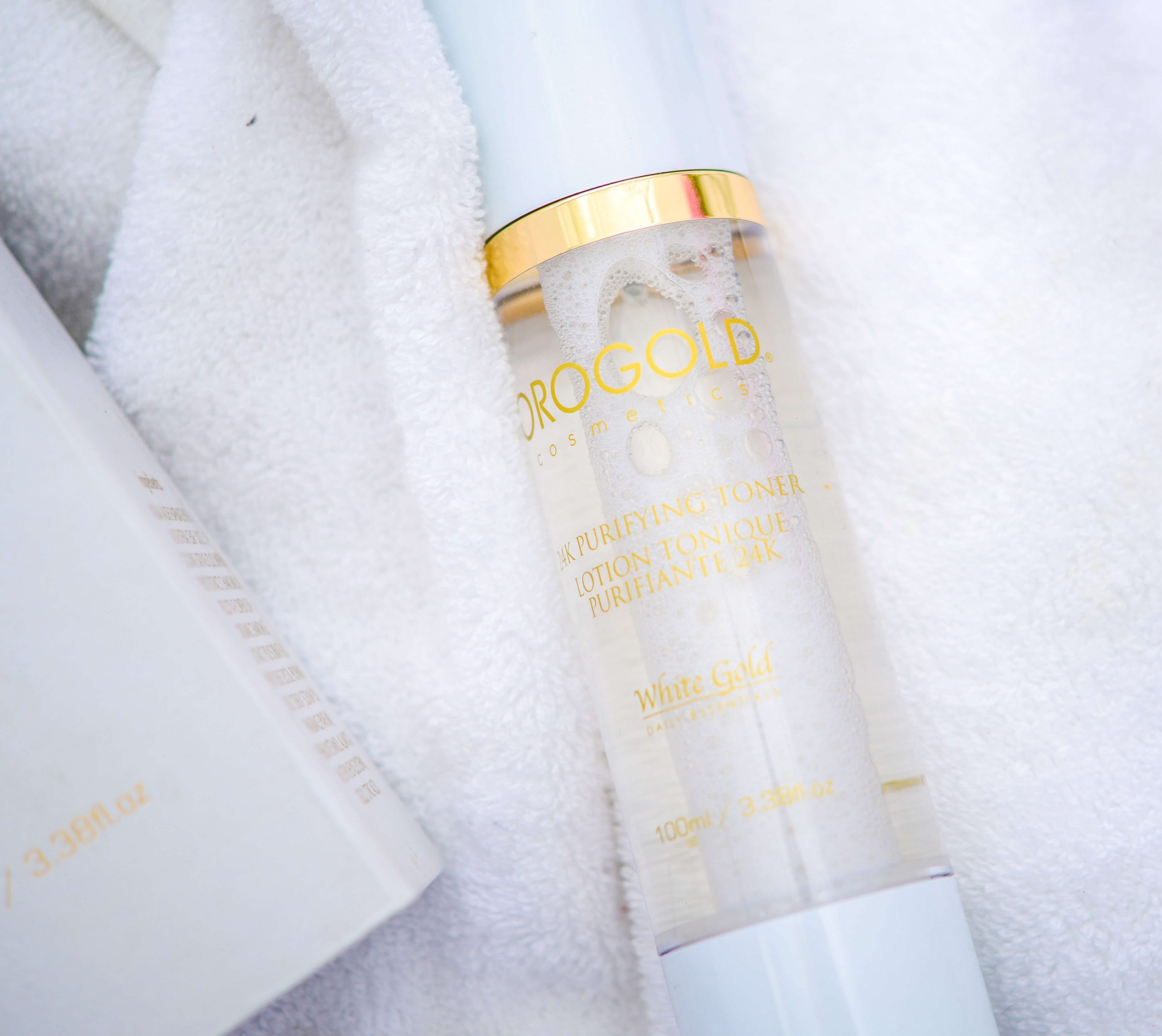 After these two steps, it's important to tone your skin. You might have just heard of toning for the face, but it's an essential part of body care as well.
Toners that don't contain any alcohol not only help keep your skin feeling balanced, but also help nurture it. They work to protect your skin's natural moisture barrier, keeping it feeling dewy and hydrated!
In addition, toners infused with rich ingredients — aloe vera, chamomile, witch hazel water, cucumber fruit, and high-potency AHAs like lactic acid and glycolic acid — work well to diminish the look of hyperpigmented skin.
Don't yet have a toner that you love? Give our 24K Purifying Toner a try! It feels ultra-refreshing and will leave your skin looking beautifully glowy.
Throw in a Mask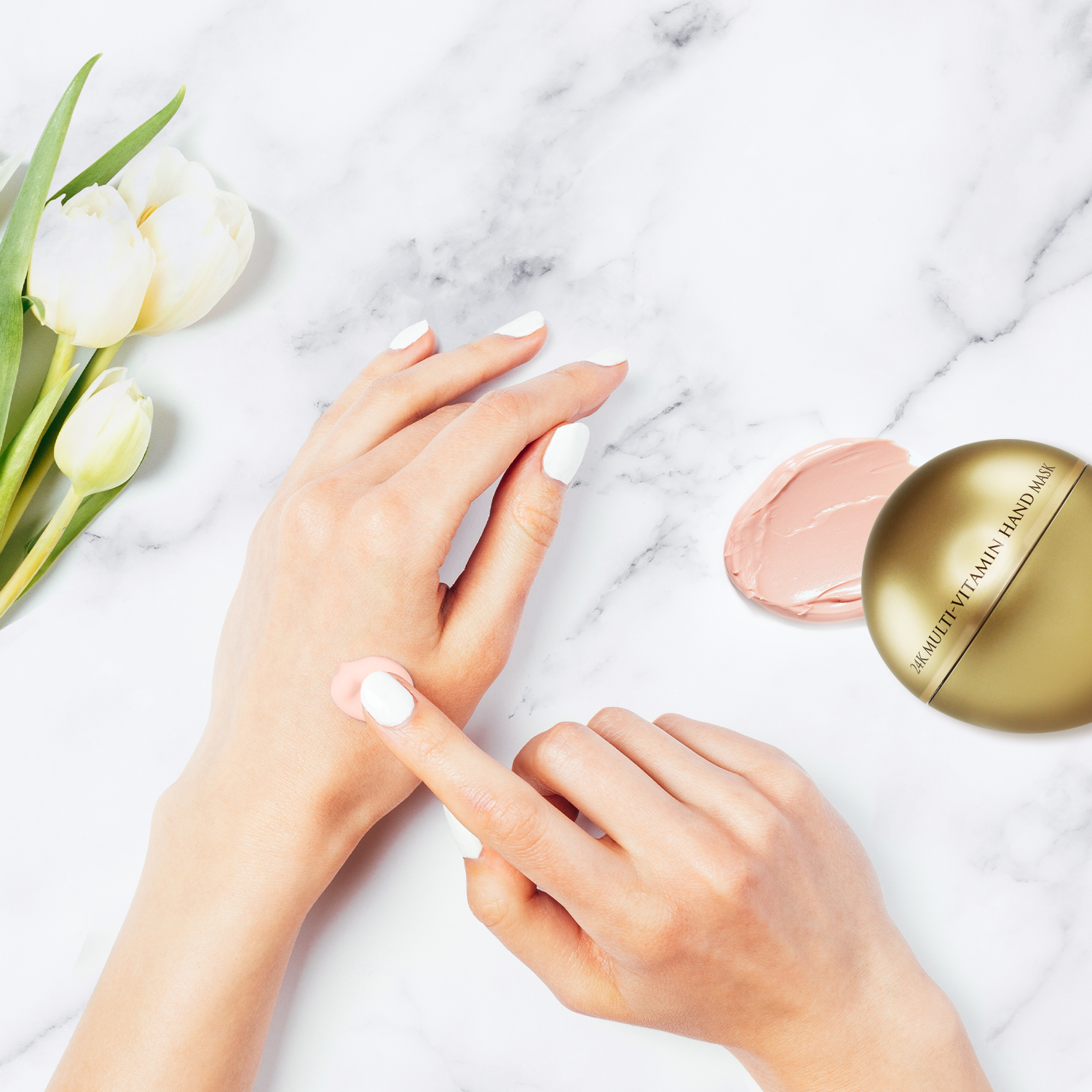 Masks are a great way to help diminish the look of skin concerns, including acne, chronically dry skin, wrinkles, fine lines, and hyperpigmentation. They aren't just for the face; they should also be included as part of a body care routine. Body masks tend to come in large containers so they can be spread across your arms, legs, buttocks, chest, hands, and feet.
For your hands, we've got an exquisite mask that will make your skin glow! Our 24K Multi-Vitamin Hand Mask features an exquisite, gold-infused blend of beautifying oils, including jojoba and sunflower seed, as well as vitamin A palmitate to diminish the visibility of aging skin.
The formula also encompasses bentonite, Dead Sea mud, and vitamin E acetate to deeply moisturize, purify, and enhance the look of your hands. Among rich botanical extracts, you'll find maidenhair, sage, ivy, aloe vera, and white birch — an enriching blend for enhancing the complexion's tone and texture.
We're confident that our 24K Multi-Vitamin Hand Mask will leave your hands looking irresistibly smooth and moisturized. To use, apply the formula evenly to clean, dry hands. Leave it on for 15 minutes and then rinse off with cool water.
Hydrate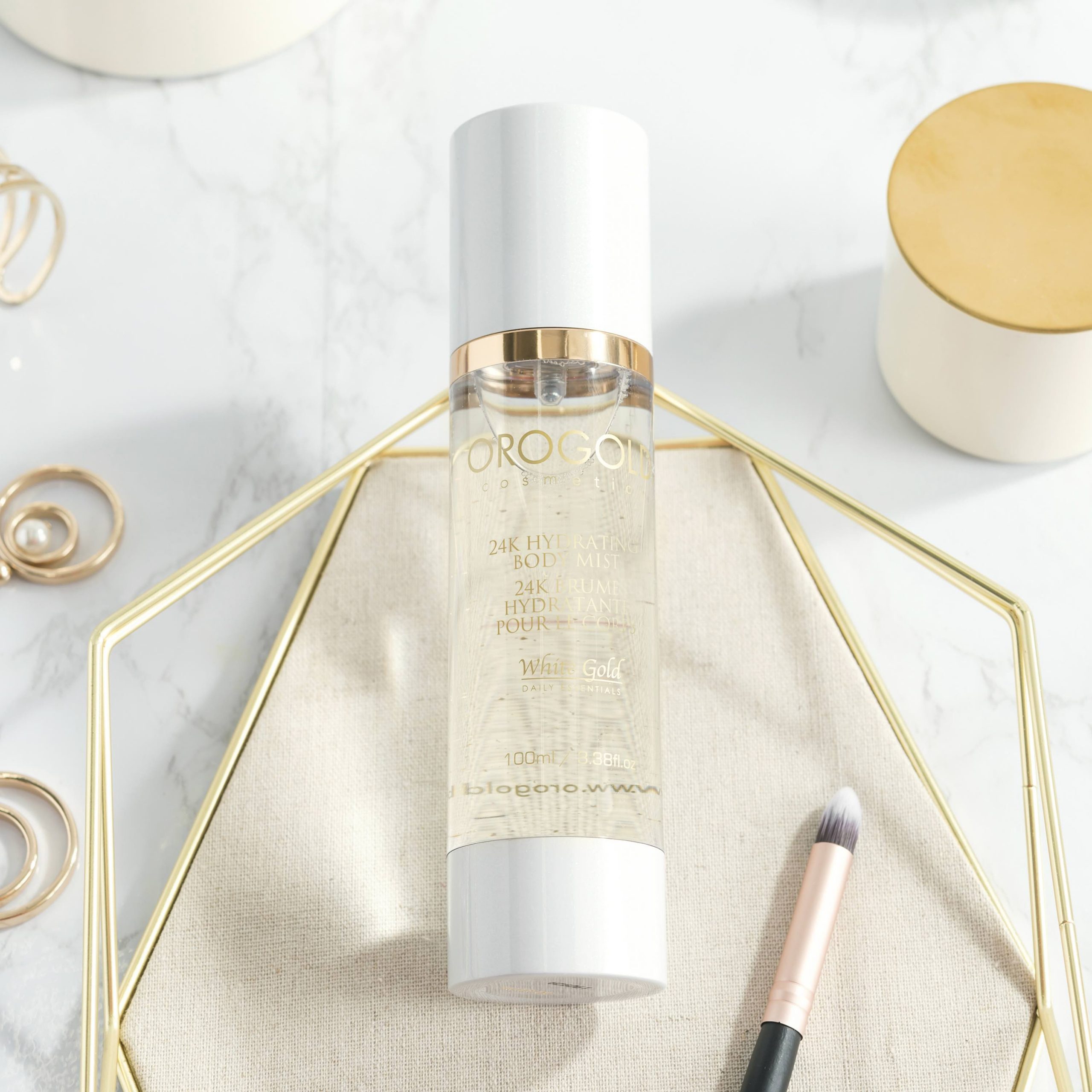 What's the difference between moisturizing and hydrating?
Moisturizing helps your skin retain moisture by sealing it in. On the other hand, hydrating formulas help increase your skin's overall hydration levels. If your skin is dehydrated, you need to have a hydrator in your daily body care routine to take care of it! Remember; anyone can have dehydrated skin regardless of their skin type. The tell-tale signs of dehydrated skin include:
A dull and lackluster complexion

More visible fine lines and wrinkles

Dark undereye circles

Itchiness
If you experience these, your skin is likely dehydrated. Hydrating formulas are designed to help increase your skin's water levels, refreshing and uplifting your whole look. 
OROGOLD has a sensational 24K Hydrating Body Mist that's bound to become your go-to for dehydrated skin! This lightly-scented essence will give your skin a refreshed and renewed feel. The formula infuses green tea leaf and sunflower seed extracts to help enhance your skin's natural moisture and keep it sealed. These ingredients also help reduce the look of puffiness, discoloration, and damage.
The mist also includes vitamin E, which possesses exceptional hydrating properties and also helps to diminish the visibility of aging. To use, just spray the mist lightly all over your body. Make sure to avoid your face and eye area.
Moisturize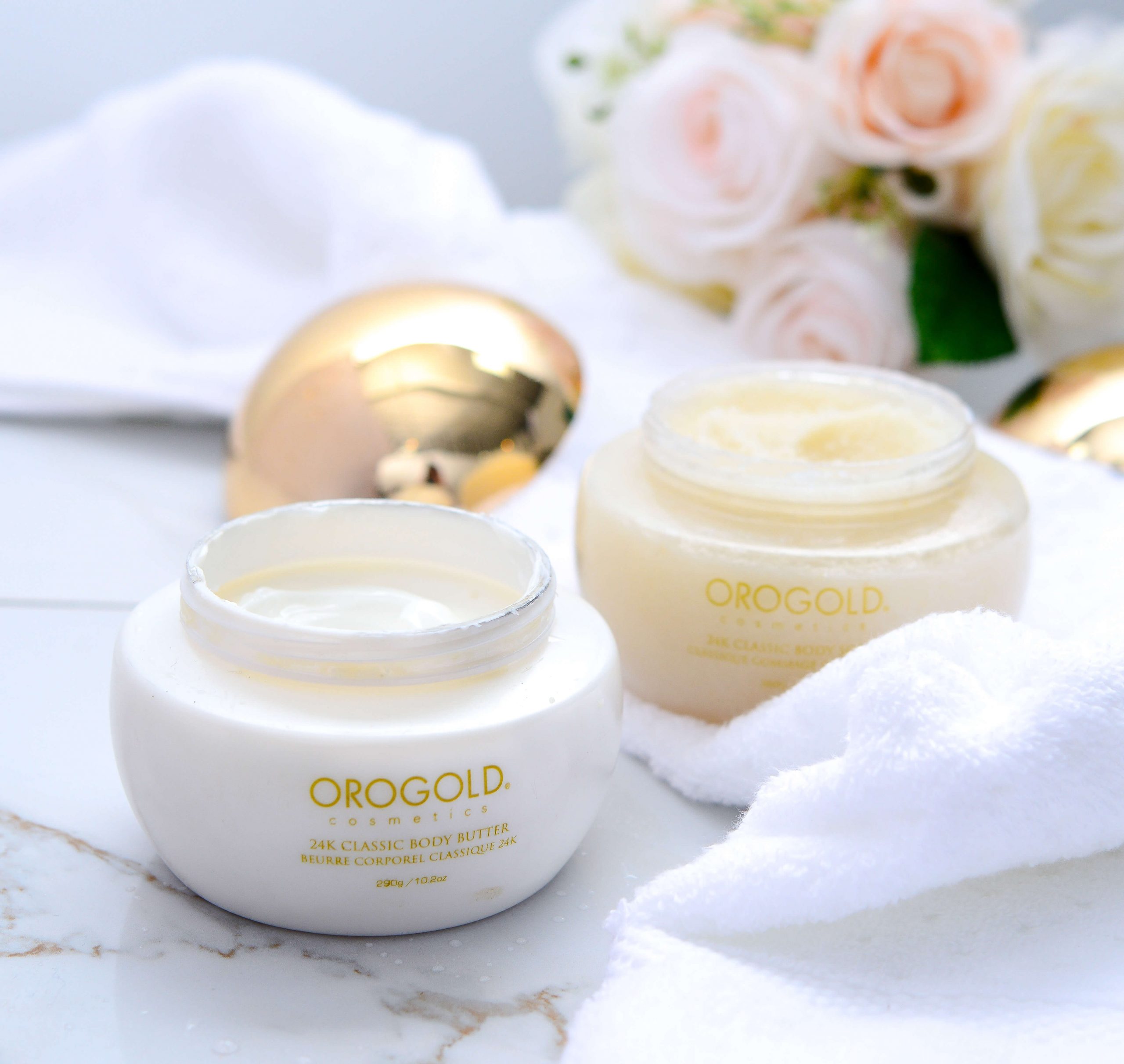 Moisturizing your body is a very important step, regardless of whether you exfoliate or not. Showering can leave your skin dry just like exfoliation does. Moisturizers play an integral role in helping our skin maintain its healthy glow!
It's important to choose the right moisturizer for your skin type. If you have oily skin, go for a non-comedogenic lotion or gel-based formula. For dry skin, you need to choose body care butters and rich creams.
You might want to take a close look at our 24K Classic Body Butter for dry, parched skin. This gold-infused, creamy, all-over-body moisturizer is formulated with a blend of rich ingredients to give you velvety soft skin.
The formula is infused with sunflower seed oil and aloe vera leaf juice, which work to relieve dryness and diminish the appearance of puffy, red skin. The rich formula also infuses organic chamomile and marigold flower extracts to diminish the appearance of aging, including fine lines, wrinkles, sag, and discoloration. We're confident that after using this rich cream, your skin will feel silky smooth all day long!
If you're looking for a similar option for your face, do check out our 24K Deep Moisturizer! This non-greasy, gold-infused cream incorporates vitamins C and E along with rich botanical extracts to pamper your skin like never before. In the formula, you'll find shea butter, which offers deep moisturizing results for your skin while rejuvenating its look completely! It also infuses white tea leaf, Gotu kola, and chamomile, which help improve your skin's appearance by keeping it hydrated and diminishing the visibility of aging.
Give your skin a satin-smooth look with our multi-tasking cream that promises a deluxe experience in a bottle!
Use Sunscreen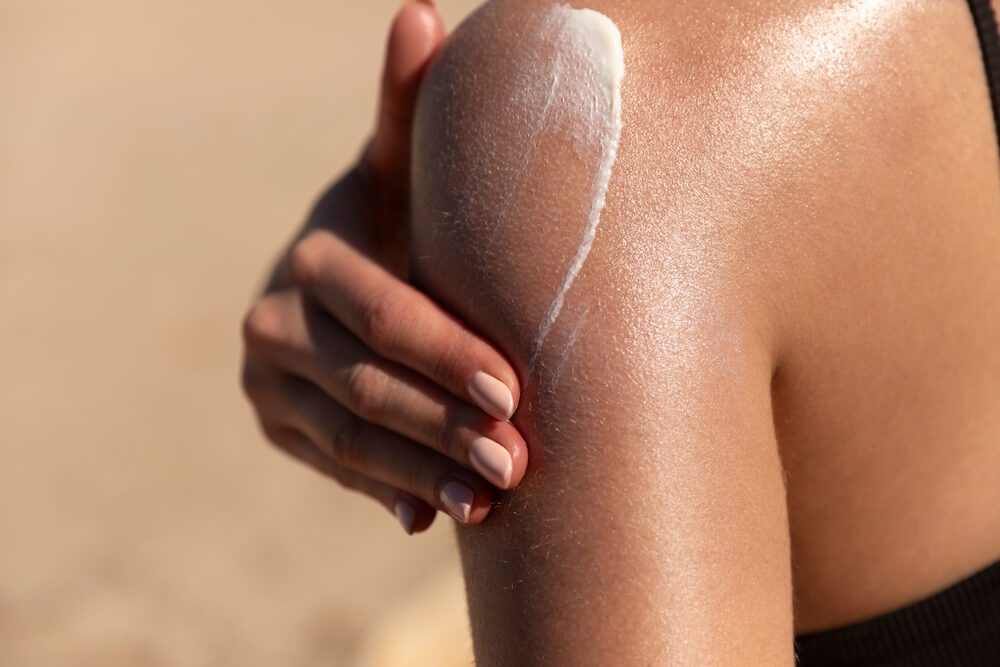 Don't forget to put on a generous amount of sunscreen before stepping outside! But should you apply your sunscreen at the end, on top of all your other skincare products, or earlier?
This depends on what type of sunscreen you use; physical or chemical. Chemical sunscreens are formulated with active chemical ingredients that function by penetrating your skin and absorbing the sun's harmful UV rays.
On the contrary, physical sunscreens work by forming a barrier between the skin and the harmful UV rays, diverting them away from your skin. They contain mineral ingredients that rest on top of your skin and never penetrate it. So, chemical sunscreens should be applied before moisturizing, so they can enter your skin, while physical sunscreens should be applied at the end of your body care routine.
Pamper Your Body the Right Way with OROGOLD's Body Care Products
This body care routine is destined to help you get the glowing skin you've always been looking for. All of these steps are not set in stone as everyday essentials, e.g., you don't need to exfoliate or use a body mask more than twice a week. As for the other steps, it's good body care practice to make them a part of your daily routine. You're bound to notice great results in just a few weeks!
If you'd like to give your face some TLC too, click here to browse more of OROGOLD's bestselling gold-infused skincare products.