Quench Dry Skin With the 24K Rose Gold Collection
Posted on October 30, 2022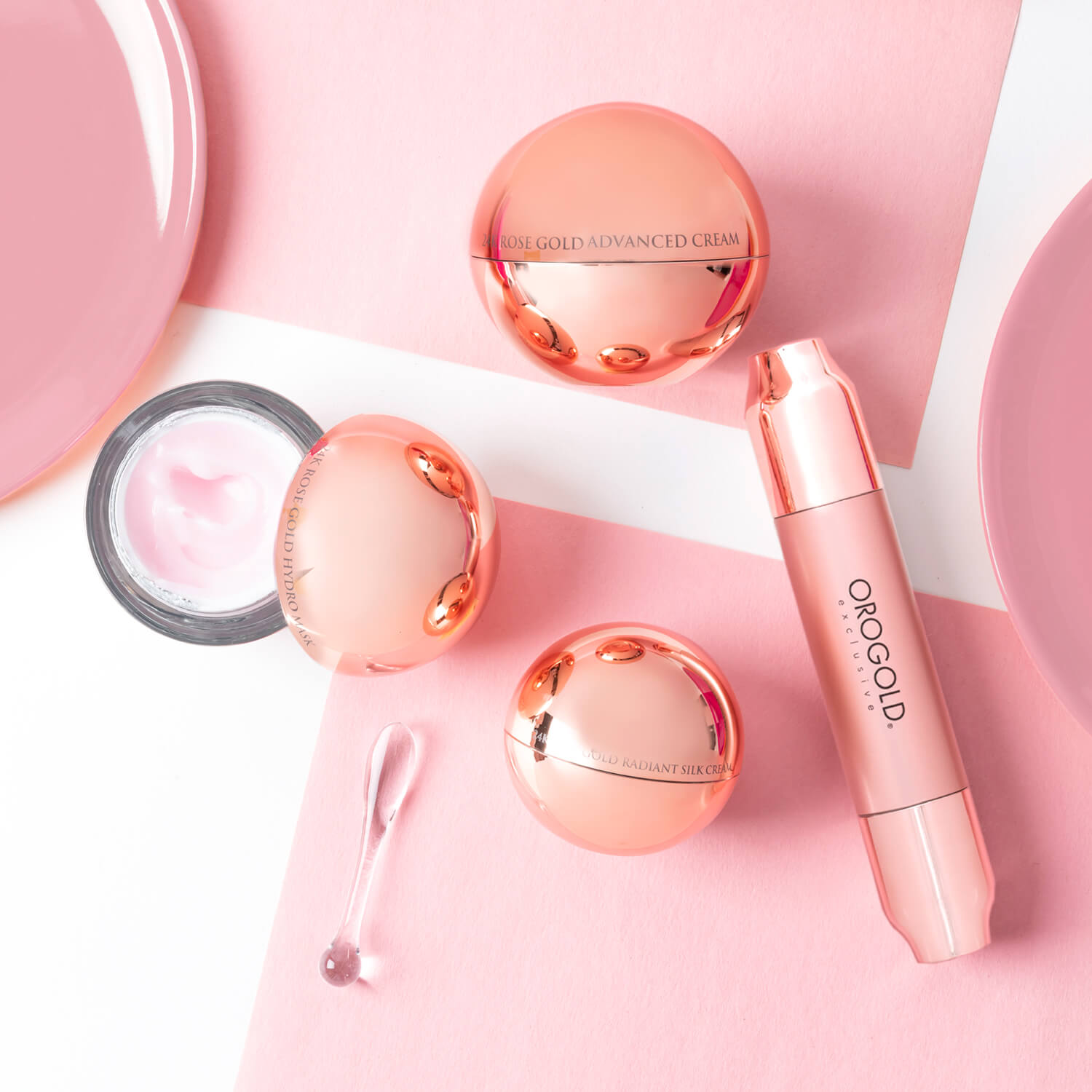 There's no denying that dry skin can be extremely challenging to deal with. Whether it's caused by genetics, the weather, aging, or anything else, some people never quite manage to overcome the dryness, meaning that it's something that they end up dealing with for the rest of their lives.
That's why we at OROGOLD created our 24K Rose Gold Collection. Designed specifically with dry skin in mind, this collection will quench your skin, leaving it feeling soft, smooth, and deeply hydrated. Read on as we talk you through each of the exquisite products in the 24K Rose Gold Collection. We'll also explain exactly how each one benefits dry skin, so that you can easily decide which formulas to invest in.
The 24K Rose Gold Age Glow Duo
Let's start with one of our most intricate products; the 24K Rose Gold Age Glow Duo. This set may look a little intimidating at first, but that's only because there's nothing else quite like it out there!
In each box, you'll find 12 small bottles of our 24K Rose Gold Multi-Vital Liquid Powder. These are accompanied by a bottle of our 24K Rose Gold Enriching Serum. The products are designed to be used in conjunction for the best results.
You start with the powder, pouring a small amount onto your hand. Gently massage this into your face (after cleansing and toning) – it'll turn into a liquid that your skin will soak up. Then, follow this up with a couple of pumps of the serum.
What Does the 24K Rose Gold Age Glow Duo Do for Dry Skin?
So, why would you want to replace your regular serum with this duo from the 24K Rose Gold Collection?
It all comes down to the potent ingredients within this two-part regimen. Although the two products are applied separately, the ingredients work synergistically once in your skin.
We've crammed numerous humectants into these formulas. The powder is loaded with sodium hyaluronate and olive oil esters, while the serum boasts aloe, caviar extract, glycerin, seaweed, and another dose of sodium hyaluronate. All of these moisture-binding ingredients help to hydrate dry skin, immediately plumping up and softening the appearance.
The star ingredient of the 24K Rose Gold Collection, rose hip seed extract, can be found in both formulas too. It works to moisturize dry skin while delivering a wide range of antioxidants that reduce the appearance of fine lines and wrinkles. These creases are often more visible on dry skin, making it vital to have a few products in your skincare arsenal that tackle the visibility of aging.
It's also worth highlighting the magnesium ascorbyl phosphate in the serum formula. This is a highly stable yet effective form of vitamin C. It's all the rage at the moment, and for good reason. Not only does dry skin absolutely love how this vitamin leaves it feeling healthier and better balanced, but vitamin C is also famed for brightening the complexion, giving it a newfound radiance.
The 24K Rose Gold Hydro Mask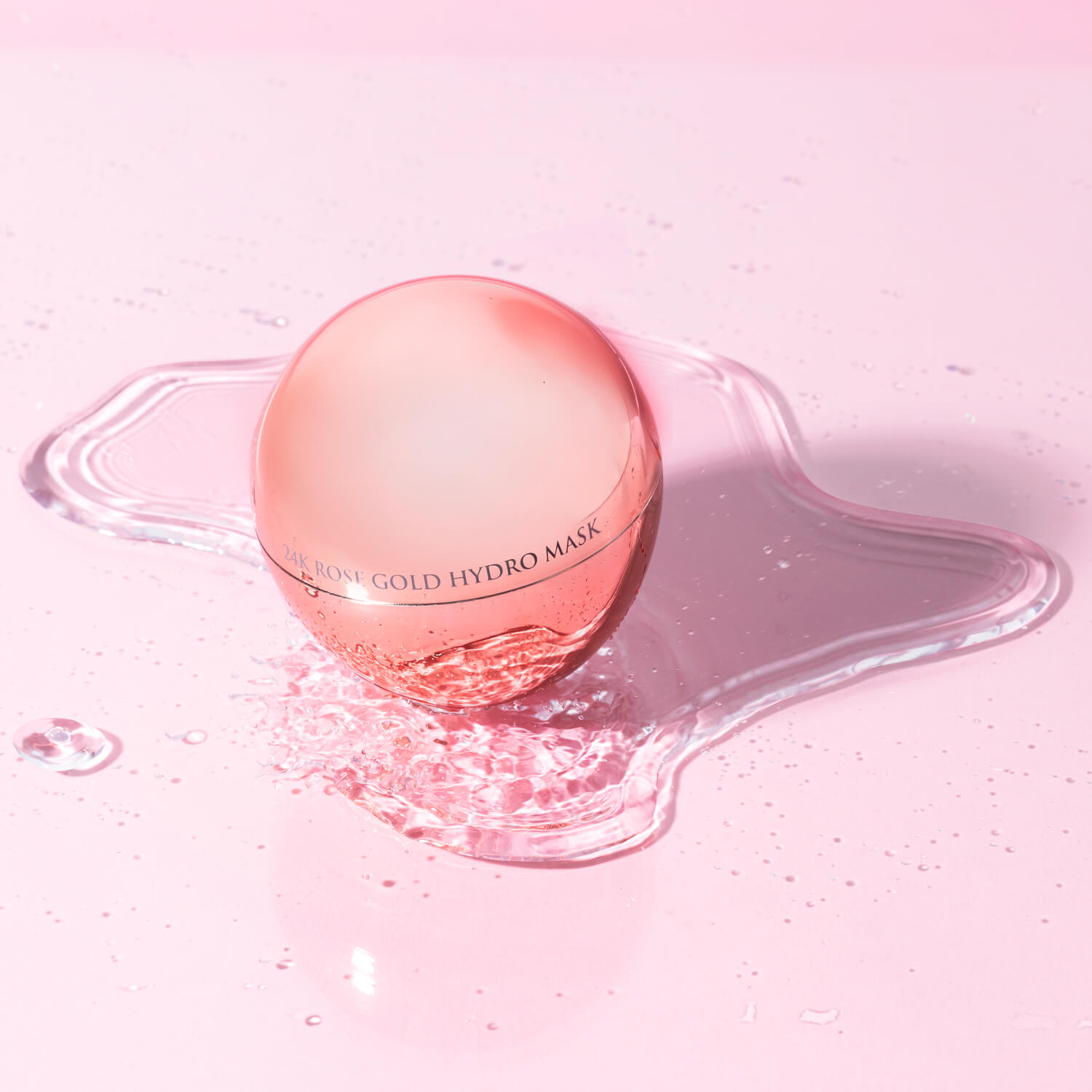 Can a face mask really help to relieve the look and feel of dry skin for more than just a few hours? When it comes to the OROGOLD 24K Rose Gold Hydro Mask, the answer is a firm yes.
It may come in a jar, but this mask is nothing like any of the clay or cream masks you've used in the past. For starters, it's a leave-on mask, meaning that you don't need to rinse it off.
It's also so much fun to use! Simply scoop out a small amount of the mask and apply it to your skin. Do this after cleansing, but make sure that you pat your skin dry before applying the mask. Then, gently massage the mask into your skin. As you do so, it'll transform into water droplets that sink into your skin. For best results, we'd recommend following it up with one of the creams from the 24K Rose Gold Collection (we'll get to those soon!).
What Does the 24K Rose Gold Hydro Mask Do for Dry Skin?
Hydrating face masks are so beneficial for dry skin. However, most are designed to be rinsed off, meaning that your skin only has 10-15 minutes to soak up the ingredients. The fact that the 24K Rose Gold Hydro Mask can be safely left on the skin encourages a slow and steady stream of skin-loving compounds.
The deeper this mask soaks into your skin, the softer and fuller your skin will look. It's the perfect formula for people who have dry skin that looks a little dull, since several of the antioxidants in this mask are famed for brightening the complexion. From rose hip seed extract to seaweed extract to lime fruit extract, each one of these botanicals brings so much to the table.
That said, we haven't relied on nature alone when creating this formula. You'll also notice oligopeptide-68 in this face mask. This cutting-edge ingredient is a decapeptide, meaning that it consists of 10 amino acids. These not only leave the skin feeling stronger and better capable of retaining moisture, but also brighten the look of a dull complexion.
The 24K Rose Gold IV Filler Concentrate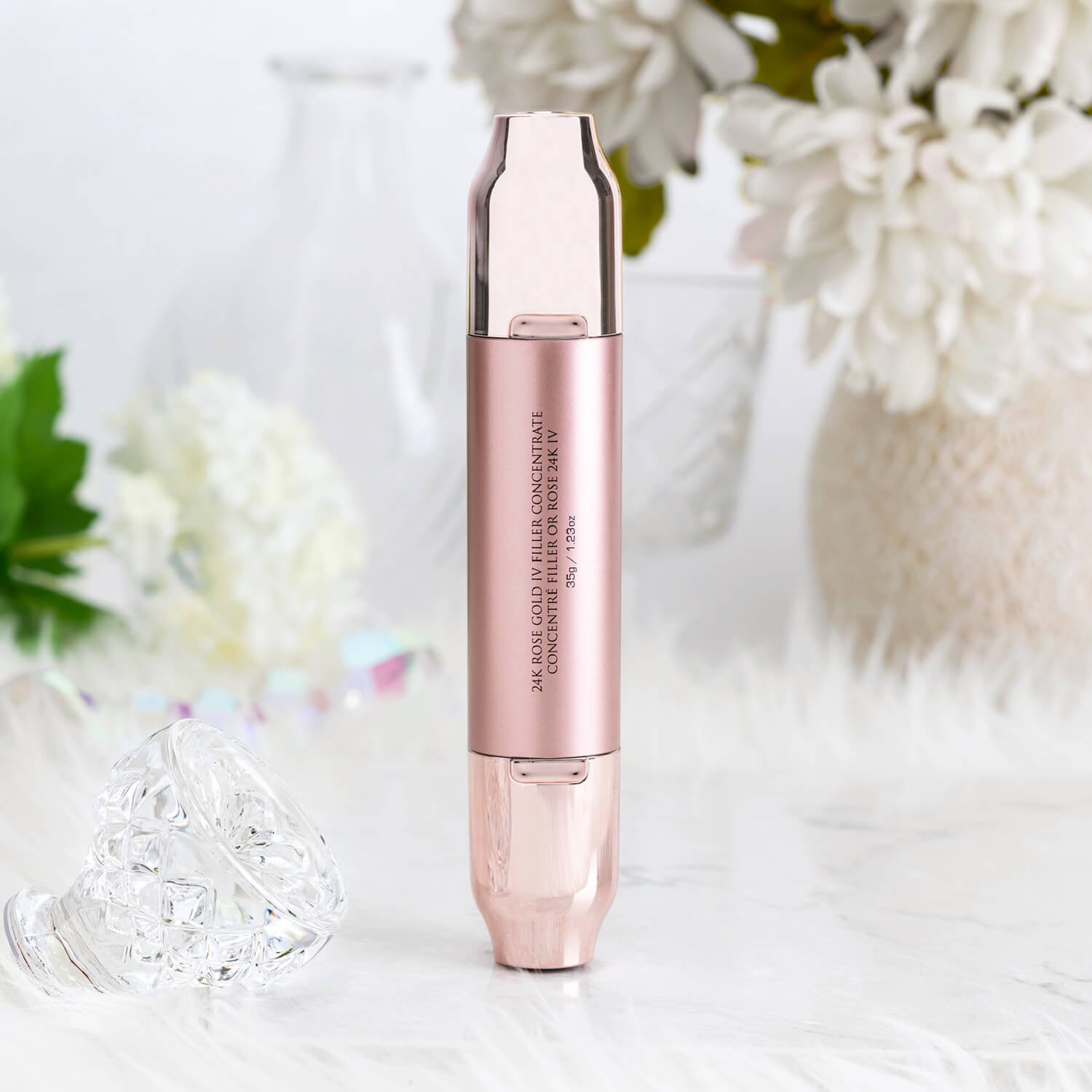 As we mentioned earlier, fine lines and wrinkles look so much more noticeable on dry skin. If you've been searching for a way to banish the appearance of those creases, look no further than the 24K Rose Gold IV Filler Concentrate.
This fast-acting formula is loved for how it provides immediate results. Simply apply a small amount directly over the top of any wrinkles, and watch their appearance fade away. Those with dry skin particularly love using it around the eyes and the mouth, since these areas are often the first to display the visible signs of aging.
What Does the 24K Rose Gold IV Filler Concentrate Do for Dry Skin?
We've already told you about how this favorite from the 24K Rose Gold Collection can instantly smooth away the look of your wrinkles. However, in addition to doing so, it also delivers high-performance moisturizing ingredients to the areas of skin that you apply it to. And since those areas are where your wrinkles reside, there's a high chance that those are the driest parts of your skin.
Some of the moisturizing ingredients in this formula include avocado oil, sweet almond oil, and squalane. We've also added in some cucumber-fruit extract, an ingredient revered for how it softens and soothes the feel of the skin. It's ideal for countering the tight feeling that can sometimes accompany areas of dryness.
You'll also find vitamin E, sodium hyaluronate, grape seed extract, and peptides in this formula. Again, these all bring moisturizing benefits to the skin, leaving it looking smoother, plumper, and significantly younger.
The 24K Rose Gold Radiant Silk Cream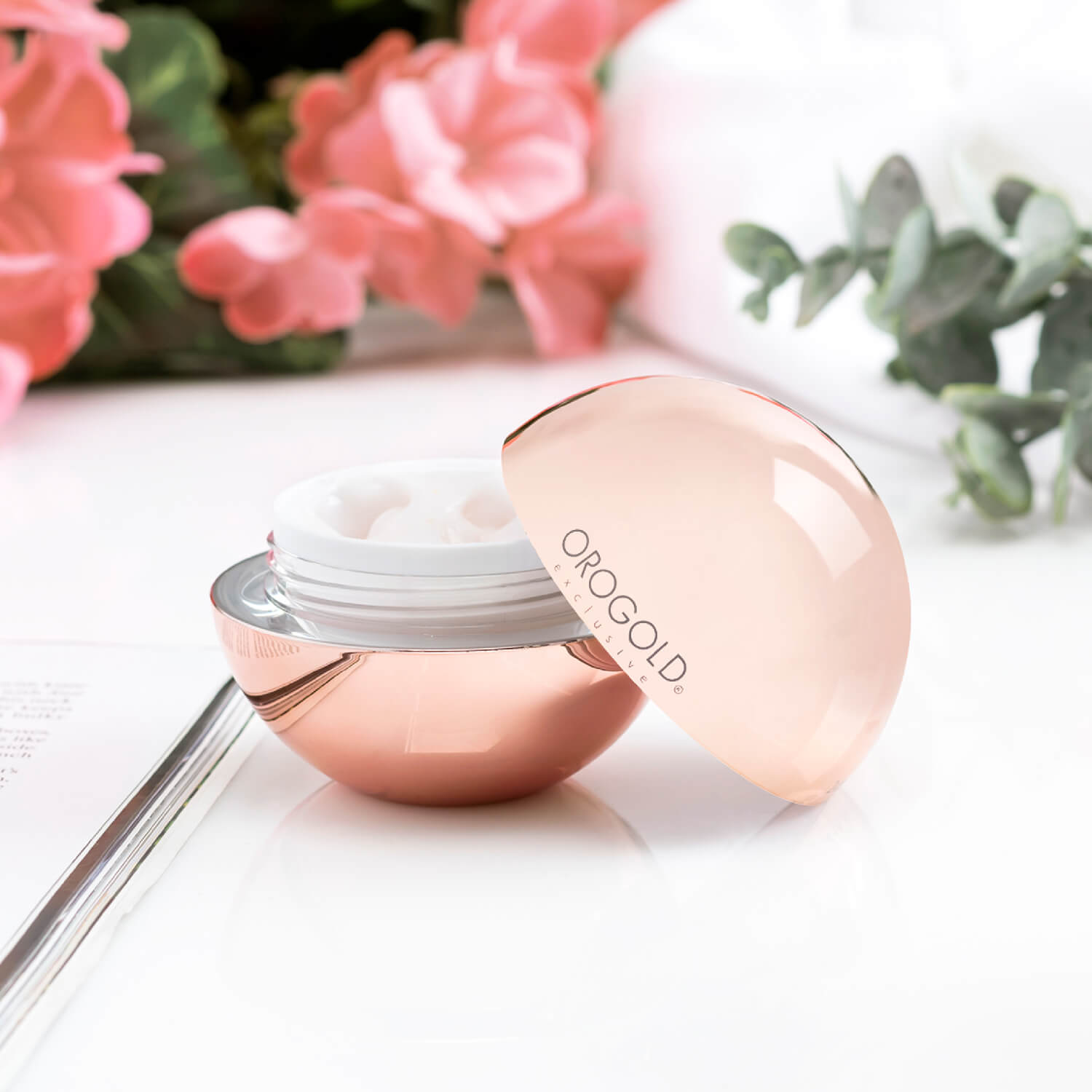 Thick and rich creams are usually recommended for people with dry skin. However, these aren't always practical. Whether you need a lightweight formula to layer under makeup or a silky cream that can be applied over the top of hydrating serums without leaving your skin feeling weighed down, the 24K Rose Gold Radiant Silk Cream is it.
This is the first of the two creams in the 24K Rose Gold Collection. It's the lighter of the two moisturizers, but don't let that fool you into thinking that it won't pamper your dry skin in the way that it needs…
What Does the 24K Rose Gold Radiant Silk Cream Do for Dry Skin?
This formula is all about lightweight hydration. In order to provide this, we've brought together a cocktail of humectants, including squalane, glycerin, and sodium hyaluronate. These are known for being the best humectants in the industry. They bind moisture to the skin, which instantly leaves it looking fresher and dewier.
We've also added collagen amino acids to this 24K Rose Gold Collection cream. Again, these are ingredients known for their moisturizing properties, yet they aren't heavy on the skin.
Since most people with dry skin would only use a lighter cream during the day (nothing beats a rich and luscious formula for night time!), we wanted to ensure that this formula would leave your skin looking perky and rejuvenated as it faces whatever the day brings. This is why we added in some caffeine, along with a variety of vitamins. They'll leave your skin looking beautifully radiant for several hours!
The 24K Rose Gold Advanced Cream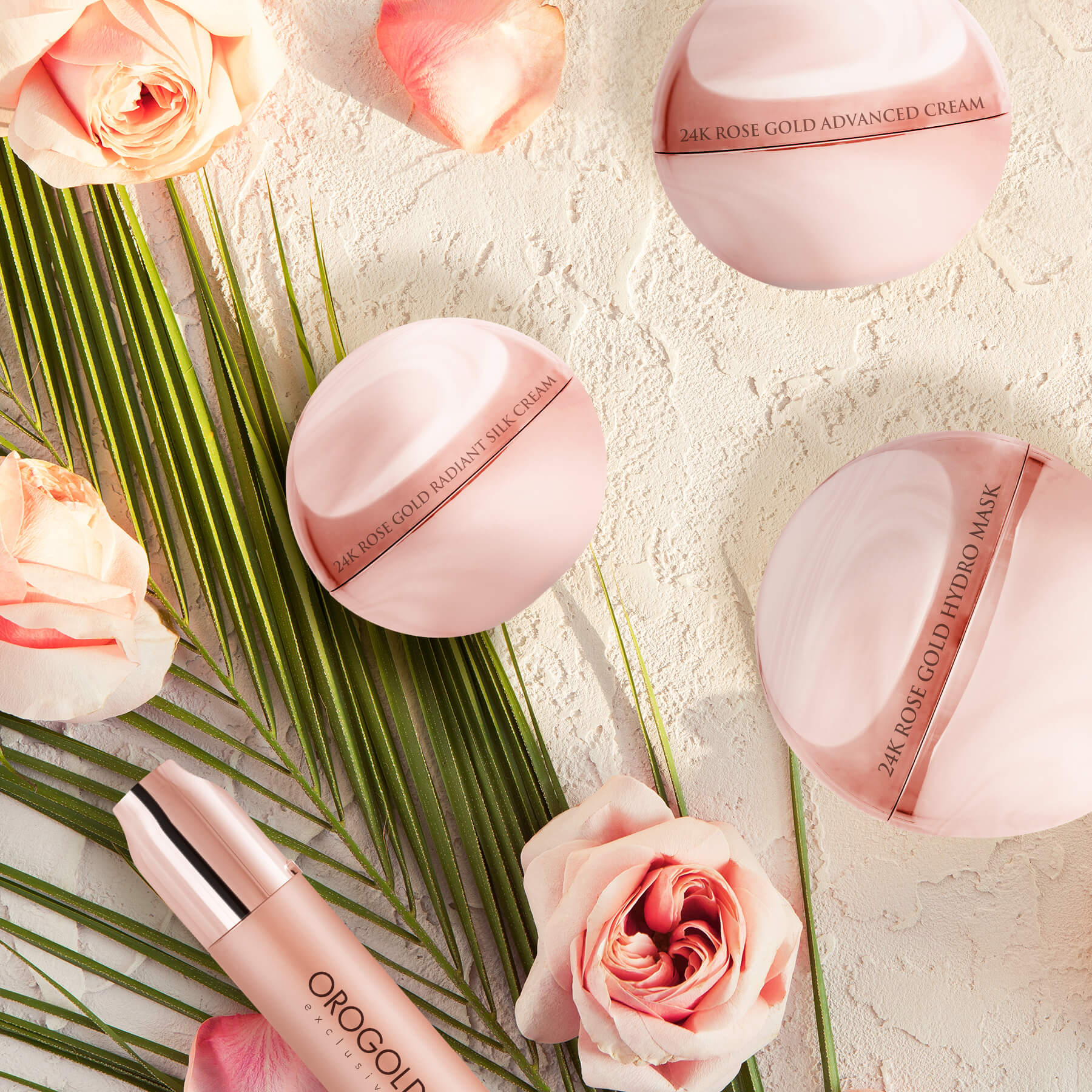 Now onto the richer cream in the 24K Rose Gold Collection; the 24K Rose Gold Advanced Cream. Not only is this product perfect for evening use, but it's also ideal for those who want to eliminate the look of roughness and flakiness during the day.
It may be richer than the 24K Rose Gold Radiant Silk Cream, but it doesn't leave the skin feeling greasy. It can still be worn under makeup too – simply apply as much as you feel your skin needs.
What Does the 24K Rose Gold Advanced Cream Do for Dry Skin?
It's simple – the 24K Rose Gold Advanced Day Cream will leave dry skin feeling deeply moisturized and hydrated. Its effects won't wear off in a couple of hours either. Use this cream once a day and your dry skin will feel smooth and touchably soft.
This is all thanks to the blend of plant oils that we've infused into this formula. Avocado oil contains numerous fatty acids that are a must for moisturizing dry skin. These are combined with sunflower seed oil and soybean oil, along with vitamins and plant extracts.
For some extra hydrating power, we've added in seaweed extract and sodium hyaluronate. They work well with the plant oils – while the oils moisturize, these ingredients hydrate. It's a much-needed combo if you really want to ease the look of dryness in the long run.
All of the ingredients in this cream will leave your complexion glowing. They'll soften the look of rough and flaky skin, making your dry skin so much less noticeable.
Treat Your Skin to the 24K Rose Gold Collection
As you can see, the 24K Rose Gold Collection from OROGOLD really is the perfect partner for dry skin. Each product works in its own unique way to relieve the look and feel of dryness, bringing your complexion back into balance. Whether you treat yourself to just one of the products in the collection or you go all in and buy them all, these formulas truly are a must if you want to bid farewell to the look and feel of dry skin for good.
Curious about what else OROGOLD has to offer? Check out more of our bestselling products here!