Have You Tried the 24K Rose Gold Collection Yet?
Posted on February 28, 2022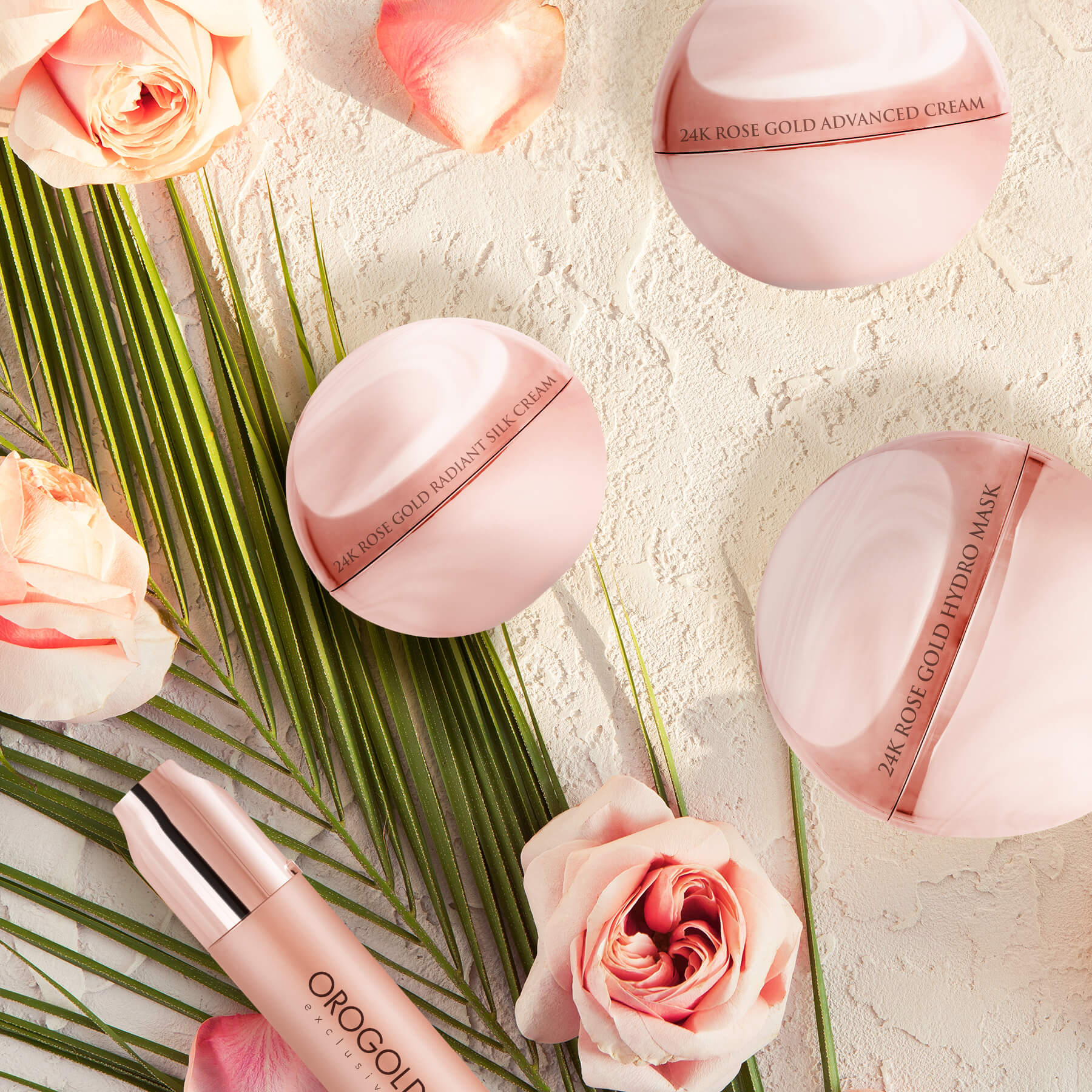 With the world's innate fascination with all things decadent, it comes as no surprise that there are tons of new fads surrounding luxury skincare ingredients. This comes in many forms, like magnetic masks made of silver or moisturizing creams infused with truffle extracts.
Those out-of-this-world ideas sound innovative and exciting, sure. But sometimes, what works best for your skin are tried and tested natural oils that nourish the skin and bring out the best of your luxury ingredients.
That's the whole reason why we designed our 24K Rose Gold Collection — a line of gold-infused skincare products with a romantic touch. Spoiler alert: that romantic touch is pretty, pink packaging and a generous helping of rosehip oil.
Curious about this exclusive OROGOLD collection? Here's a rundown of what it offers and how it helps plump up the appearance your skin.
What is the 24K Rose Gold Collection?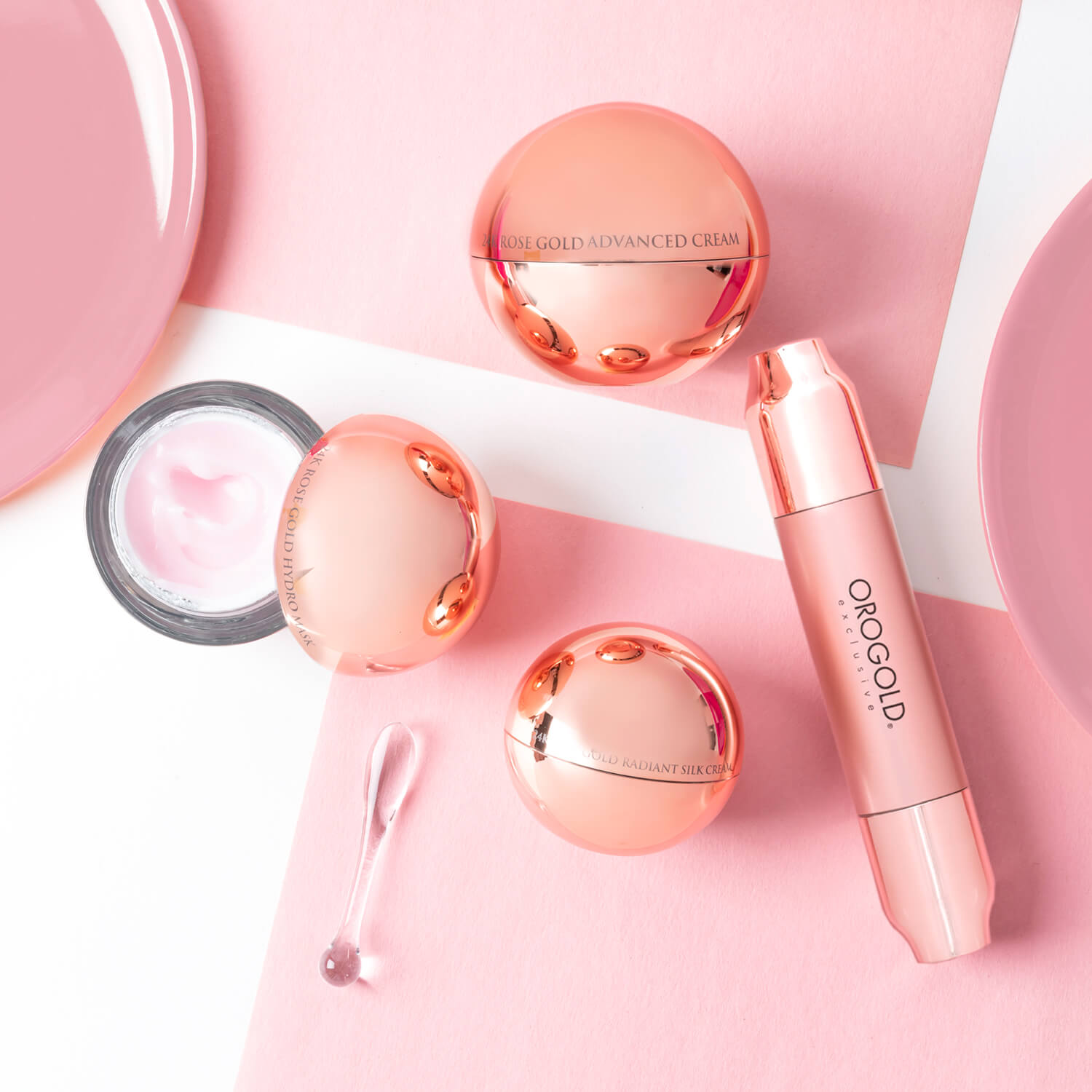 The 24K Rose Gold Collection combines the goodness of rosehip oil with the properties of gold. Together, they can give your skin that gorgeous, healthy glow you've been looking for. Plus, they'll also deliver an ultra-luxurious skincare experience at home.
Let's start with talking about gold, OROGOLD's signature and most-prized ingredient. Gold isn't just a precious metal that looks pretty in jewelry. It also helps to diminish the appearance of fine lines and wrinkles.
The 24K Rose Gold Collection's Secret Weapon: Rosehip Oil
Now, let's talk about the 24K Rose Gold Collection's star ingredient: rosehip oil. This oil is extracted from the seeds of rose bushes. This is not to be confused with rose oil, which is extracted from the flower's petals. Rosehip oil has been loved since way back in the ancient days.
One of the most attractive benefits of rosehip oil is how moisturizing it is on the skin. 
Rosehip oil is also terrific for reducing the appearance of skin aging. It'll give your skin a firmer and plumper look.
Now that you know what gold and rosehip oil do for your skin, let's take a look at how these powerhouse ingredients work together to give you the best-looking skin possible:
Moisturize Dehydrated Skin Each Night with the 24K Rose Gold Advanced Cream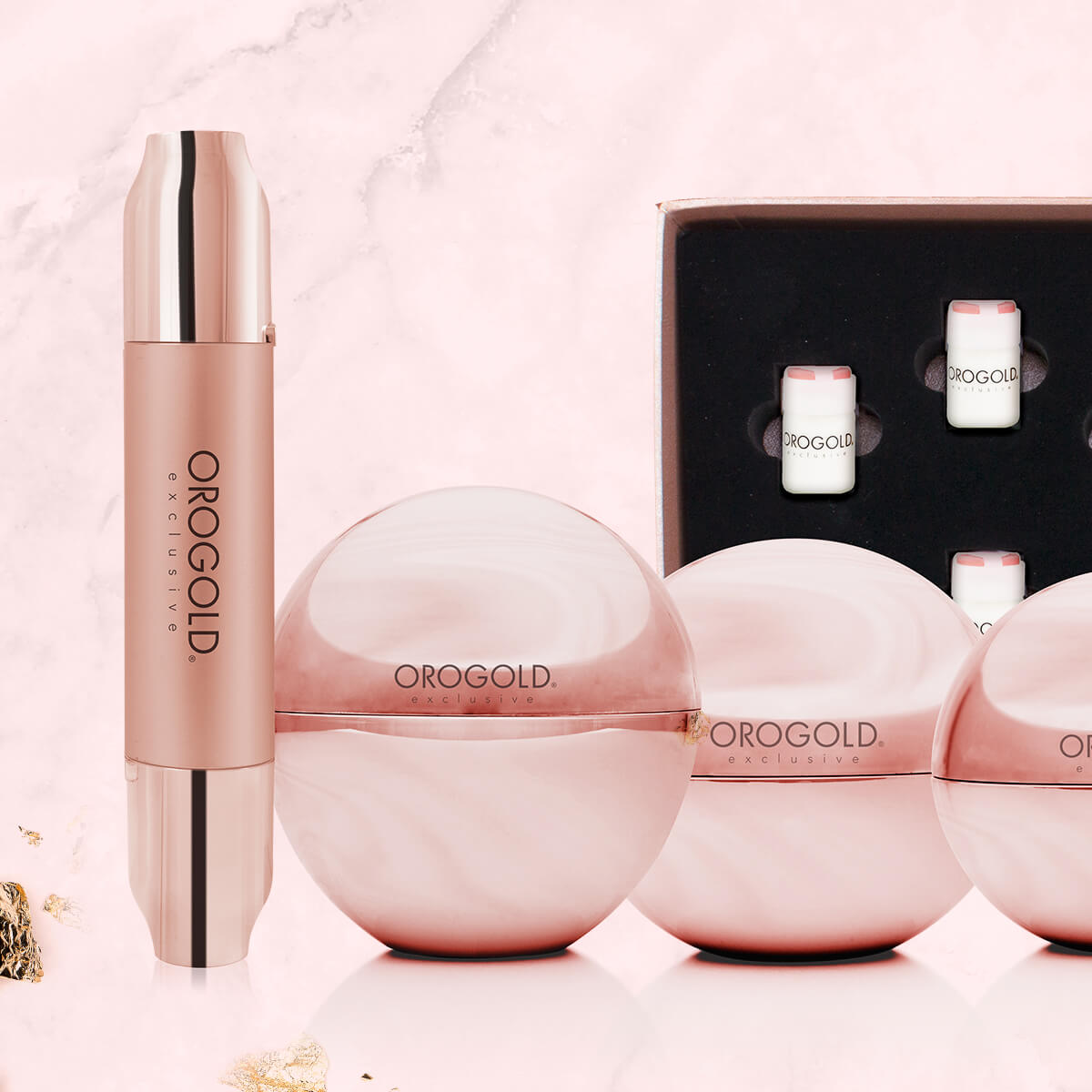 If you have dry, dehydrated skin that looks dull, it needs moisture to freshen it up and add some glow. The 24K Rose Gold Advanced Cream is perfect for that. It's a rich, thick cream that's designed especially for moisturizing parched skin.
This cream is formulated with some incredible ingredients. In this blend, you'll find rosehip extracts, avocado oil, soybean oil, and sodium hyaluronate, among others. All of these natural oils and substances help hydrate the skin.
The cream is also rich in vitamin E — a fatty vitamin that prevents the appearance of premature wrinkles and lines. Vitamin E also helps combat the feeling of flaking and itchiness that can come about from having intensely dry skin. 
But even with all these ultra-rich ingredients, this cream doesn't leave the skin feeling greasy. Instead, it makes it feel smooth and silky while giving it a supple, dewy finish.
Get Matte Skin with the 24K Rose Gold Radiant Silk Cream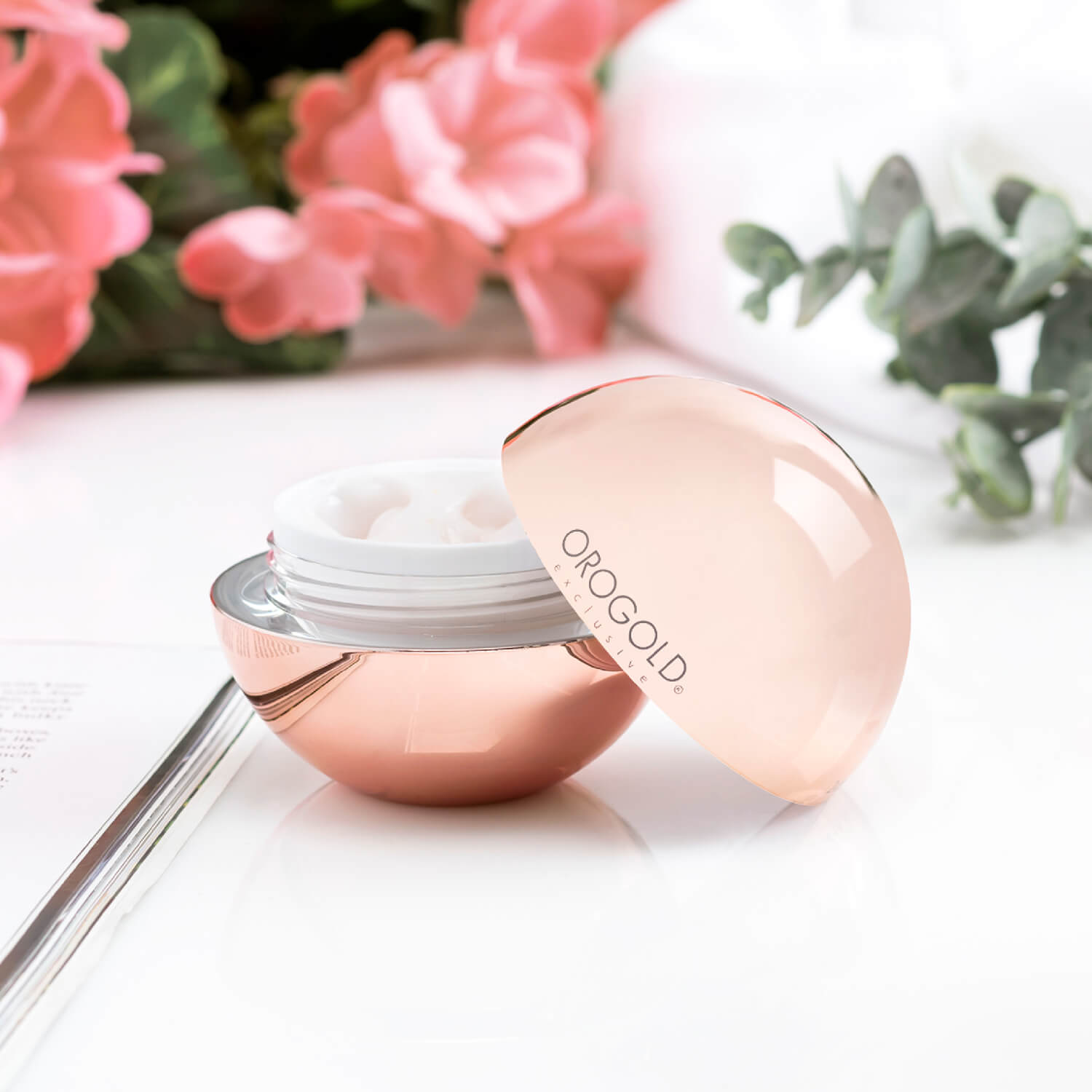 Having oily skin is a tough battle. Not only do you have to deal with large pores, constant breakouts, and a shiny face mid-day, but you also need to think through what kind of moisturizers will work for you. Pick an overly rich one and you could end up looking like a disco ball.
One way to beat the look of oiliness while still moisturizing your skin properly is by using a cream with a matte finish. That way, you get all the benefits of a rich moisturizer without worrying how greasy your skin will end up looking after an hour or two.
The 24K Rose Gold Radiant Silk Cream is one such moisturizer. Although it's packed with so many hydrating ingredients — like açaí and rosehip seed extracts, vitamin E, and hyaluronic acid — it still leaves your skin looking and feeling matte.
This velvety finish smoothens the appearance of the skin while making it feel comfortable. This is a huge plus for oily gals.
Aside from these hydrating oils and vitamins, the cream also contains ingredients to help wake up the feel of your skin, like vitamin A and caffeine. 
Feed Your Skin Deep, Intense Hydration with the 24K Rose Gold Hydro Mask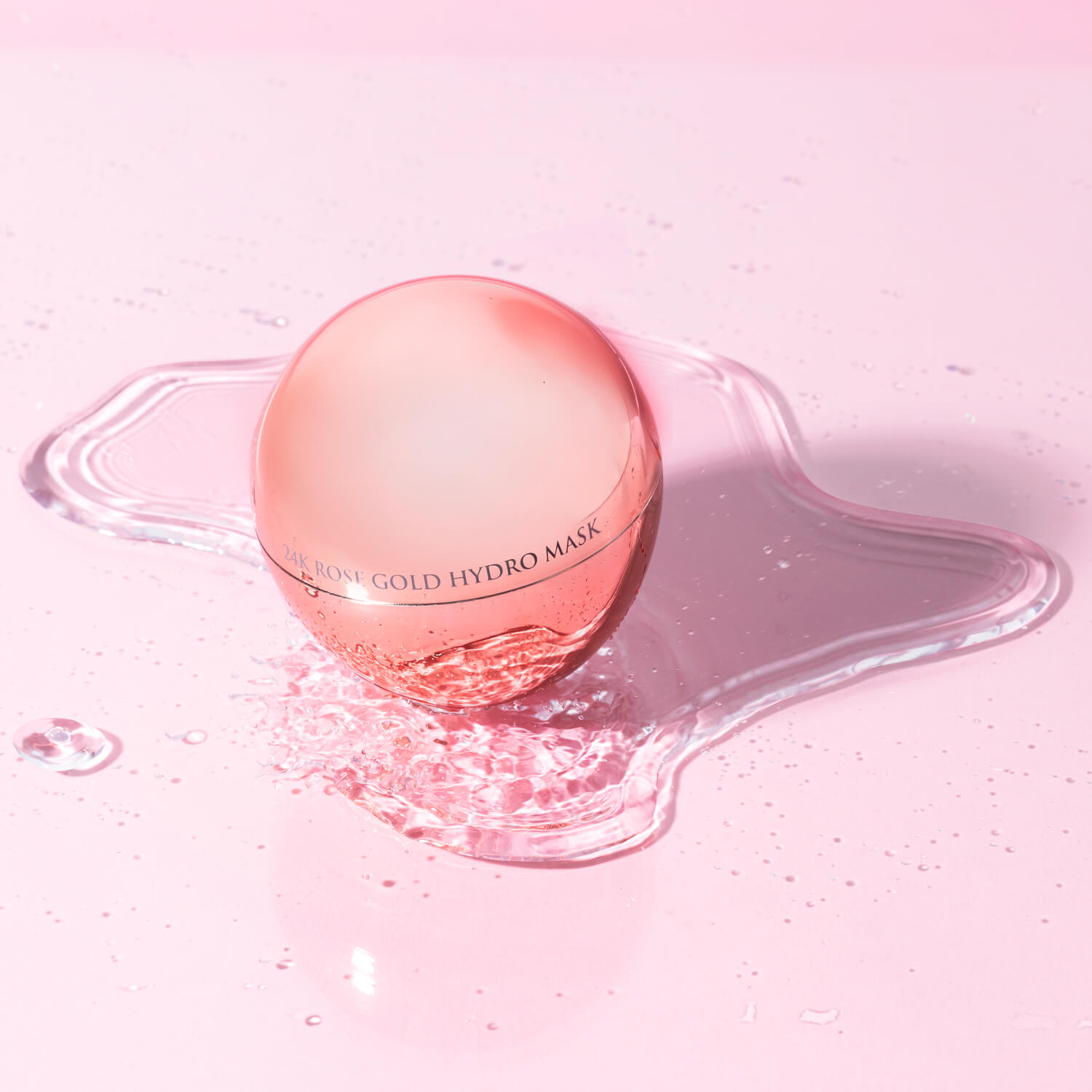 Now, the two creams we've mentioned above are wonderful at moisturizing the skin on a nightly basis. But when the colder winter months come, or if you're experiencing dry patches on your skin because of eczema or rosacea, you need to bring out something more intensely hydrating — like a weekly mask.
The 24K Rose Gold Hydro Mask is a leave-on mask that rejuvenates the look of extremely dry and dull skin. It's created with a blend of moisturizing oils, including avocado, rosehip, sunflower seed, and soybean oil. Together, they'll give you the moisture your dry skin is begging for.
It's also chock-full of botanical extracts and oils. These help to reduce the appearance of age spots and wrinkles. It has peptides and sodium hyaluronate too. Both are known to plump up the look of the skin and leave it feeling supple and full.
Kiss the Appearance of Wrinkles Goodbye with the 24K Rose Gold IV Filler Concentrate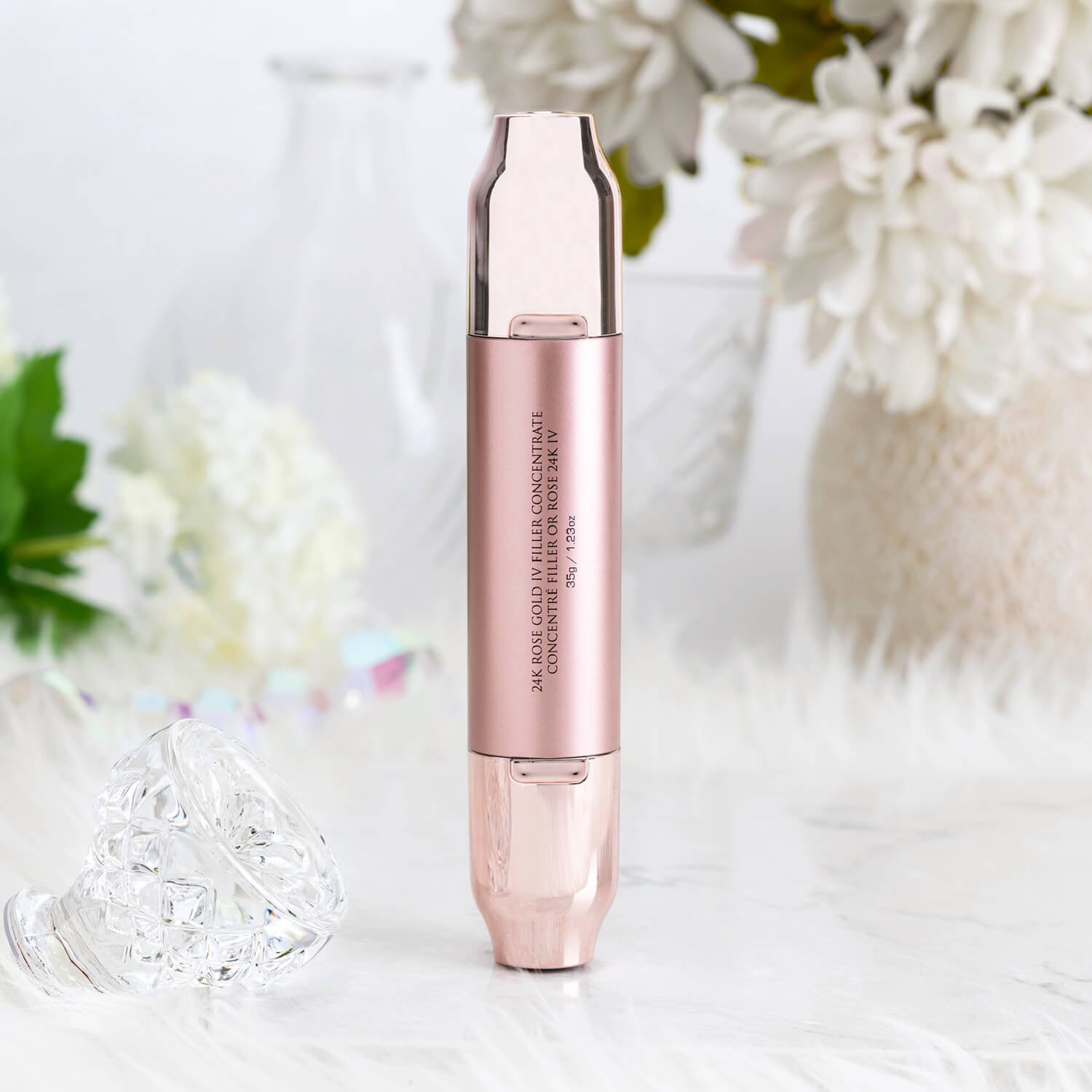 If you have a wedding to attend or a photoshoot to look perfect for, you don't have the luxury of time to wait until your moisturizing products work. You need something that will work to erase the look of your wrinkles ASAP. That's what the 24K Rose Gold IV Filler Concentrate is for.
This potent concentrate is a quick solution if you need to achieve skin that looks smooth and wrinkle-free immediately. It contains DMAE and retinyl palmitate to help plump up and volumize the appearance of your skin upon application. It'll give you a more sculpted, instantly youthful finish.
While DMAE is known to drastically minimize the appearance of wrinkles and undereye circles, retinyl palmitate (a gentler form of vitamin A that's great for sensitive skin) helps firm up the look of the skin.
The concentrate also includes other moisturizing ingredients, like vitamin E, cucumber extracts, grape seed extracts, squalene, and sweet almond oil.
Using it is simple. Just take the cap off of the applicator and apply one or two pumps of the concentrate on your fingers. Carefully spread this serum directly onto the targeted wrinkle and gently pat the solution into it. 
Boost the Look of Radiance with the 24K Rose Gold Age Glow Duo
The last product we have in the 24K Rose Gold Collection is a two-in-one set: the 24K Rose Gold Age Glow Duo. This set has two components that are sure to give your complexion a bright and radiant glow.
The first is the 24K Rose Gold Multi-Vital Liquid Powder. It is formulated with hyaluronic acid and resveratrol to wake up the skin and leave it feeling soft and hydrated.
It's quite an innovative product to use. It looks like a powder at first, but when you gently massage it into your skin, it transforms into a liquid. This step is also designed to prep your skin for the next product.
The 24K Rose Gold Enriching Serum is rich in decadent, luxurious ingredients, such as caviar, seaweed, and aloe extracts. It's a potent serum that should be followed up with a cream to seal all the hydration in your dermis layer.
Incorporating the Entire 24K Rose Gold Collection into Your Routine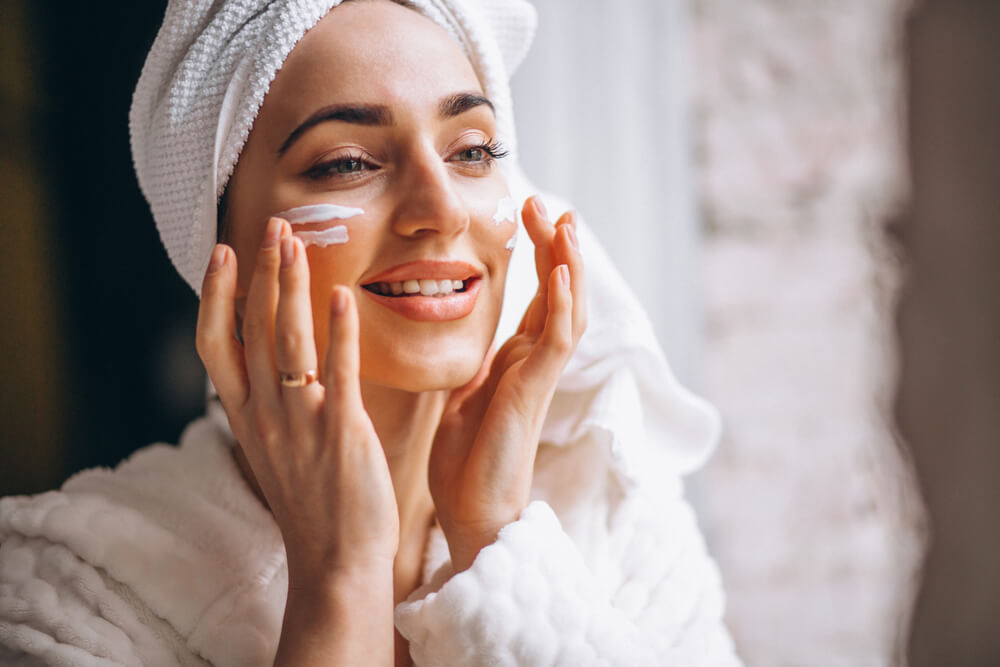 Now that you know which products are included in the 24K Rose Gold Collection, you might be wondering how to incorporate them into your current routine, especially since it isn't a full regimen in itself.
But with a good selection of basic products and proper knowledge on how to layer your skincare products, using the 24K Rose Gold Collection will be a breeze:
Always start with a gentle cleansing routine to remove all the gunk, sweat, and makeup from your skin. Use a double-cleanse method with a skin-loving oil cleanser and facial foam that will thoroughly wash your skin without stripping it of its natural oils. Starting with a good cleansing routine gives your 24K Rose Gold Collection products a better chance at penetrating the skin more, allowing the deeper layers to absorb all the nutrients our formulas have to offer.
After cleansing, start with the thinnest products first. Go for the serums in the 24K Rose Gold Age Glow Duo before sealing in all that moisturizing goodness with one of the creams. Layering this way will help your skin retain hydration for a longer time.
Then, as you go, add in products that you'll be using only on occasion. First is the Hydro Mask, which you can use weekly for a feeling of extra softness and moisture, especially during the winter months. You also have the Filler Concentrate, which you might use when you're going to an event and need perfect-looking skin.
Interested in trying out all the products in the 24K Rose Gold Collection? Save yourself the trouble of buying each one individually and go for the entire set. It's a terrific set to purchase if you've tried a few of the Rose Gold products before and are ready to commit to the whole collection.
Conclusion
More than its Instagrammable pink packaging and the opulence of being infused with gold, the 24K Rose Gold Collection is a sure winner for skin that looks thirsty and dull. 
Gold is climbing its way to becoming a popular luxury skincare ingredient, and rosehip oil has been a fan favorite among beauty enthusiasts for years. Together, they make an unstoppable formulation — one you cannot afford to miss if you need extra moisture in your skin.
So, don't sleep on the 24K Rose Gold Collection. Whether you try one product from the line or bag the whole set to try out all of them, your skin is sure to thank you for its fresh new radiant look.
Curious about OROGOLD's other gold-infused formulas? Check them out here!