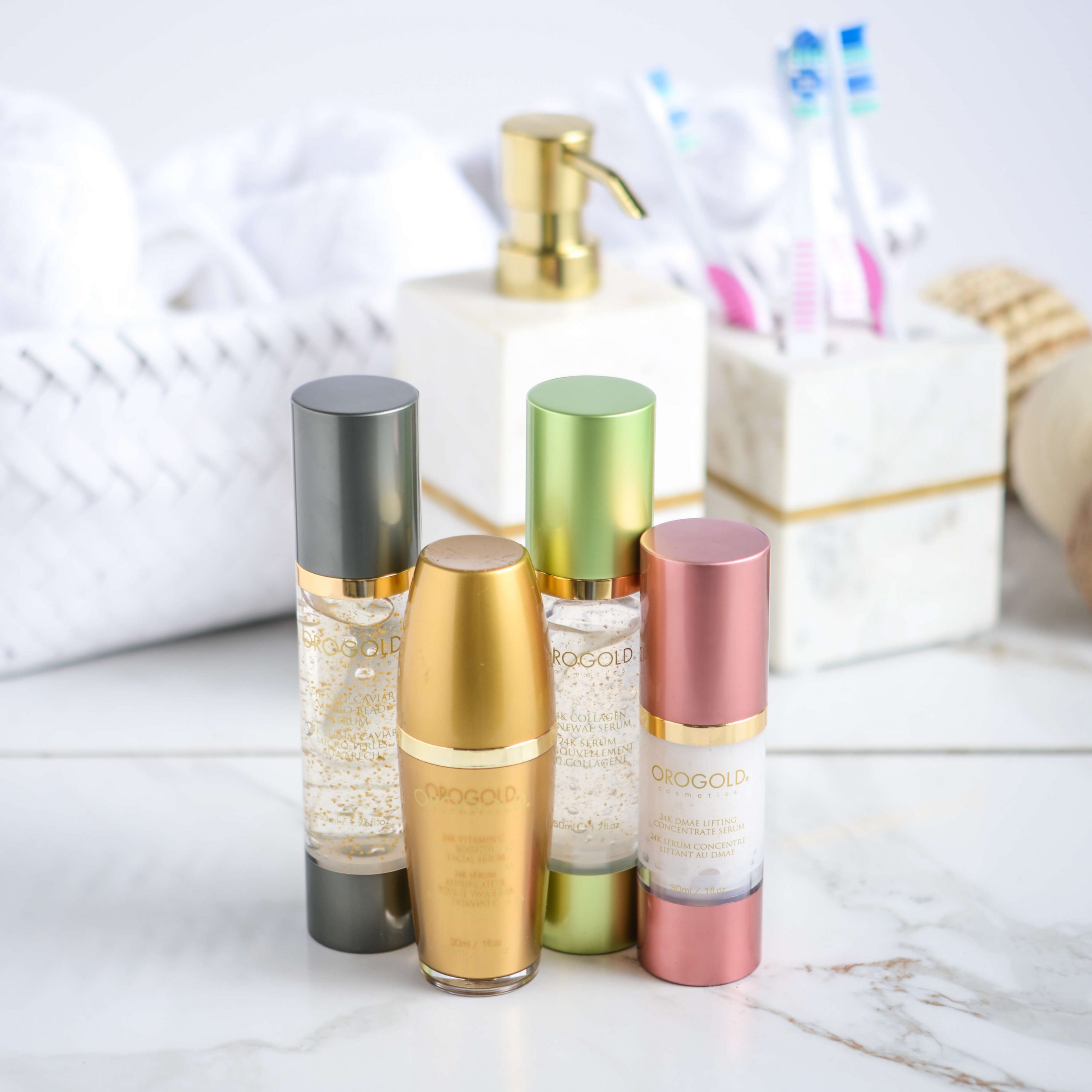 Here at OROGOLD, we love serums. They're lightweight yet potent, capable of transforming the appearance of the skin. As technologies evolve and new ingredients are discovered, we're constantly developing new and exciting serum formulas, offering you more choice than ever.
In some ways, this is a good thing. However, if you're new to the world of serums, then we don't blame you if you feel a little overwhelmed when browsing all of the gold 24K serum products we have available.
Don't worry, we're here to help. This guide will talk you through the various skin types and skin concerns out there, helping you to pick out the best OROGOLD 24K serum (or serums!) for your skin.
Dry Skin
Let's begin with dry skin, an issue that so many suffer with. In addition to patchy, flaky skin never being a good look, those with dry skin also have to deal with the fact that fine lines and wrinkles become visible at a much earlier age.
Fortunately, serums are a great product to combat the appearance of dryness.
Quick and Easy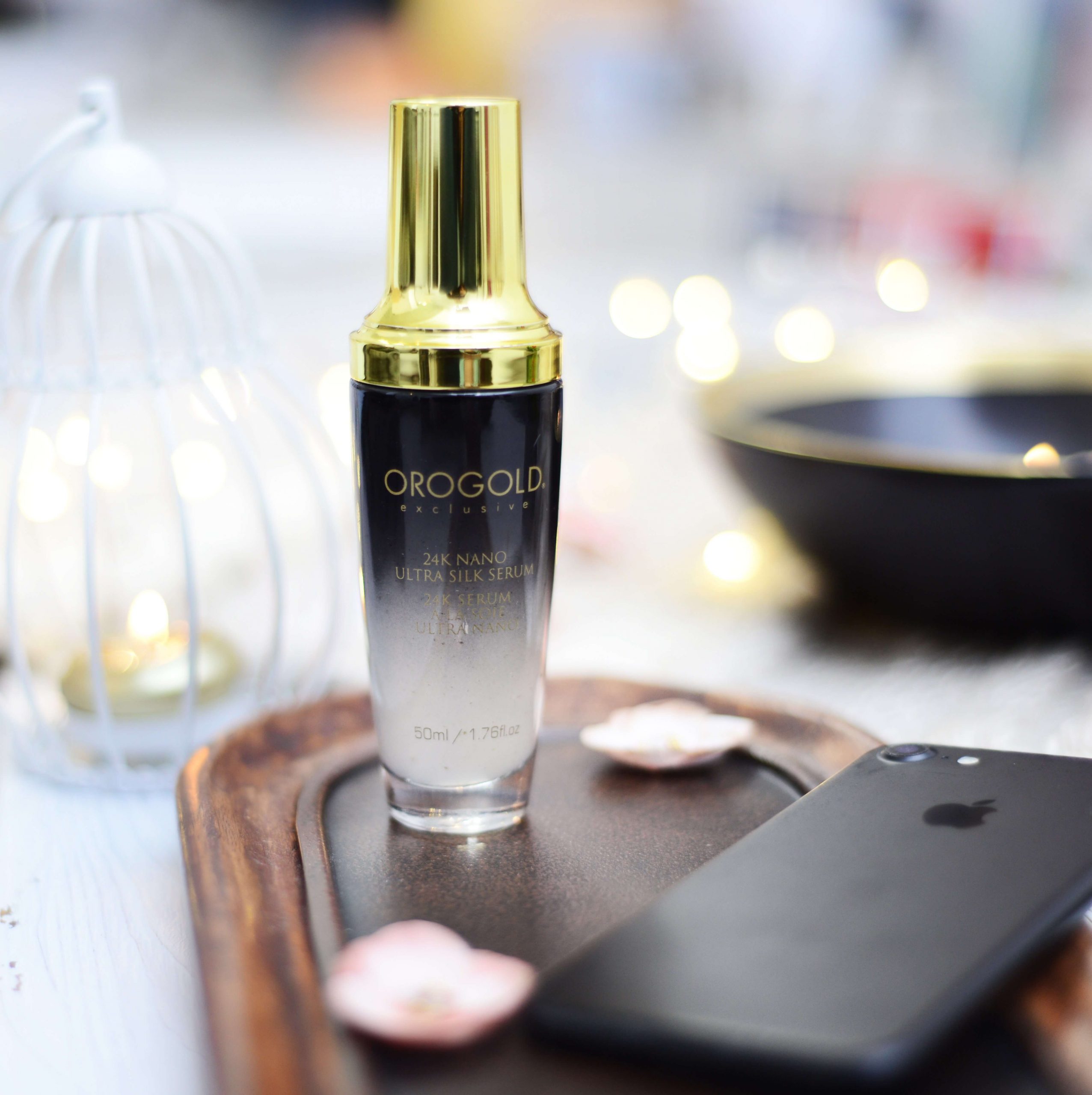 If you're looking for a serum that's quick to apply and that's safe to be used every day, then take a look at the OROGOLD 24K Nano Ultra Silk Serum.
This is a water-less formula, meaning that instead of using water as its base, it makes use of oils. As a result, it's incredibly hydrating. All of those plant oils are exactly what dry skin needs.
Some of the noteworthy ingredients that you'll find in this formula include:
Sweet almond oil

Wheat germ oil

Sesame seed oil

Sunflower seed oil

Seaweed extract
Taking Things Further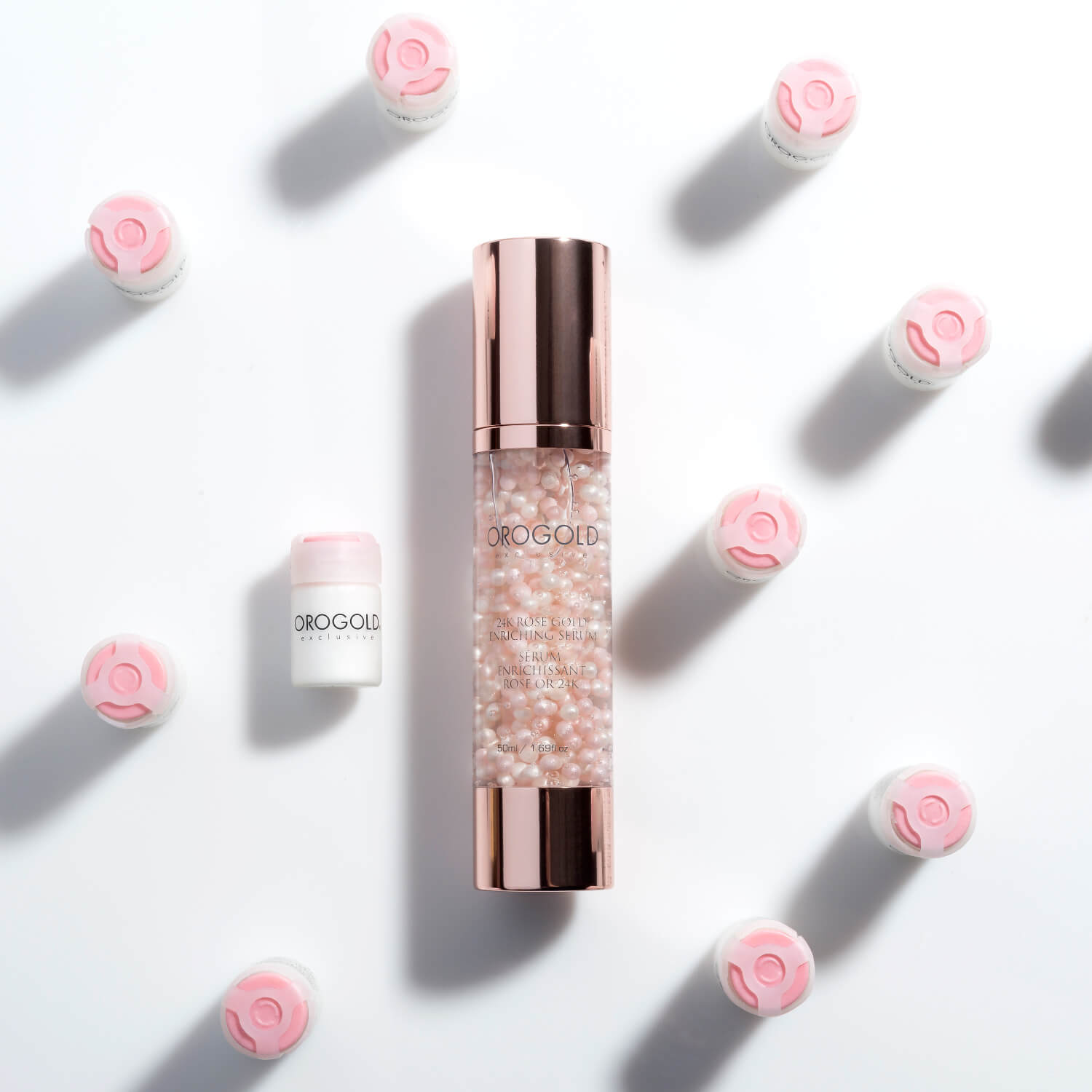 While the gold 24K serum mentioned above is a great one for daily use, dry skin always benefits from an extra boost. This is what the 24K Rose Gold Age Glow Duo provides.
This serum consists of two products:
The 24K Rose Gold Multi-Vital Liquid Powder – this is applied to the skin first. As it's massaged in, it transforms from a powder to a liquid
The 24K Rose Gold Enriching Serum – this is applied after the powder/liquid has soaked into your skin
This gold 24K serum duo is designed to be used on a weekly basis. It contains a number of star ingredients that give it its moisturizing properties, including:
Sodium hyaluronate

Peptides

Niacinamide

Rose hip seed extract

Resveratrol
Oily Skin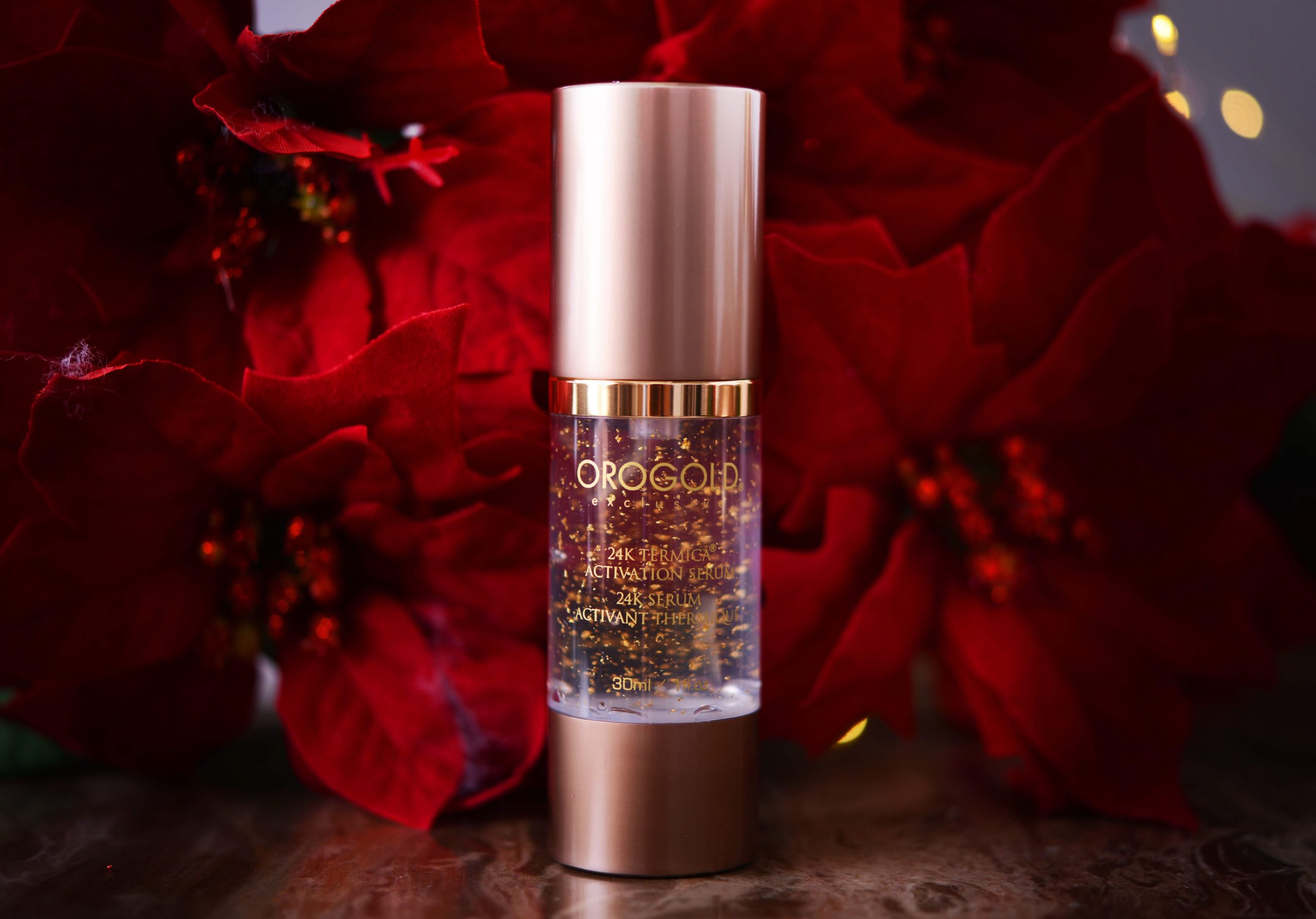 Over on the other end of the skin type spectrum, there's oily skin. With the skin producing so much excess sebum, the pores quickly end up clogged, leading to breakouts.
Serums are key products in an oily skin skincare routine. In many cases, they may even replace a moisturizer, making it important that you opt for a serum that's moisturizing. Of course, any good serum designed with oily skin in mind will also contain ingredients that can mattify the look of the skin.
With that being said, here's our 24K gold serum recommendation for oily skin; the OROGOLD 24K Termica Activation Serum.
This serum has been formulated with witch hazel, an ingredient that's famed for the way in which it helps the appearance of oily skin. It also contains multiple peptides, seaweed, and sodium hyaluronate to hydrate the feel of the skin, and DMAE, licorice root, and green tea to brighten and tighten the appearance of the complexion.
Sensitive Skin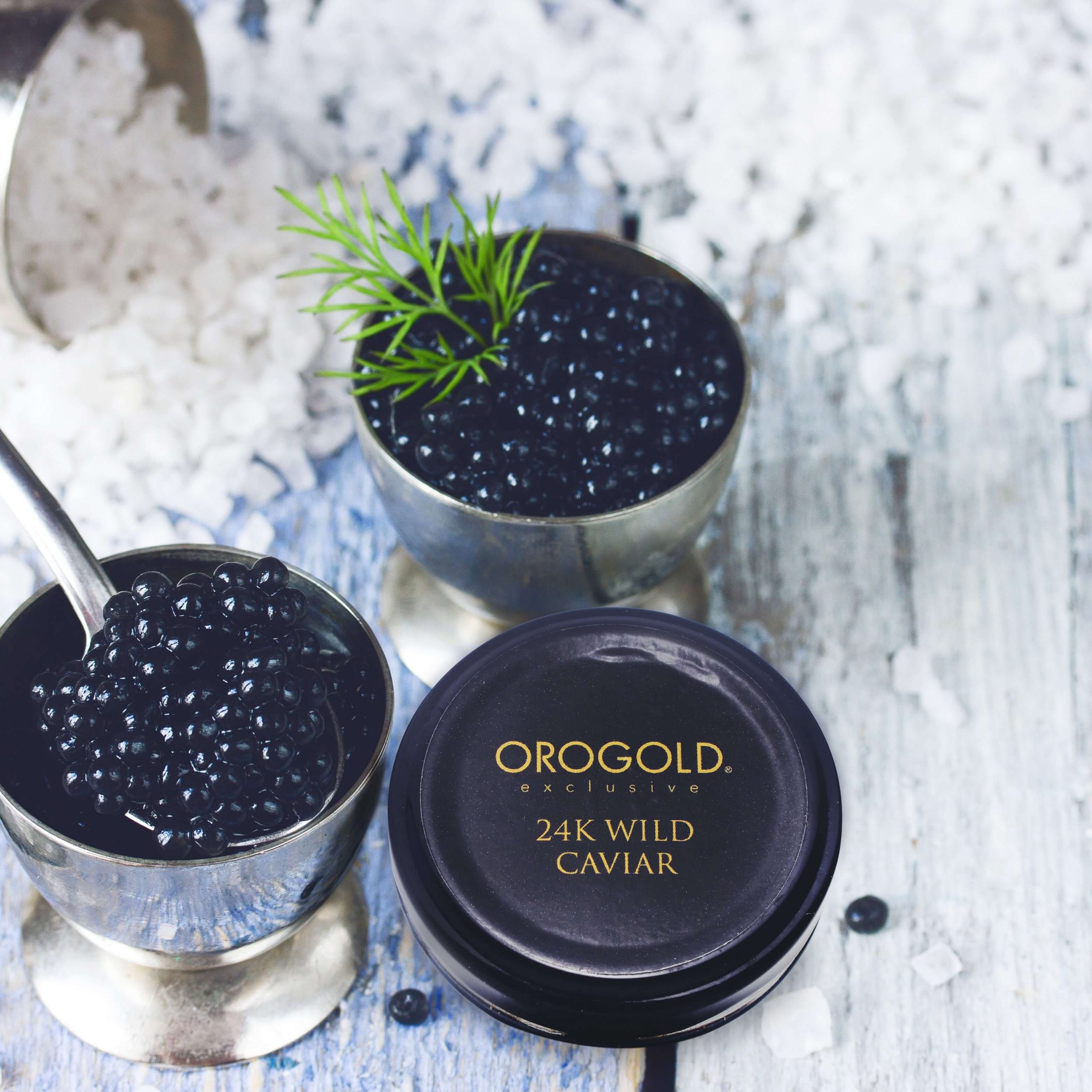 Sensitive skin isn't easy to deal with. It's quick to react to new ingredients and products, making shopping for skincare a frustrating experience.
When it comes down to it, the more ingredients that you apply to your skin, the greater your chances of developing a reaction. So, you need to look for a gold 24K serum with as short an ingredient list as possible.
Now, hear us out, we're going to suggest something a little out of the box…
Instead of treating your skin to a new serum, how about going for the OROGOLD 24K Wild Caviar instead?
It may not technically be a serum, but it works in the same way. Even better, it contains just three ingredients, making it ideal for sensitive skin.
As you can tell from its name, wild American caviar is the star ingredient in this product. It'll leave your skin feeling fortified and ready to take on the world.
Dark Spots and Discoloration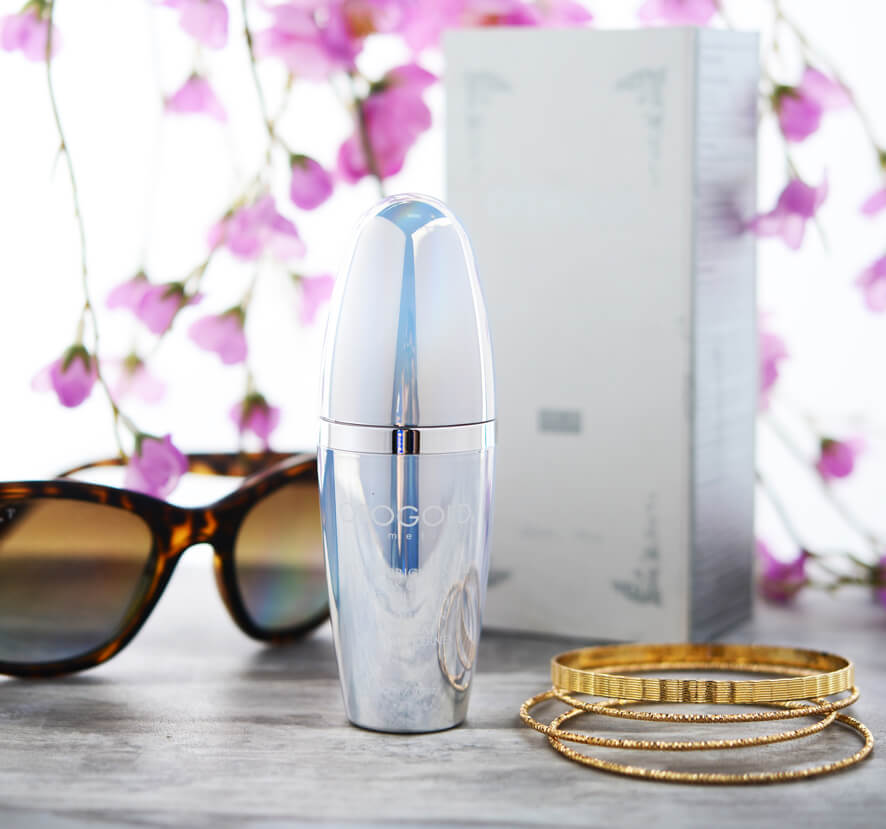 Chances are that you spent many summers of your youth neglecting sun protection. You may not have noticed the effects of this back then (other than the odd sunburn), but UV damage accumulates in the skin. Over time, all of that time spent trying to achieve the perfect tan will come back to haunt you in the form of the appearance of dark spots and discoloration. The visibility of fine lines and wrinkles are usually close behind, but that's an issue for a different gold 24K serum to target.
When it comes to the appearance of dark spots, you'll want to have the OROGOLD 24K Bio-Brightening Dark Spot Solution on your side.
Designed to be used at night, this serum contains multiple ingredients that'll brighten the look of your skin, such as vitamins A and C. It's also formulated with kojic acid, which does the same thing.
You'll also find lactic acid in this blend. This alpha hydroxy acid will gently exfoliate your skin. This helps to fade the look of those dark spots even faster.
Keep in mind that there's no point using a dark spot serum unless you're also keeping your skin protected from the sun. If not, the sun will only darken your discoloration, rendering your serum useless. If you don't yet have a go-to sunscreen that you love using on a daily basis, give the lightweight and non-greasy 24K Skin Tone SPF 30 a try!
Fine Lines and Wrinkles
The appearance of fine lines and wrinkles are a very common skin concern. This is why you'll find a few different gold 24K serum products at OROGOLD that are aimed at targeting this issue.
Daily Use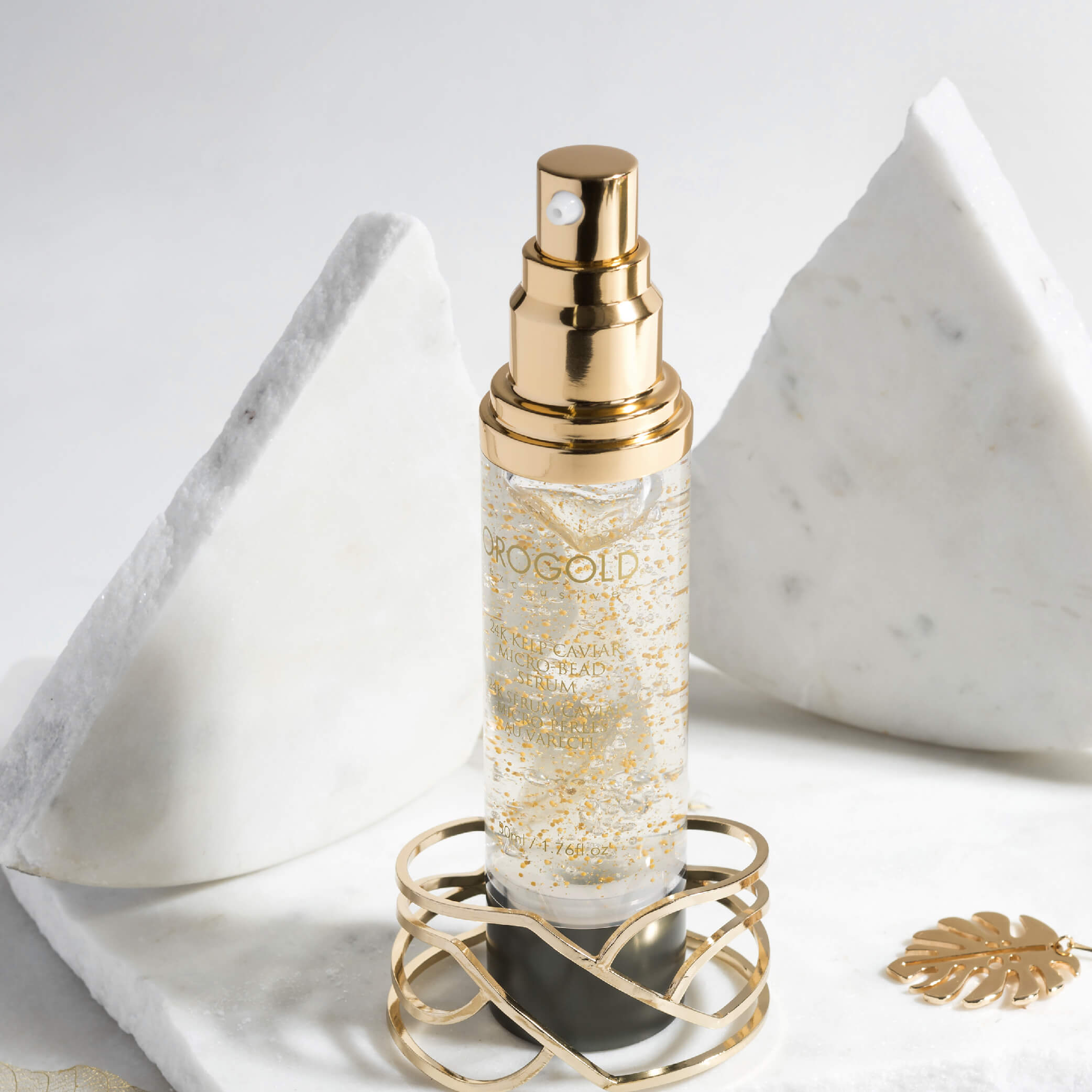 A daily serum is important in any skincare routine. If the appearance of fine lines and wrinkles are your main concern, turn to the 24K Kelp Caviar Micro-Bead Serum.
This lightweight blend contains a number of proven ingredients, such as:
Acetyl hexapeptide-8

Acmella oleracea extract

Kelp extract

Green tea extract

Chamomile flower extract
Try following it up with the 24K Kelp Caviar Micro-Bead Cream for maximum benefits. Alternatively, apply another serum over the top! Adding multiple serums into your skincare routine can be very beneficial. However, try to stop at three. After this, the ingredients in each product will be too diluted to have much of an effect.
One gold 24K serum that works especially well with the 24K Kelp Caviar Micro-Bead Serum is the 24K Rejuvenating Skin Serum. The star ingredient in this blend is hemp seed oil. Although already a natural source of vitamins, the hemp seed oil in this formula has been combined with vitamins A, C, and E, all of which will help to tackle the visible signs of aging on your face.
A Weekly Treat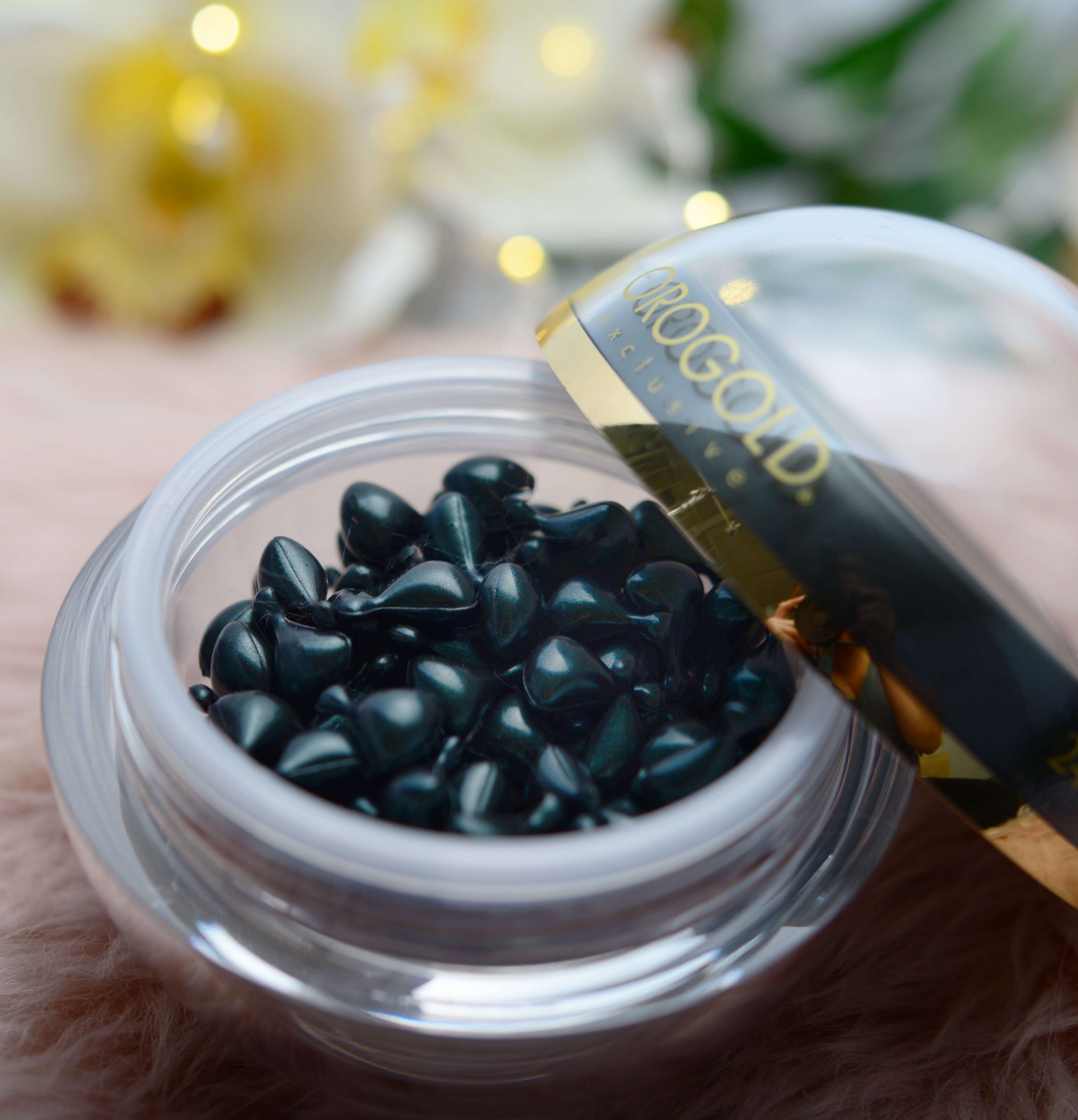 Your skin will need more than a daily serum if you really want to smooth away the appearance of those wrinkles and tighten up the look of your complexion. Here at OROGOLD, we recommend adding the 24K Caviar Elastin Restoration to your weekly skincare routine.
Now, this product is pretty special. Open the jar and you'll see small, black, pearl-like capsules. Each one contains a serum dose. Encapsulating the product allows it to stay potent for longer by preventing exposure to air and light, which is how this serum is able to bring about such significant results.
You'll only need to use one or two capsules on your skin each week, meaning that a single jar of this gold 24K serum will last you for a very long time!
For Special Occasions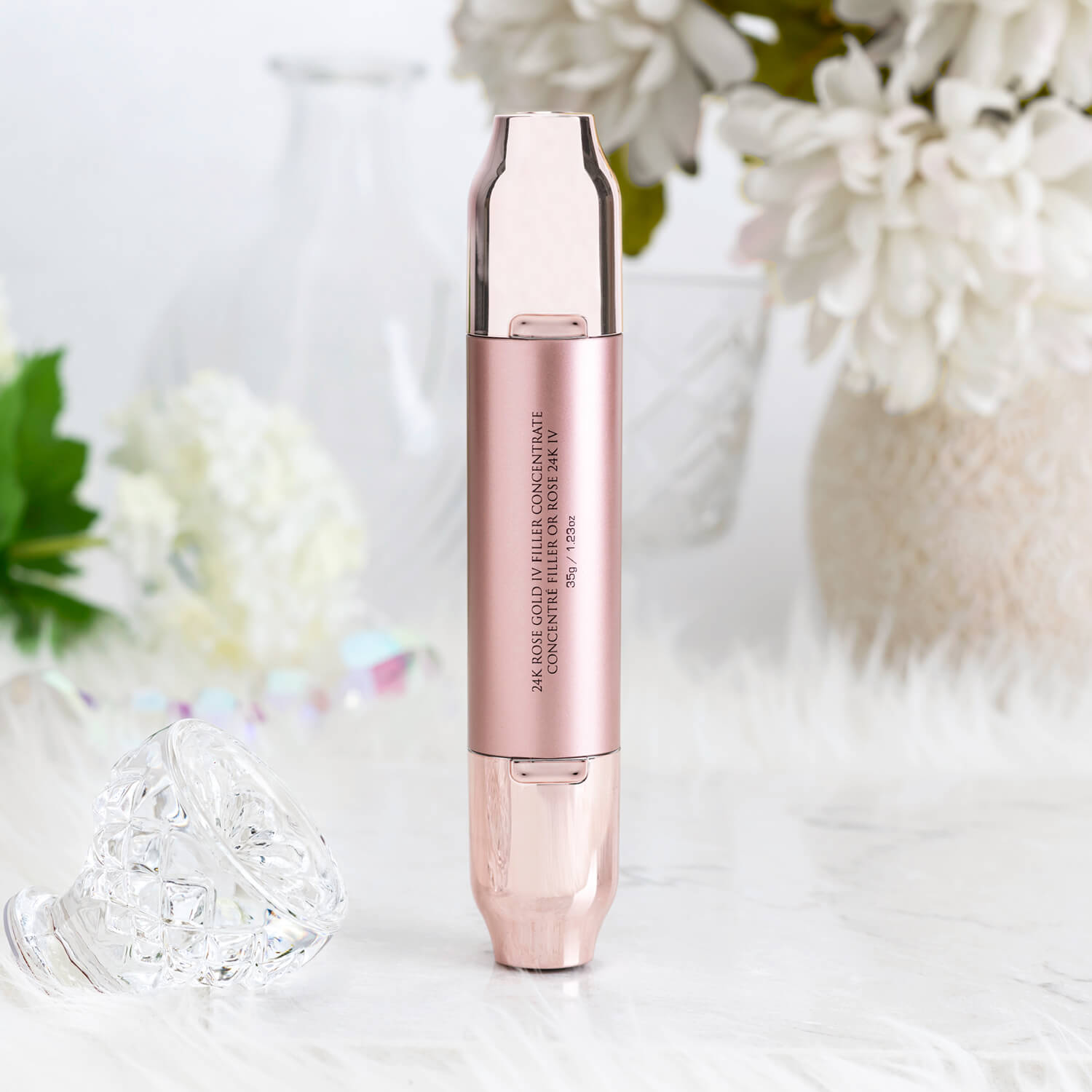 Most wrinkle serums don't work immediately. It's usually recommended that you use a new serum for a couple of months before judging whether or not it's worked for you.
That can be frustrating. Sometimes, instant effects are needed!
A product that's able to instantly smooth away the appearance of wrinkles may sound too good to be true, but you'll find it here at OROGOLD. Feast your eyes on the 24K Rose Gold IV Filler Concentrate.
Not only does this serum immediately reduce the visibility of fine lines and wrinkles, but it also contains ingredients that will leave your skin feeling hydrated and soft.
Dull Skin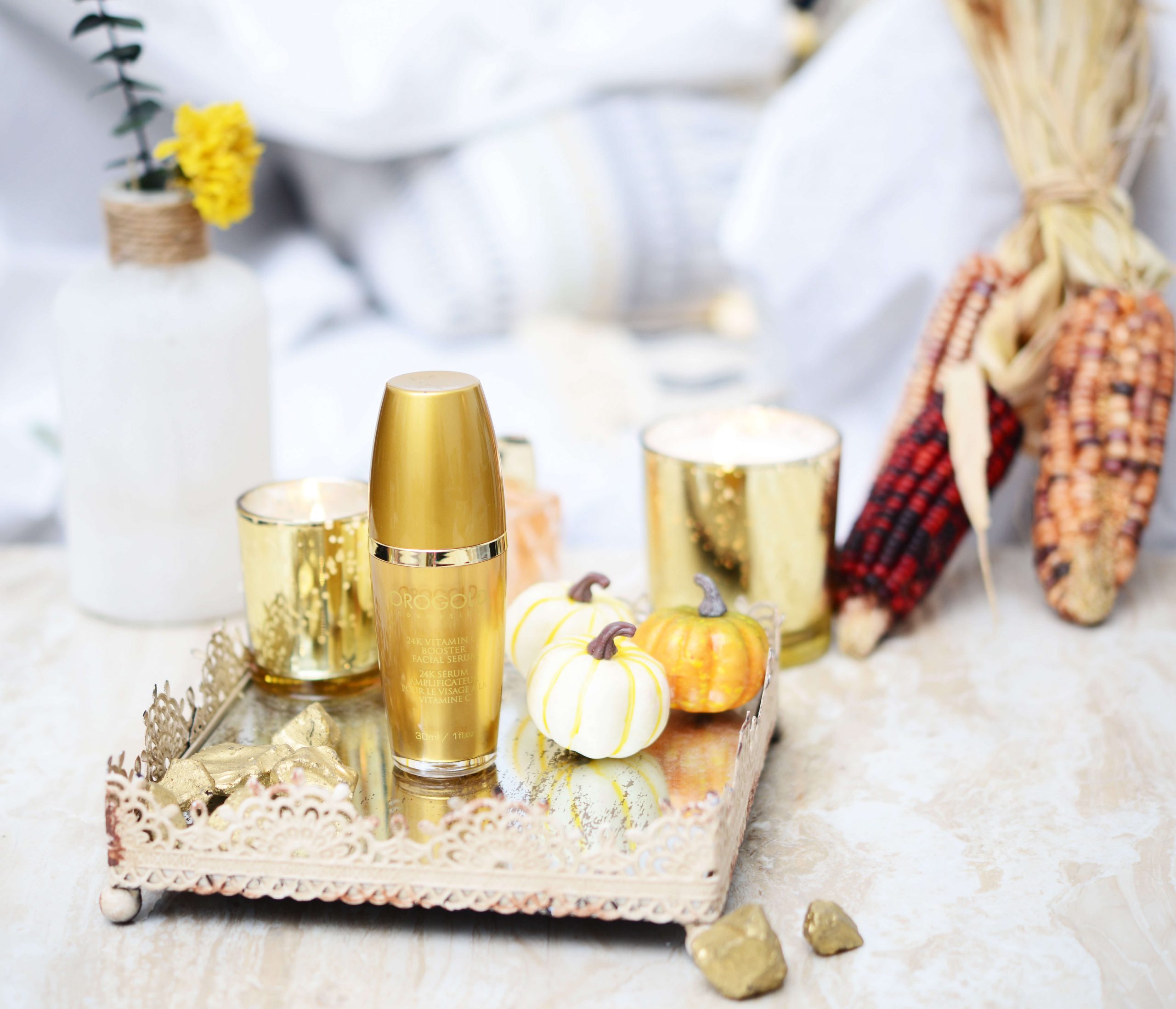 It's easy for the skin to take on a dull appearance. Fortunately, this is usually related to surface layer issues, making it easy to treat.
When it comes to brightening the look of your skin, just about every dermatologist out there would recommed vitamin C. Combine it with vitamin A and you'll really see results – the two work even better together.
You'll find this combination in the OROGOLD 24K Vitamin C Booster Facial Serum. This formula contains two forms of vitamin C to give your skin a double dose of the antioxidant. You'll also notice wheat germ oil on the ingredient list, which contains compounds capable of brightening the appearance of the skin.
Crow's Feet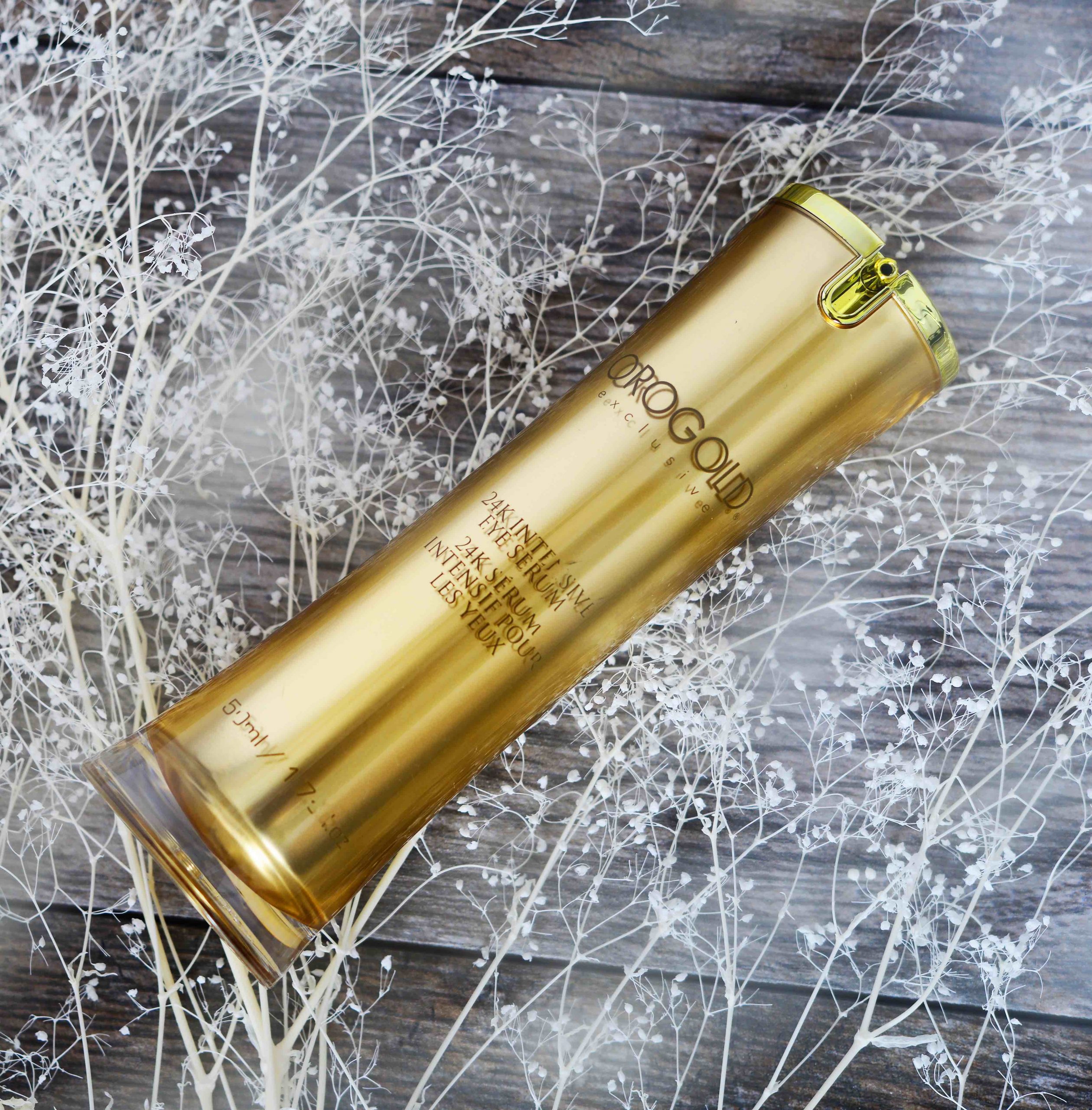 No matter your skin type, the skin around your eyes is thinner than the skin anywhere else on your face. This is why you'll notice crow's feet appearing in the area before you start to develop wrinkles on other parts of your face.
While many gold 24K serum formulas are safe to be used around the eyes, it's always best to have a dedicated eye serum, such as the OROGOLD 24K Intensive Eye Serum.
This formula contains several peptides, ingredients that will leave your skin feeling stronger. 
This serum can be used daily, making it a great addition to any anti-aging skincare routine.
For Men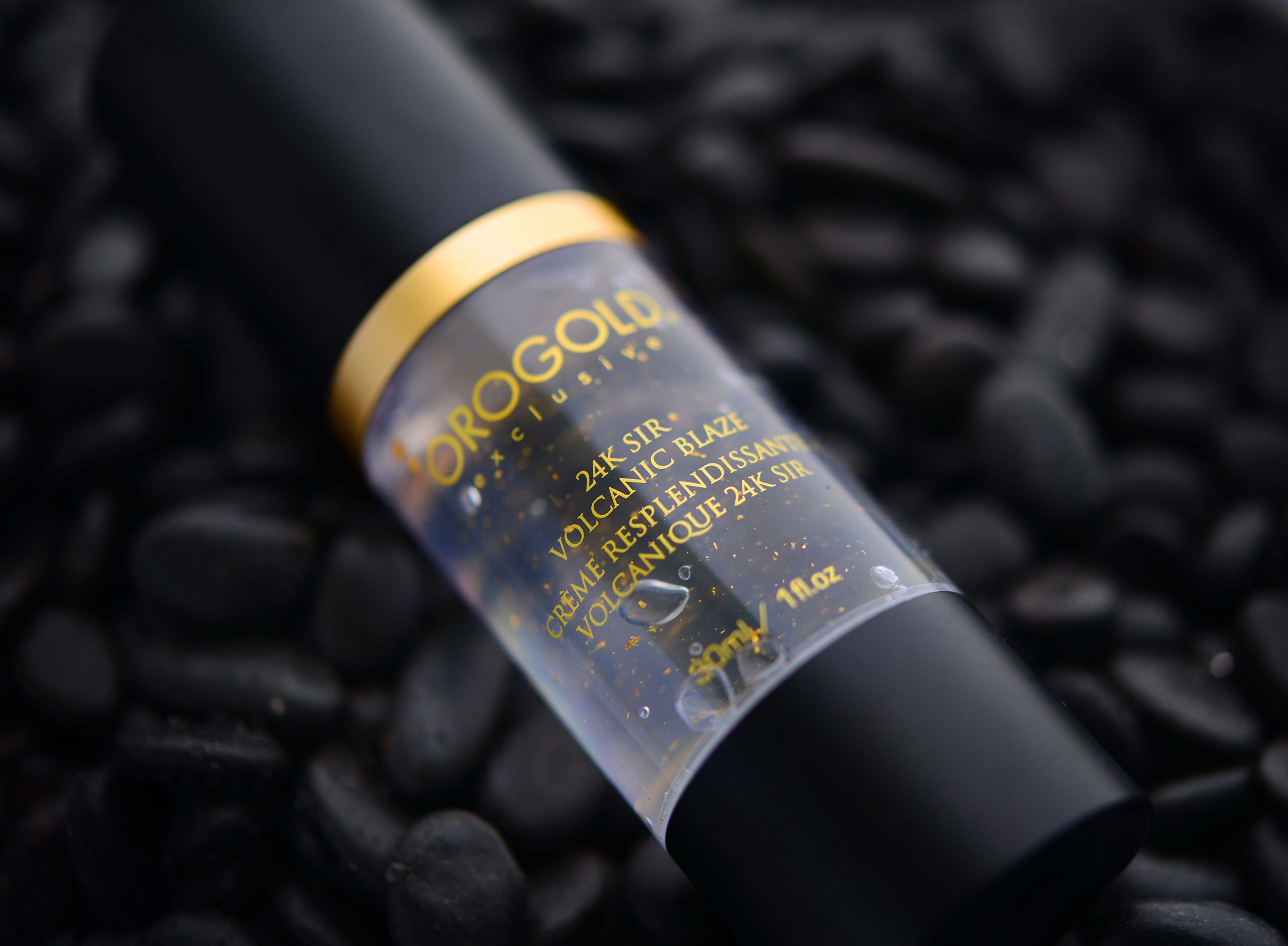 While men can use serum products designed for women without any problems, they don't tend to be quite as effective as serums created specifically for men.
Why?
Well, many assume that it's just a marketing ploy, but male skin really is different from female skin. It's thicker, oilier, and prone to different problems. In order to improve your skin, you really need to look for a product that's able to deal with the issues that male skin faces.
This is where the OROGOLD 24K Sir Volcanic Blaze comes in. Although created to be used in combination with the 24K Sir Volcanic Mask, this gold 24K serum can also be used as a standalone product.
It's quite the multi-tasker, able to target a variety of different skin concerns, from the appearance of dry skin to the visibility of dark spots.
The men that have tried that gold 24K serum have absolutely loved it. They find that effects are maximized when they combine the serum with other products from the OROGOLD Sir Collection, all of which have been designed with men in mind.
Round-Up
Hopefully, you'll now have a good idea as to which gold 24K serum products would be best suited to your skin. No matter what you're dealing with, you'll find an OROGOLD serum that's capable of helping you.