USE ORO GOLD COSMETICS FOR GLOWING SKIN
Posted on May 29, 2013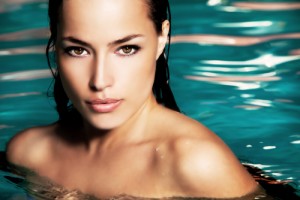 It's one thing to have healthy skin, but if you want to have glowing skin, you may have to work a little harder. Of course, using Oro Gold products is an essential first step towards attaining that bright and youthful appearance. But if the adjective you are after is glowing, you have several more steps to go.
DO Eat Well
A lean diet, rich in vitamins and nutrients, is imperative for glowing skin. The types of foods you eat for healthy skin are essentially the same foods you should be eating for an overall healthy body. So, if you follow these guidelines, the benefits will show in your skin and on your waistline.
Eat proteins the right way. Proteins help with cell repair, which will slow the effects of aging due to poor cell regeneration. This does not mean you should load your meals with red meats, but instead eat fish, egg whites, and lean chicken. Along with lean meats, you should be consuming plenty of fresh fruits and vegetables, especially those packed with Vitamin C and antioxidants. Cucumbers are a good example of the type of vegetable to eat. They contain plenty of Vitamin C, as well as caffeic acid. Both of these antioxidants will carry away toxins and kick start the elastin and collagen in your skin. Save a couple slices for your eyes. These, along with Oro Gold eye serum, will reduce the puffiness and darkness around your eyes. 
DO Exercise
If your goal is glowing skin, you are going to have a great body to go with it by the time you are done. Why? Because along with a healthy diet, regular exercise is essential for creating skin that glows. This may seem like a stretch, but the science and research backs it up. A cardio workout will get your heart pumping. The blood being sent steadily throughout your body is rich with oxygen. This oxygen rich blood is what causes your skin to flush throughout the duration of your workout, but that rosiness will eventually settle into a healthy glow. The type of cardio exercise you do is completely up to you. Walking, cycling, or dancing will all get your heart pumping and increase your circulation. Maintain the skin benefits of exercise by always shower and apply Oro Gold cosmetics to retain the moisture your skin lost from sweating.
DO NOT Smoke and Tan
Smoking has been proven time and time again to be bad for your health and your skin. The smoke breaks down the elastin and collagen that keeps your skin looking plump and elastic. It also dries out your skin. The sun also strips the moisture from your skin. Although it may be tempting to tan, what may look good today will devastate your skin down the road. People who smoke and/or tan have skin that ages much faster than those who do not.
DO Have a Skin Care Routine
Having a simple skin care routine is another piece of the glowing skin puzzle. Use cleansers, toners, and moisturizers daily. If you use high end products like Oro Gold cosmetics, you will see more dramatic results. Follow these simple steps, and you'll have people asking how you manage to have glowing skin all year round.