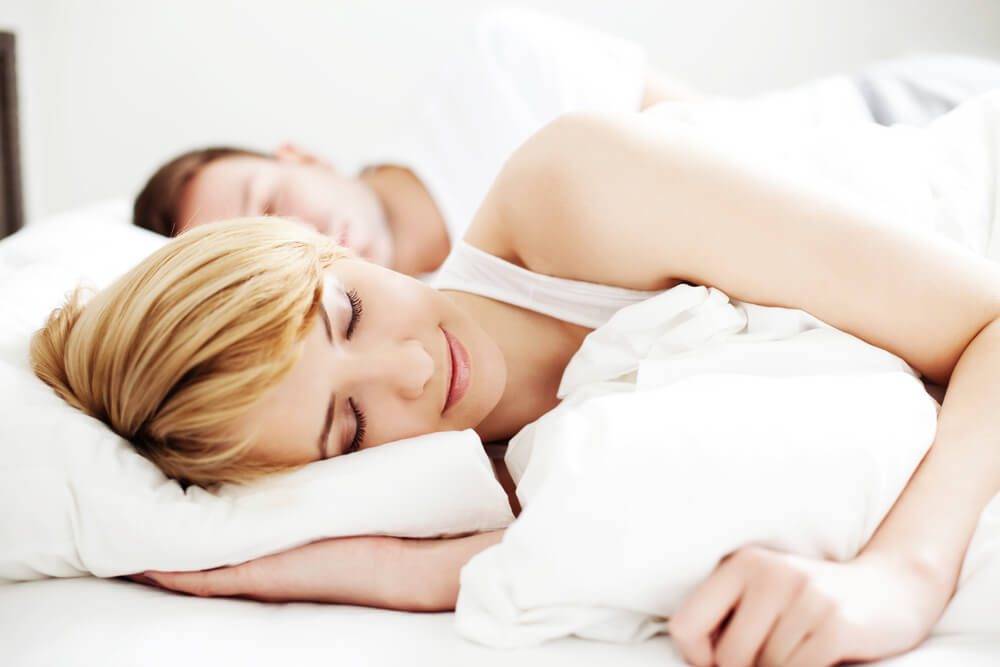 Ever heard of the Scandi sleeping method?
If you currently share your bed with your partner each night, this is something that you absolutely need to know about. Get ready to transform your beauty sleep – once you realize how the Scandi sleeping method could benefit your skin, chances are that you'll soon be giving it a go for yourself!
What is the Scandi Sleeping Method?
Simply put, it refers to one bed with two duvets.
This means sharing a bed with your partner, but each of you having individual duvets, rather than a shared one.
Those who relish physical intimacy are probably horrified by the idea, but don't turn your back on it just yet…
Scandinavia is consistently ranked as the happiest place in the world, and Scandinavian couples who practice the Scandi sleeping method would definitely agree with this. Take a look online – you'll find page after page of praise written about this sleeping style.
What's so great about the Scandi sleeping method?
Read on…
The Benefits of the Scandi Sleeping Method
It is estimated that around 30% of people are not sleeping well enough at night. While stress may be the biggest factor contributing to this, partner disturbance is the second reason.
The Scandi sleeping method solves this problem. It enables you to continue sharing a bed with your partner (many partners do opt for separate beds after several years of disturbed sleep), while still being able to enjoy a good night's sleep.
Temperature Regulation
Ever woken up next to a partner who feels like a furnace?
Turns out that, due to their higher muscle mass, men tend to run hotter at night. This can make it difficult for the woman lying next to them to regulate her own body temperature.
The physical barrier provided by your own duvet will help to prevent your partner's body temperature from affecting your sleep.
The Perfect Duvet
Chances are that you and your partner have different ideas as to what constitutes the perfect duvet.
Some prefer heavier weights while others sleep better with a light duvet. A compromise is usually the answer when it comes to a happy relationship, but this means that both of you will be suffering from poorer sleep quality.
The Scandi sleeping method means that you can each choose your own perfect duvet, without it affecting the other person.
Tug of War
The duvet tug of war is a complaint that many couples have. One wakes up in the middle of the night with just a tiny corner of duvet to cover their body, and the other is so wrapped up in it that it cannot be pulled back.
Separate duvets prevents this from happening. If you or your partner toss and turn in the middle of the night, the other won't be so affected, giving you both a good night's sleep.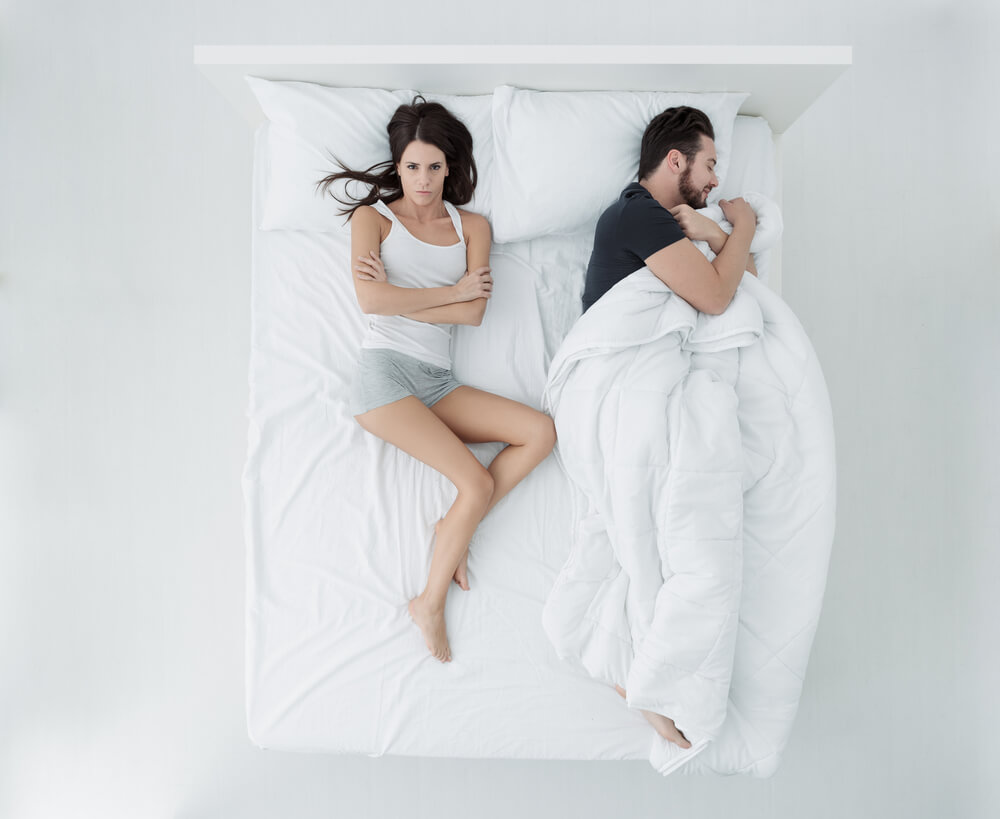 The Downsides of the Scandi Sleeping Method
There aren't many downsides to the Scandi sleeping method, apart from the fact that it takes longer to make the bed each morning.
You'll need to adapt to different folding techniques too. Many find that the double duvet technique can lead to the bed looking quite messy. The best way to counter this is by finding a throw to place over the top of your duvets during the day.
Wondering how the Scandi sleeping method would affect intimacy?
You're probably concerned that you and your partner won't be able to snuggle in the same way that you used to.
Don't worry, there are ways around this…
For starters, the separate duvets are only for sleeping. If the two of you are lying in bed watching a movie, then by all means share a duvet. Once it's time to go to sleep, you can go back to using individual duvets.
Alternatively, drape your two duvets so that the middles overlap. This makes for easy snuggles under the blankets!
Now, you're probably wondering…
It sounds intriguing, but what does the Scandi sleeping method have to do with my skin?
You're about to find out…
The Importance of Beauty Sleep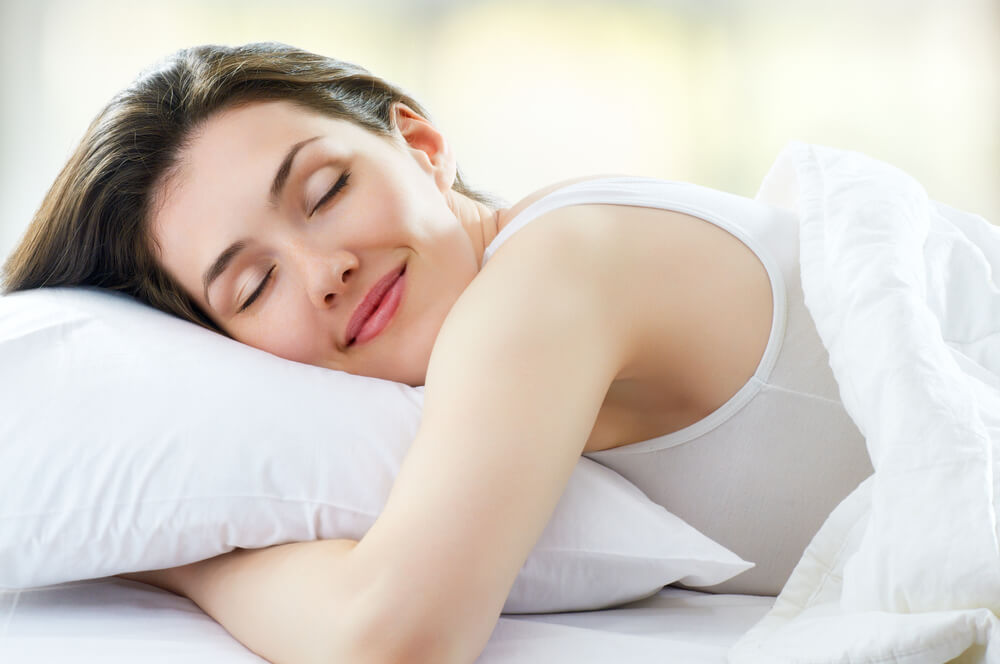 Ever wondered what your skin does while you sleep at night?
No, it doesn't snooze along with you. Instead, your skin is hard at work producing collagen, maintaining hydration, fighting inflammation, and so much more.
Sleep and Wrinkles
Wrinkles are something that most would be happy to never experience, but, unfortunately, they're an inevitable part of life.
Your skin contains a protein called collagen. It's collagen's job to keep your skin firm and smooth, with the protein fibers running underneath your skin to hold it up. Sadly, collagen degrades and breaks down with age, leaving the skin loose and wrinkled.
Your body continues to produce collagen, but not at a fast enough rate. However, there are several things that you can do to increase natural collagen production, one of which is making sure that you're sleeping well at night.
Your skin produces new collagen while you're sleeping, and only when you're in the deeper stages of sleep. This means that poor sleep leads to no collagen being produced, which only worsens those visible signs of aging.
Sleep and Dull Skin
Many have become so accustomed to their dull and lacklustre complexion that it has become the norm to turn to makeup each morning to help illuminate their face.
Well, if you're someone who hasn't been getting quality sleep each night, then this is something that you could easily transform.
While you sleep at night, your body speeds up blood flow to the skin. Your blood is what carries oxygen and nutrients to your skin cells. Increased blood flow means healthier skin that glows from within.
On the other hand, poor quality sleep actually leads to a decrease in blood flow to the skin. This gives the skin a dull and tired appearance, with a noticeable lack of radiance.
Sleep and Puffy Eyes
Ever wake up from a night of poor sleep to find puffy, circled eyes staring back at you from the mirror?
This is common. Although there are several factors that can contribute to puffiness and dark circles around the eyes, poor quality sleep is the biggest one. It causes the blood vessels around your eyes to expand, which gives the area a puffy and darker appearance.
The best way to deal with this?
Improve your quality of sleep. If you know that your sleep interruptions are caused by your partner lying next to you, then the Scandi sleeping method is definitely worth a try!
While you're working on convincing your other half that the Scandi sleeping method could be great for the two of you, invest in a solid eye cream to keep the appearance of puffiness at bay.
Other Ways to Sleep Better at Night
Already practice the Scandi sleeping method but need more help improving your sleep quality? Or maybe you're ready to give the Scandi sleeping method a try, but want to boost your sleep in other ways too.
Either way, here are a few proven tricks and techniques for getting a better night's sleep:
Avoid Electronics 30 Minutes Before Bedtime
Some will say 30 minutes, others will say a couple of hours. Either way, the general gist is to stay away from your electronic devices a while before heading to bed.
Why?
Because the blue light emitted by electronic devices triggers the body to stay awake. This makes it much harder to fall asleep, especially into a deep sleep, meaning that your skin ends up suffering.
Plus, whatever you may be looking at on your phone or laptop is probably also stimulating your brain. This is the opposite of what you want before bed – find an activity that calms your brain and helps you to unwind.
Establish a Relaxing Night Time Skin Care Routine
A relaxing skin care routine before bed will leave your skin feeling nourished, hydrated, and loved. You'll feel so much better falling back against those pillows, and you also won't have to deal with any skin irritations through the night.
Looking for a new night cream?
Try the OROGOLD 24K Multi Vitamin Night Nourishment + Retinol. This lush formula glides onto the skin so beautifully. It's packed with vitamins and botanical extracts, and is designed to combat the appearance of aging.
Make Your Bedroom as Dark as Possible
You may think that your bedroom is dark, but chances are that there's still some light filtering through. Whether this may come from that extension lead tucked away behind your bed, a slither of light through your windows, or a glare under your door from another room in your house, that light isn't doing your sleep quality any favors.
Make an effort to eliminate any sources of light from your bedroom, so that it can be as dark as possible when you sleep. Black-out curtains are great for this if you have problems with light seeping in through your windows.
Keep Your Bedroom at a Comfortable Temperature
Did you know that the optimum temperature to keep your bedroom at is between 60-71 degrees Fahrenheit, or 15.6-22 degrees Celsius?
This may seem a little on the cool side, but experts agree that too much heat can interfere with good sleep. Those temperatures have proven to be extremely beneficial in helping a person to fall asleep while also maintaining good sleep quality, making this a trick well worth a try.
Keep Things Quiet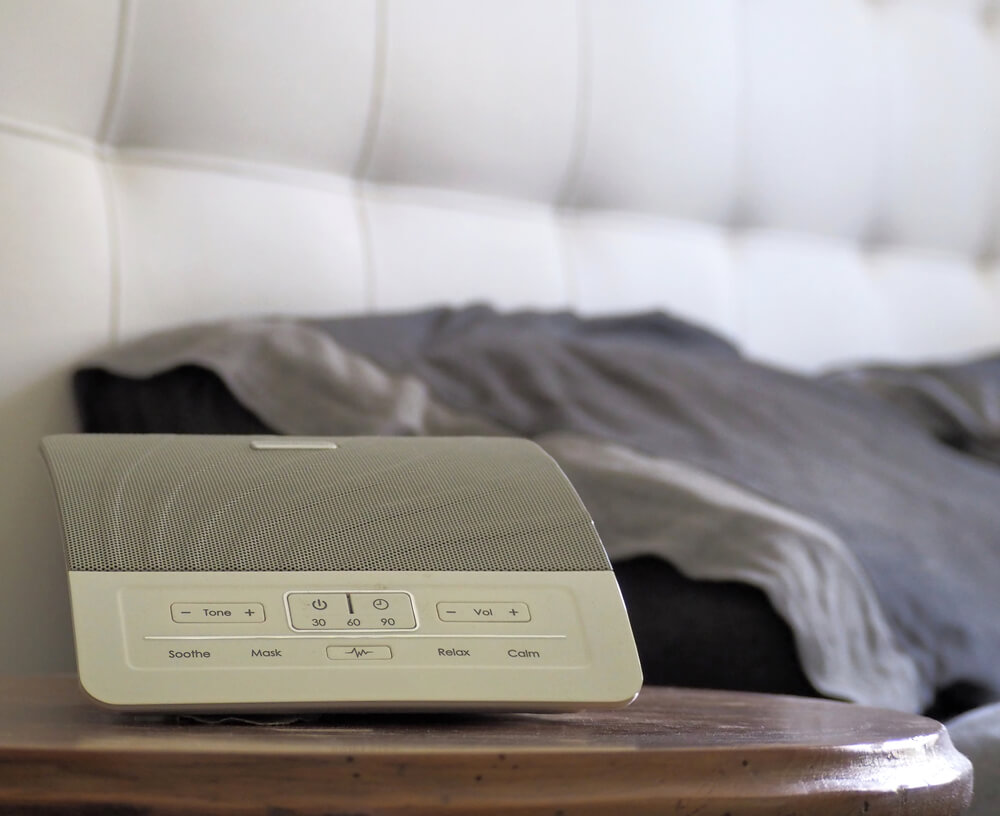 Noise is one of the worst culprits when it comes to interrupted sleep. This is something that can also end up affecting your overall health.
You're probably thinking…
If I'm not able to control the noise, then surely there's nothing I can do about this?
Not true at all!
This is where a white noise machine can be so useful. It works so well at drowning out external noises, giving you a better night's sleep. Alternatively, try playing your own soothing tunes from some speakers or headphones, or opt for a pair of old fashioned ear blockers.
Fill Your Bedroom with Soothing Scents
The nose is a sense that many often neglect, but treat it right and it could start to help you to sleep better at night.
There are certain scents out there that are known for promoting relaxation, while others help to make a room feel more comfortable and inviting.
All of this is definitely what you want in your bedroom!
There are several different ways to incorporate aromatherapy into your bedroom, from essential oil diffusers to scented candles. Either way, the scents that you want to be sniffing more of include:
Sip on a Sleep-Promoting Herbal Tea
In addition to breathing in some of those beautiful scents mentioned above, you could also try drinking them too.
There are certain herbs out there that are revered for their sleep-inducing properties. Whether you purchase them dried and brew your own or opt for ready-made tea bags, some of the sleep-promoting herbal teas that you want to be drinking more of include:
Chamomile

Lemon balm

Lavender

Passionflower

Valerian root
Not only will the herbs in your tea encourage your body to fall asleep faster, but each one also has its own skin-enhancing benefits. Not only that, but that extra water that you will be drinking before bed will go a long way in keeping your skin hydrated while it's busy working hard at night, meaning that you wake up with plumper and softer skin.
For those who have never heard of it before, the Scandi sleeping method may seem a little crazy. After all, isn't it more traditional to share a duvet with your partner?
That may be the case, but traditions aren't always the best way forward. Just about everyone who has given the Scandi sleeping method a try ends up raving about it. Benefits aren't just seen in their physical and mental health, but also in their appearance too. If you know that you aren't sleeping as well as you should be each night, you've got nothing to lose by giving the Scandi sleeping method a try, if only for a short while!