BEAUTY EXPERT ENDORSES ORO GOLD COSMETICS
Posted on July 3, 2013
Summer time can present specific difficulties when it comes to makeup and skin care. Fortunately there are steps you can take and specific skin care products you can utilize to combat the hot sun and dry summer air.
In the beginning of July, Local News Station King 5, covering the Seattle Washington Area, presented a segment titled "Summer Beauty Blunders – and How to Prevent Them." This segment presents health and beauty tips specifically geared for summer time maintenance.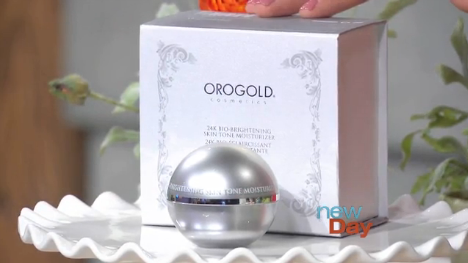 New Day NW
Summer beauty blunders – and how to prevent them
by New Day Producers
Posted on July 1, 2013 at 11:30 AM
Updated Monday, Jul 1 at 11:54 AM
Beauty expert and style writer Lindsay Thurston shared some common summer beauty blunders, as well as how to fix them or prevent them from happening in the first place.
Members of the audience were sent home with Lindsay Thurston's favorite cosmetic products. Included was the 24K Bio-Brightening Skin Tone Moisturizer from Oro Gold Cosmetics.
Lindsay Thurston explained the Bio Brightening product from Oro Gold is "a facial moisturizer. You can also use it on your neck or your chest. It is great for the sunshine because it's an SPF 30 so it will definitely protect you from the sun. But the great thing about this one is it is packed with Vitamin A and E, so obviously great for skin tone, but it also has 24 Karat gold in it. The Gold has anti-aging effects and it can actually minimize the appearance of age spots, sun spots, freckles, and general discoloration on your skin… Sometimes the splurge in the summer is worth it. And this particular one would be the way to go."
To watch the segment featuring Lindsay Thurston click here.