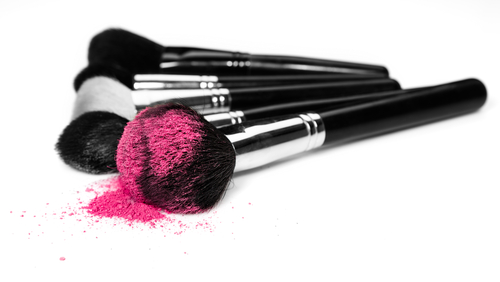 The kind of tools you use to apply your makeup are just as important as the makeup itself.  You would not try to create a detailed oil painting with a four inch bristled paintbrush, nor would you use a fine tipped brush to paint a wall.  The same reasoning applies for your makeup applicators.  Specific tools have specific jobs to do.
Often you will find brushes and sponges included with your new beauty products, but these are often of poor quality.  You should stock your makeup bag with the following tools so that your makeup will look flawless and natural every time.  And to make sure that you skin looks flawless with or without makeup, make sure that you apply Oro Gold daily moisturizing cream every day.
The Wedge Sponge
Do not apply liquid foundation to your skin with your fingers.  There are several things that could go wrong with this approach: uneven coverage, added dirt and oil, and using way too much.  Instead of your fingers, use a wedge sponge.  The wedge is a great shape which offers both a large and small surface area to work with.  When applying a liquid foundation, press it into your skin instead of swiping it across for better coverage.
The Eyelash Curler
Even if you do not wear mascara in conjunction with this product, an eyelash curler alone can define your eyes.  Eyelashes can obstruct the natural outline of your eyes, making them seem smaller.  Curling your lashes upwards will make your eyes look larger and your lashes look longer.  Begin the curl close to the lash line using a silicone padded curler.
The Lip Brush
You may be used to rolling on the lipstick straight from the tube, but you will not get the detail you can get by using a lip brush.  This small, sturdy, angled brush will allow you to not only fill in your lips with color, but define their outline as well.
The Smudge Brush
To achieve the perfect smokey eye, you must have a smudge brush.  You'll recognize this brush by the short, packed bristles.  It's the perfect tool to use to blend your eye makeup so that you do not have streaks of color above your eye.
The Big Brush
The large powder brush is the last staple of the makeup tool kit.  Use it to apply mineral foundations, pressed or loose powders, bronzers, and highlighters.  Using this brush will give your makeup the polished finish of a professional.
You can use the best makeup available, but without the right makeup tools, you will not fully benefit from their quality.  If you add Oro Gold cosmetics from the Oro Gold store to your daily routine, you will have red carpet ready skin every time you walk out the door.