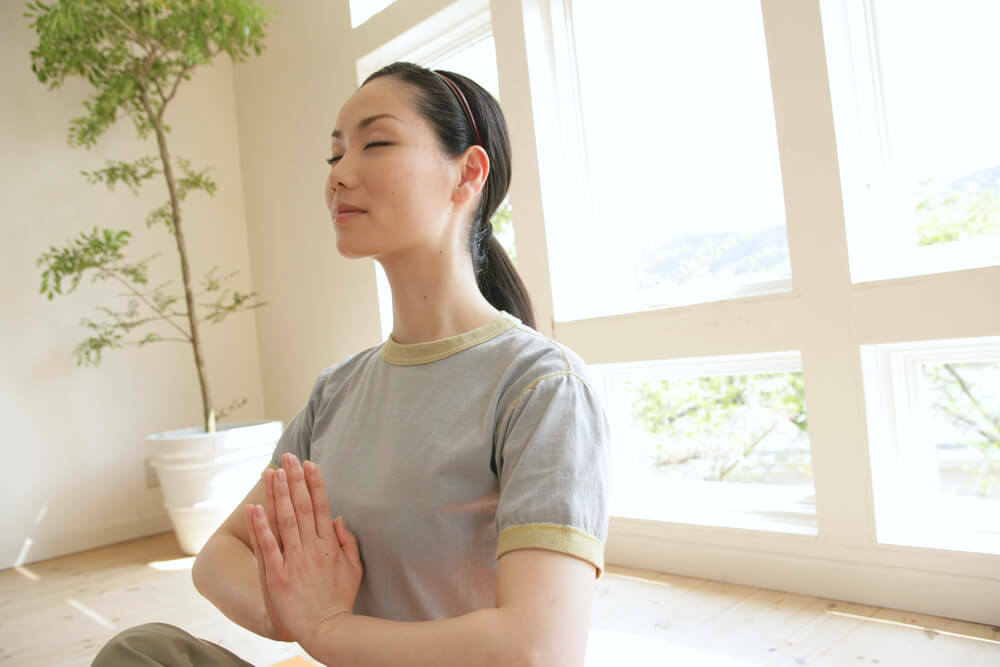 Beauty gurus are throwing around the latest creams and beauty treatments. Nutritionists are shoving in our faces the latest diets and super foods, to guarantee long and healthy lives. Fitness gurus are coming up with fitness routines meant to strengthen our bodies.  While having a balanced diet, active lifestyle and appropriate skincare routine can help us achieve our skincare goals, there is one thing missing.
With the current state of the world becoming more and more stressful and making us more prone to anxiety, we are looking for ways to make our bodies, minds, and souls healthier. The stress is taking its toll on our physical and mental health, and we are looking for a break to recharge.
Taking care of our minds and souls, taking care of our emotional health is becoming crucial in feeling and looking good, inside and outside. And one way to do that is by incorporating meditation.
But what is meditation exactly?
Meditation and Its Benefits
It is impossible to control everything in our lives, but what control is the way we react to them. According to Buddhism, that is the way to go and meditation is one practice that helps transform the mind. By improving clarity, concentration and calmness, we are able to achieve mindfulness and change our perspective on life.
Meditation is a set of techniques meant to encourage a heightened state of awareness and focus. Meditation is a thousand-year-old practice and has been used worldwide as a religious practice, but many people are practicing it now independent of any religion. By practicing meditation, one can achieve a deep state of peace, calmness, and awareness.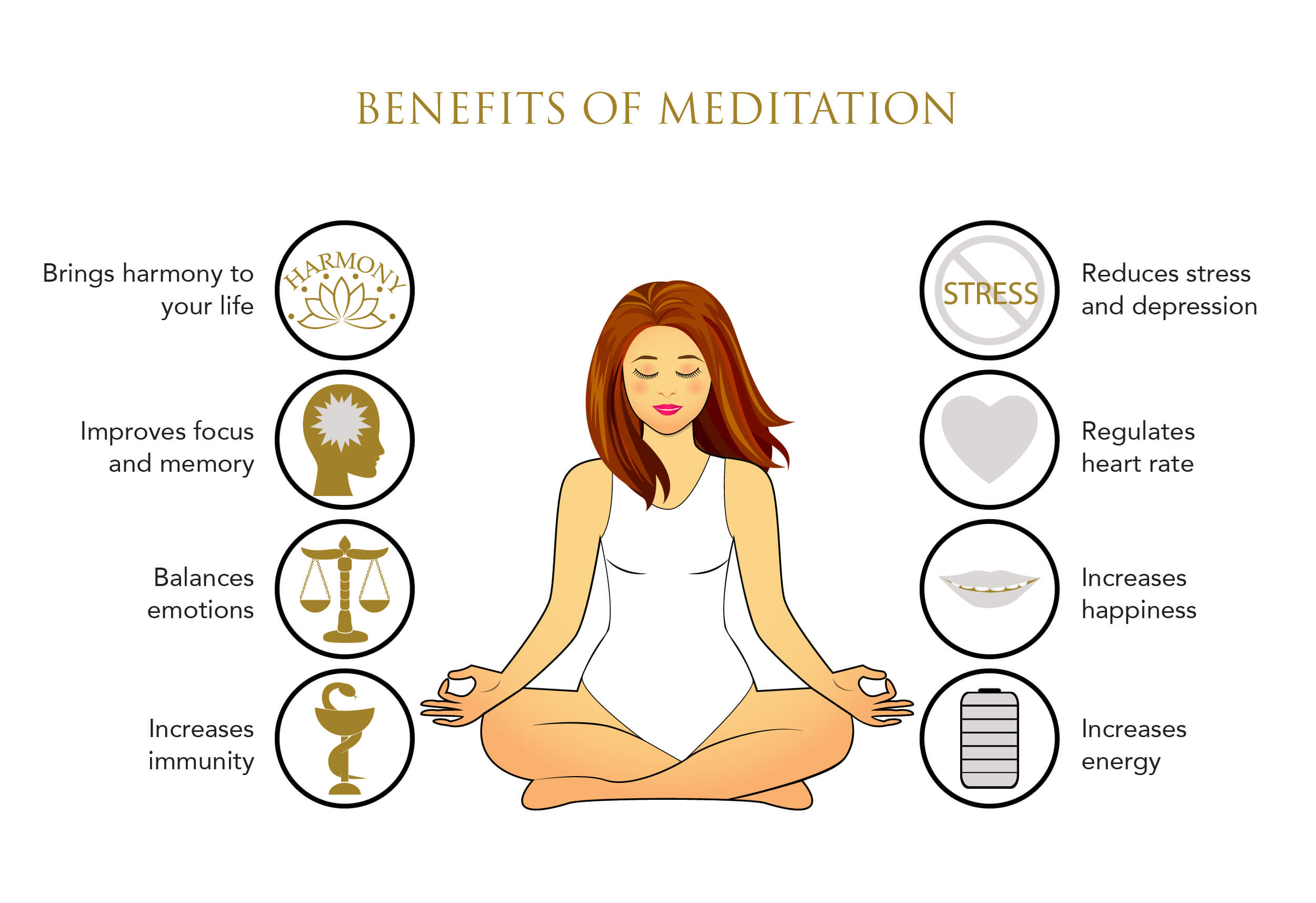 It is proven that meditation can not only improve mental and emotional health but also physical health:
Reduces stress

Reduces anxiety

Improves emotional health

Improves self-awareness

Lengthens attention span

Reduces memory loss

Makes us more kind

May help against addiction

Improves sleep

Helps with pain management

May decrease blood pressure
It's evident that the various ways that meditation can improve not only our general well being but also our close environment. By being calmer, less anxious and kinder, we are improving the relationships with those around us.
One may feel that meditation means concentration and requires mental effort. To a certain extent, meditation practice does require these, but in a different way. Meditation does not require to concentrate on a particular object or idea for a long time – keep reading to find out what type of concentration is needed during meditation practice. Meditation is not simply an exercise. By having the correct posture and breathing does not mean you are meditating. And lastly, meditation does not require mental effort – but rather introspection. Meditation is basically an effortless activity.
Types of Meditation
If you are a beginner, all the types of meditation and how you can best get started may confuse you. Before delving into how you can meditate, let's have a look at the 4 main types of meditation.
Mindfulness meditation – 

Mindfulness refers to paying attention to what is happening right here and right now. For example, you can focus on your breath, the feelings in your body, or you can listen to relaxing music.

Mantra meditation – 

A mantra can be a sound, a word or a phrase that you repeat it in order to bring your mind and body to a deep state of rest.

Energizing meditation – 

In energizing meditation, breath is manipulated in order to do certain body movements. If you are looking for a boost of energy in the morning or during the afternoon, this is the way to go!

Compassion meditation – 

As the name says, compassion meditation focuses on being kind and loving. Focus on loving yourself as well as showing love and kind ness to the others. This helps improve self-love, as well as empathy.
How to Meditate
One of the best parts of meditation is that you can do it anywhere. A meditation session can take anywhere from a few minutes to a few hours, all depending on your needs. If you are a beginner, this basic exercise will help you get started and see immediate benefits to your mood.
Sit/lie comfortably.

Close your eyes.

Do not focus on breathing – rather, simply breathe normally

Now focus on your breathing and how the body moves with each inhalation and exhalation

Notice how your body moves – from your nose, shoulders, to your chest, ribcage, and stomach.

Do not change the way you breathe during this exercise – just simply focus your attention on the way it naturally happens

It's ok for your mind to stray away – as soon as you notice, make sure to focus back on your breath
This is a simple meditation exercise that you can start with. You can practice with 5 minutes to start with, and then take it from there, for longer periods of time. If you are in need of some help, there are some very popular smartphone apps that can guide you through meditation sessions of various lengths.
Looking for a more energizing meditation? Maybe you do not like to drink coffee in the morning, but you are looking for a way to wake up faster? Or you are in that afternoon slump and are looking for a pick-me-up? While it's so tempting to go for a shot of espresso or a can of energy drink, think of the effects they have on your body. And then give energizing meditation a try.
You do not need a lot of time – even 30 seconds are enough.
Sit with your back straight. Put your feet flat on the ground (if you are sitting on a chair) or in lotus-style post.

Hold out your right hand, with your thumb and finger in a "V" shape

As fast as possible, block youth right nostril with your thumb and exhale out of your left nostril

Switch to block your left nostril with your finger and exhale from your right nostril

Inhaling comes naturally, so keep your focus on exhaling.

Every other second switch from one nostril to another.

Keep doing this for 30 seconds or even a minute.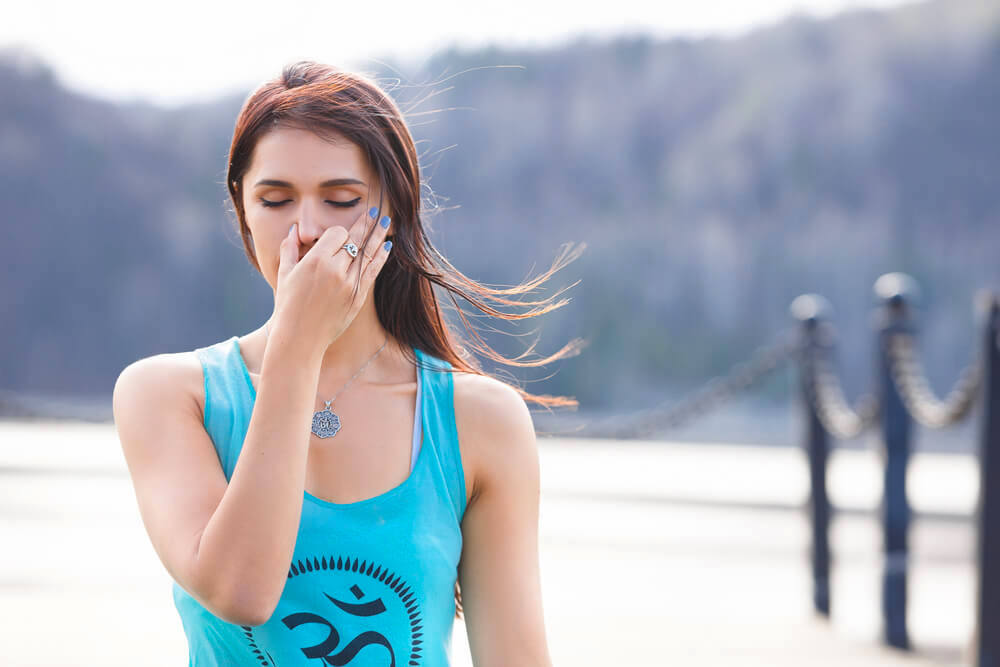 The Benefits of Meditation for the Mind and Soul
No doubt that meditation is an amazing tool and more people should incorporate it in their lives. Just as we are focusing on doing our daily run, or getting the right intake of greens and water, we should focus on our spiritual side. We should focus also on what we are feeding our mind and soul. Are we taking care of ourselves inside and outside?
Meditation is so powerful not only because of its benefits, but because it's free, can be done anywhere and for any amount of time. As long as it's done with meaningfulness and consistently, just like any other healthy habit in our lives.
Anxiety and stress start out in our minds but can lead to many physical problems, such as illnesses, burnout, and shortening our life span. By having a daily meditation routine, one is becoming calmer, pushing anxiety away. The simple act of focusing on our breathing can instantly calm our entire body. Starting your day with a 5-minute meditation session sets out the tone of the day. A day where you are a better version of your self, more rational, more calm, less irritable, kinds to the others and more empathetic.
In the midst of our stressful daily lives, between jobs and side hustle, families and bills to pay, meditation is an escape. Do you know how you are going away on an exotic island to take a break from work and recharge our bodies? Well, meditation can do the same to your mind. Your mind can break away from reality for a while and let your thoughts go to a peaceful place and time. Let your mind be on a vacation, far away. This is an opportunity to leave behind the painful thoughts, the emotional labor of daily life and let yourself recharge.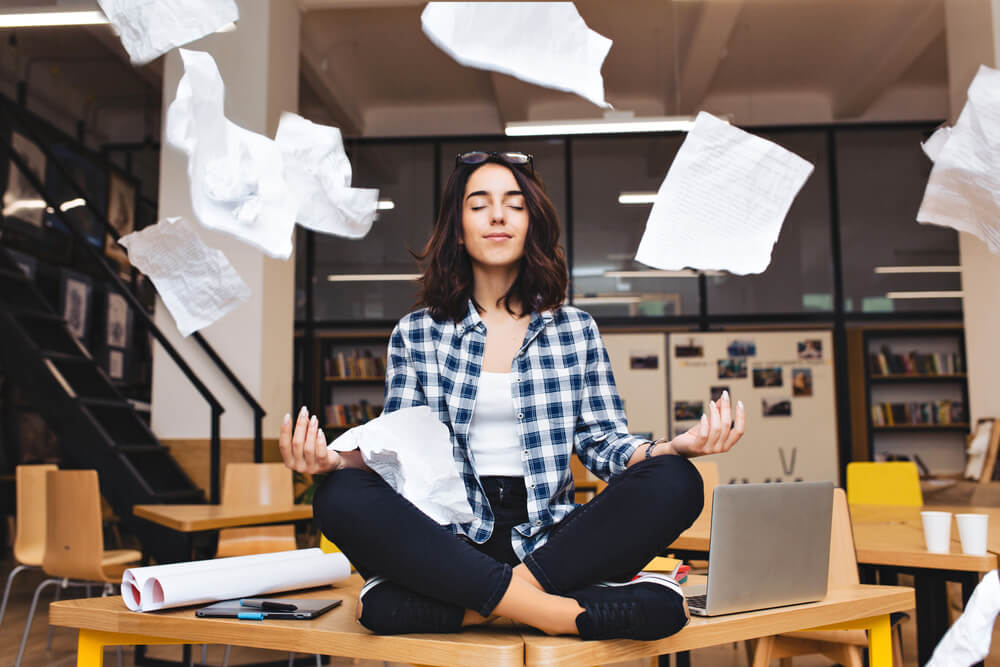 Those 5 minutes that you dedicate to meditation can be crucial in helping you deal with life. By reducing stress and anxiety, meditation helps you be more focused on what is actually happening. By being less stressed, you are able to come up with clear solutions to your problems.
The Benefits of Meditation for the Skin
We have already seen previously that meditation has so many benefits. One of the most amazing ones is how it reduced stress and anxiety and improves self-awareness and emotional health. But have you ever wondered about the physical benefits meditation can have?
Stress is wreaking havoc on our bodies and minds, stealing our joy and youth. And that quite literally. Stress can cause premature aging of the body, and its impact on the skin is the same – it can induce breakouts, tire the skin, and even lead to wrinkles. When you are stressed out, your body produces the stress hormone called cortisol. Cortisol blocks the supply of oxygenated blood to the skin, meaning that stress literally damages the skin, by dehydrating it and making it more sensitive. And this can lead to wrinkles, breakouts, irritations, and inflammations.
Now, meditation is being more and more embraced worldwide as a holistic approach to well being. Meditation can save the day and give back our health. And we may even say that it can play a major role in saving and improving our skin too. Because skin care is part of health care.
There is actual scientific proof that meditation helps with skin care. This study from the University of Sheffield shows how meditation truly helps. Researchers compared two groups of people suffering from psoriasis. One has used meditation regularly and one has not.  This study showed that the group of psoriasis sufferers who used meditation healed four times faster than those who did not use meditation. On top of this, meditation also improved depression, quality of life and reduced skin shame. If this is not proof that meditation works, I don't know what is!
By meditating just a few minutes per day you will be able to increase the oxygen delivered to your brain. More oxygen means rejuvenated skin, and cell and tissue repair. Plus, all the energy brought by the meditation practice will give you an extra glow inside out. As meditation also improves your blood pressure and sleep, you will be able to be more rested – and this, in turn, is having beneficial effects on the skin!
The environment around us today is not doing our health and skins any good. We are buying the latest creams for our skin, to repair the damage that comes from inside and outside. We are desperate for quick fixes but it all ends up the wrong way. In this day and age, there is one cure that can dramatically improve our lives and our health. And that is to start from the inside, from our souls and minds. Having an internal balance and good emotional health shows and have a real effect on our physical health, not only on our minds and attitudes.
So many of those who care for their skin are seen as superficial narcissistic by doing so. But our skin is the biggest organ and should require most of our attention. On top of having a rigorous skincare routine and chugging your 2l of daily water intake, how about some meditation? Why should we not do the best we can for our skin? Why not try to incorporate even 5 minutes in our lives for meditation? Such a small effort, done consistently, will become a habit from which we will reap immense rewards.
So, are you going to give meditation a try?