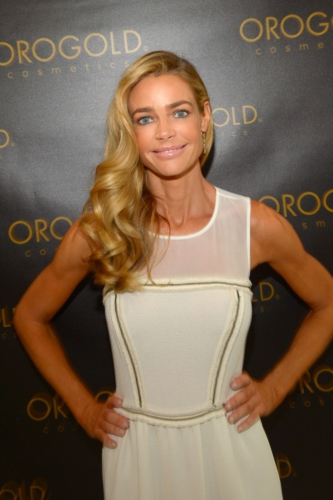 Denise Richards, star of the hit television drama series Twisted, was announced as Spokesperson for the luxurious skin care line Oro Gold Cosmetics. This exciting announcement was made at the Grand Opening of New York City's first flagship Oro Gold Store. Ms. Richards' first public appearance as Oro Gold spokesperson was accompanied with a special question and answer session, a photo opp, and a ribbon cutting ceremony.
Denise Richards began her career as a model and is now a hollywood actress known for both her talent as well as her dazzling beauty and flawless complexion.
C.E.O. of Oro Gold Cosmetics, Adi Oded commented that the company was thrilled to take on Denise Richards as its new spokeswoman. Oded went on to explain why Richards is a perfect representative of this luxurious skin care line: ""The OROGOLD brand means beauty, elegance, and radiance, which are all things we feel Denise exemplifies on and off the red carpet. This comes at an exciting time for OROGOLD Cosmetics as the company continues to grow."
Read the full PRnewswire:"OROGOLD Cosmetics Announces New Spokesperson Denise Richards."
Oro Gold Cosmetics is quickly becoming the leading skincare line among the celebrities of Hollywood. The biggest appeal of this luxurious  line is the infusion of 24 karat  nano gold particles that are formulated  into each of Oro Gold's' skin care products. Gold has been used in a cosmetic setting throughout history. From the dynasties of China, to the empires of Egypt, history's most powerful civilizations  have utilized the anti-aging benefits of gold by  topical application  to the skin. Gold stimulates the bio-electrical impulses in the body that promote the collagen and elastin synthesis inside the skin.  The effects consistently result in younger, healthier, more radiant looking skin.