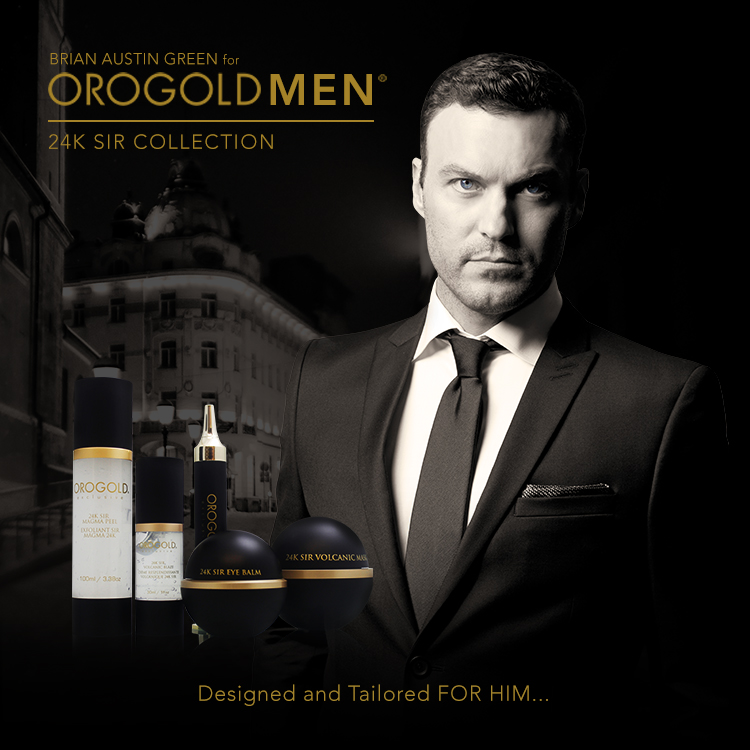 The 24K Sir Collection offers men a skin care experience that combines luxury and wellness.  The all new cosmetic line uses natural ingredients such as volcanic water, kojic acid and coffee bean extract which are known to improve the look of fine lines; improve overall complexion; and promote the appearance of young, fresh, vigorous facial skin.  24K Sir helps men gleam with perfection.
The Eye Balm treatment is the ideal solution for ensuring that male eyes shine when they smile.  Applied to the delicate skin around the eyes, the gel like formula will help to stave off the look of aging and eye puffiness.  The balm feels moisturizing, soothing and promotes overall skin well being.
For men who work indoors during the week and enjoy the outdoors on the weekends, the Magma Peel is a great way to start off your weekly skincare routine.  The deep cleansing formula gently exfoliates the skin and brightens the complexion.  Rich in Vitamin E, the peel helps to improve overall skin clarity and cleanliness.
For men who are ready to eliminate wrinkles and fine lines but aren't ready for invasive procedures, the Syringe De-Liner offers an alternative.  The antioxidant rich formula helps to slow the appearance of skin maturity.  The de-liner is also specially formulated to offer a filled in appearance to areas that are problemsome or show noticeable signs of aging.
Volcanic Blaze should be used with the Volcanic Mask.  With the addition of gold and kojic acid, the blaze enhances the mask's effects and promotes a youthful, more energetic glow.  For men with lines around the eyes or mouth caused by everyday facial expressions such as smiling or frowning, the blaze formula helps reduce their appearance.
The Volcanic Mask provides a spa-like experience.  Used once per month, its ingredients, including coffee bean extract, have been shown to rejuvenate the skin's overall appearance.  The ingredients in coffee have been shown to exfoliate, tighten and brighten skin.  This warming mask works to extract dirt and oil from the skin.
Men who are ready to reduce the appearance of wrinkles and improve the overall look of their skin health will enjoy the 24K Sir Collection from OROGOLD.  Products designed to cleanse, exfoliate and offer moisture to the skin will help men glow with perfection and appear flawless.