PHOTONIX-3 NECK SOLUTION
$1,750.00In Stock
Description
The Jelessi Photonix-3 Neck Solution provides two safe-to-use modes to reduce the look of necklace lines and loose skin. By emitting low-level LED wavelengths, this advanced device targets the epidermis and dermis layer of the skin to stimulate fibroblast functions and promote a smoother feel.
How to use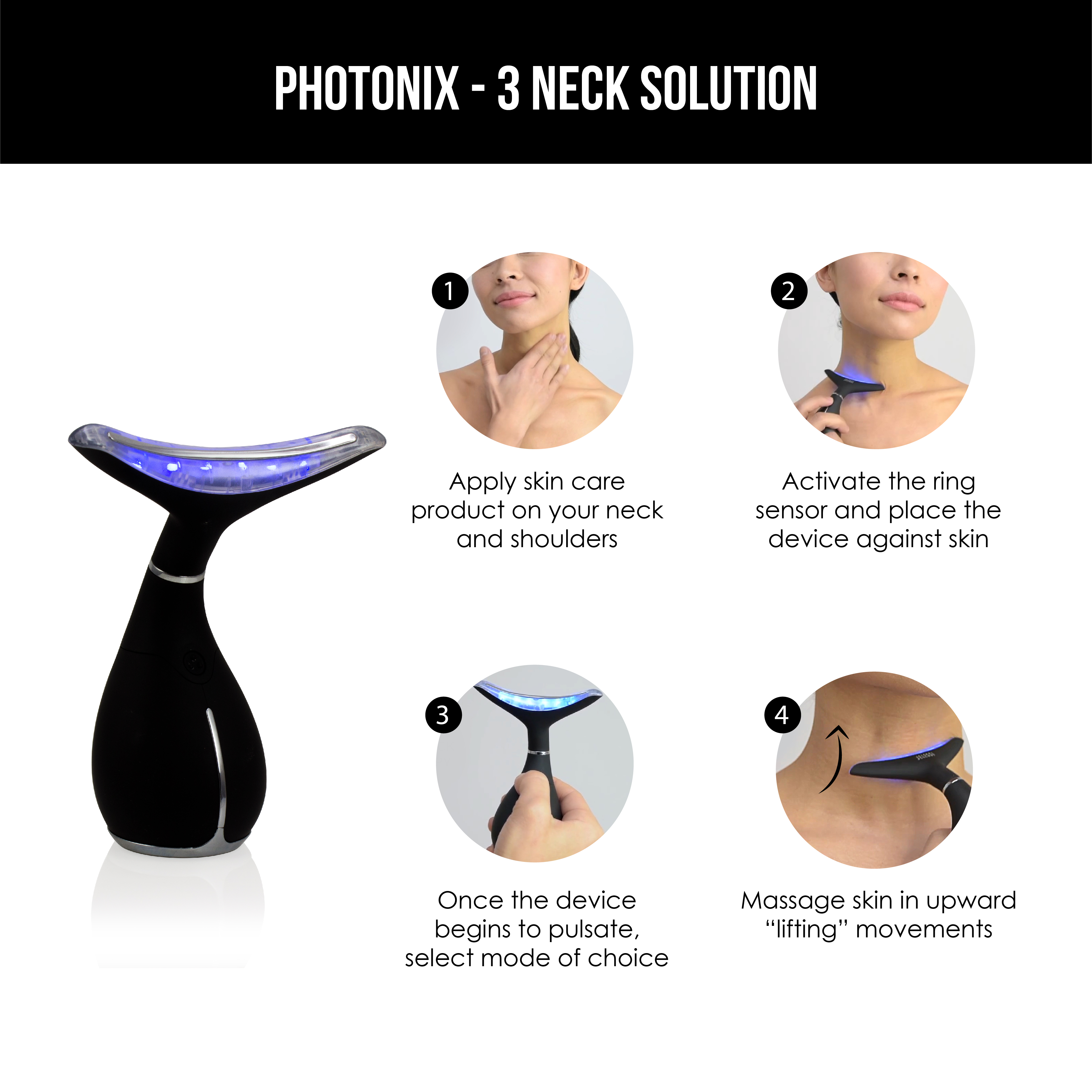 Apply your favorite skin care product on your neck and shoulders.

To turn on, activate the ring sensor and place the device against skin.

Once the device begins to pulsate, select mode according to preference.

Move the device over your skin in gentle. Upward "lifting" movements.

To turn off, press the power button for up to 3 seconds.

Ensure that the device is turned off and clean with a cloth. Do not use soap, disinfectants, or liquid detergents directly on the device.

Put the protective cover back on, and store in a dry and well-ventilated place.
FAQ
How often can I use this device?
We recommend using the Jelessi Photonix-3 Neck Solution 2-3 times a week for best results.
impressive
At first, I was not sure if this was working but when my friends saw me, I got a lot of compliments and that is when I knew, it is because of this product. Good job!
Perfect 10!
When it comes to quality and effectiveness, this device is 10/10! I super love it!
worth it
Definitely worth it! It's really effective and I've seen a noticeable difference on my skin. My neck looks and feels firmer and smoother! I'm really happy with my purchase
effective
Wow! This device is great. My neck is less saggy now. I always use this at night and I can tell the difference even when I wake up. My skin gets even firmer which I love.
Good quality high peformance