Write your own review!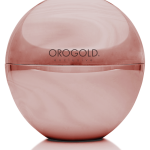 24K Rose Gold Hydro Mask
The 24K Rose Gold Hydro Mask is designed to rejuvenate the look and feel of dull, tired skin. Infused with potent concentrations of Acetyl Hexapeptide-8 and Rosehip Extract, along with 24K Gold, this decadent blend will boost the feeling of moisture while reducing the appearance of fine lines.
[submit-review review_id="24K Rose Gold Hydro Mask" redirect_page="https://www.orogoldcosmetics.com/my-account//my-review"]