Write your own review!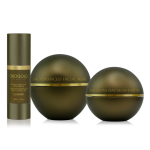 Cannabis Golden Leaf Collection
Treat your skin to a smoother, brighter and tighter appearance with the 24K Cannabis Gold Leaf Collection. Infused with a powerful selection of antioxidant-rich botanical extracts, including hemp seed oil and all of its skin-strengthening fatty acids, this innovative collection consists of a decadent face mask, a silky-smooth serum and a velvety-soft day cream - everything your skin needs to look its very best.
[submit-review review_id="Cannabis Golden Leaf Collection" redirect_page="https://www.orogoldcosmetics.com/my-account//my-review"]