Write your own review!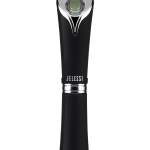 PHOTONIX-2 JADE EYE WAND
The Jelessi Photonix-2 Jade Eye Wand enhances the performance of topical eye serums by stimulating blood flow and collagen production. Using advanced LED infrared and heat technology, this expertly designed device smooths away crow's feet and puffy-looking eyes. Achieve an instantly refreshed look.
Warranty Registration
[submit-review review_id="PHOTONIX-2 JADE EYE WAND" redirect_page="https://www.orogoldcosmetics.com/my-account//my-review"]