Write your own review!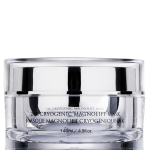 24K Cryogenic MagnoLift Mask
The 24K Cryogenic MagnoLift Mask is a uniquely formulated mask that helps you feel more contoured and smooth. This luxurious solution delivers a combination of sunflower seed oil, rosemary leaf extract, and coconut oil to provide the feeling of moisture and suppleness. Lift away impurities while diminishing the appearance of fatigued skin with this lavish mask.
[submit-review review_id="24K Cryogenic MagnoLift Mask" redirect_page="https://www.orogoldcosmetics.com/my-account//my-review"]