Write your own review!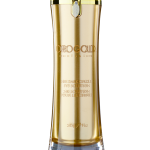 24K Dark Circle Eye Solution
Indulge yourself in the 24K Dark Circle Eye Solution. This lightweight and luxurious cream provides moisture and care for the delicate skin around the eyes. Its unique formula includes collagen and Retinyl Palmitate to reduce the appearance of dark under-eye circles, crow's feet, and puffy-looking eyes. Reawaken and rejuvenate yourself for a feeling of confidence and renewal.