Write your own review!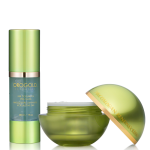 24K Collagen Collection
The 24K Collagen Collection works to plump the appearance of dull, sagging skin, while promoting a brighter, more radiant look. 24K Collagen Renewal Cream – 50 g. / 1.76 oz. The 24k Collagen Renewal Cream's unique formula helps to improve the appearance of skin firmness and restores lost moisture. Visibility of fine lines and wrinkles are also reduced with continued use. This cream's feather-light texture instantly melds onto the skin, increasing radiance and vitality. 24K 24K Collagen Pre-Mask – 30 ml. / 1 fl. oz. The 24K Collagen Pre-Mask is a triple threat! This unique formula prepares your skin for the 24K Collagen & Seaweed Mask with three sensational phases. It starts as a gel, melts to an oil and then transforms into a milky foam. Melt away impurities and prepare your skin to take in the maximum beauty benefits from the 24K Collagen & Seaweed Mask.
[submit-review review_id="24K Collagen Collection" redirect_page="https://www.orogoldcosmetics.com/my-account//my-review"]