Write your own review!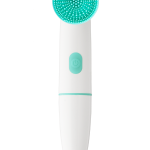 24K Deep Facial Brush Set
The 24K Deep Facial Brush Set is a dual-functionality system to rejuvenate the feeling of skin for a brilliant, age-defying glow. Featuring an attachable soft bristle brush and a gentle silicone brush, this advanced device exfoliates and ensures optimal dispersion of topical skincare solutions. Experience a better way to thoroughly cleanse.
[submit-review review_id="24K Deep Facial Brush Set" redirect_page="https://www.orogoldcosmetics.com/my-account//my-review"]