Write your own review!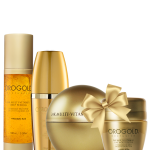 Deluxe Anti-aging Gift Set
A giftable set of iconic OROGOLD wonders ideal for fatigued, winter-worn skin. Begin your self-care routine with the 24K Multi-Vitamin Hand Mask, infused with sunflower seed oil, to soften the back of your hands. The 24K Multi-Vitamin Deep Peeling + Mandelic Acid aids in exfoliating dead skin. The 24K Vitamin C Booster Facial Serum imparts skin with a legendary feel of hydration to be followed with the 24K Multi-Vitamin Day Moisturizer + Amino Acid to lock in moisture, for that perfect luxury skincare routine.
[submit-review review_id="Deluxe Anti-aging Gift Set" redirect_page="https://www.orogoldcosmetics.com/my-account//my-review"]