Write your own review!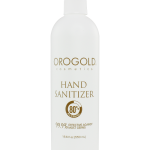 Hand Sanitizer 80% Alcohol
Protect your hands from bacteria, germs, and viruses with this non-sticky, fast-absorbing Hand Sanitizer. Containing 80% alcohol, along with the hydrating and soothing properties of Aloe Vera and Vitamin E, this advanced sanitizing gel doesn't require any rinsing, making it quick and easy to use.
[submit-review review_id="Hand Sanitizer 80% Alcohol" redirect_page="https://www.orogoldcosmetics.com/my-account//my-review"]