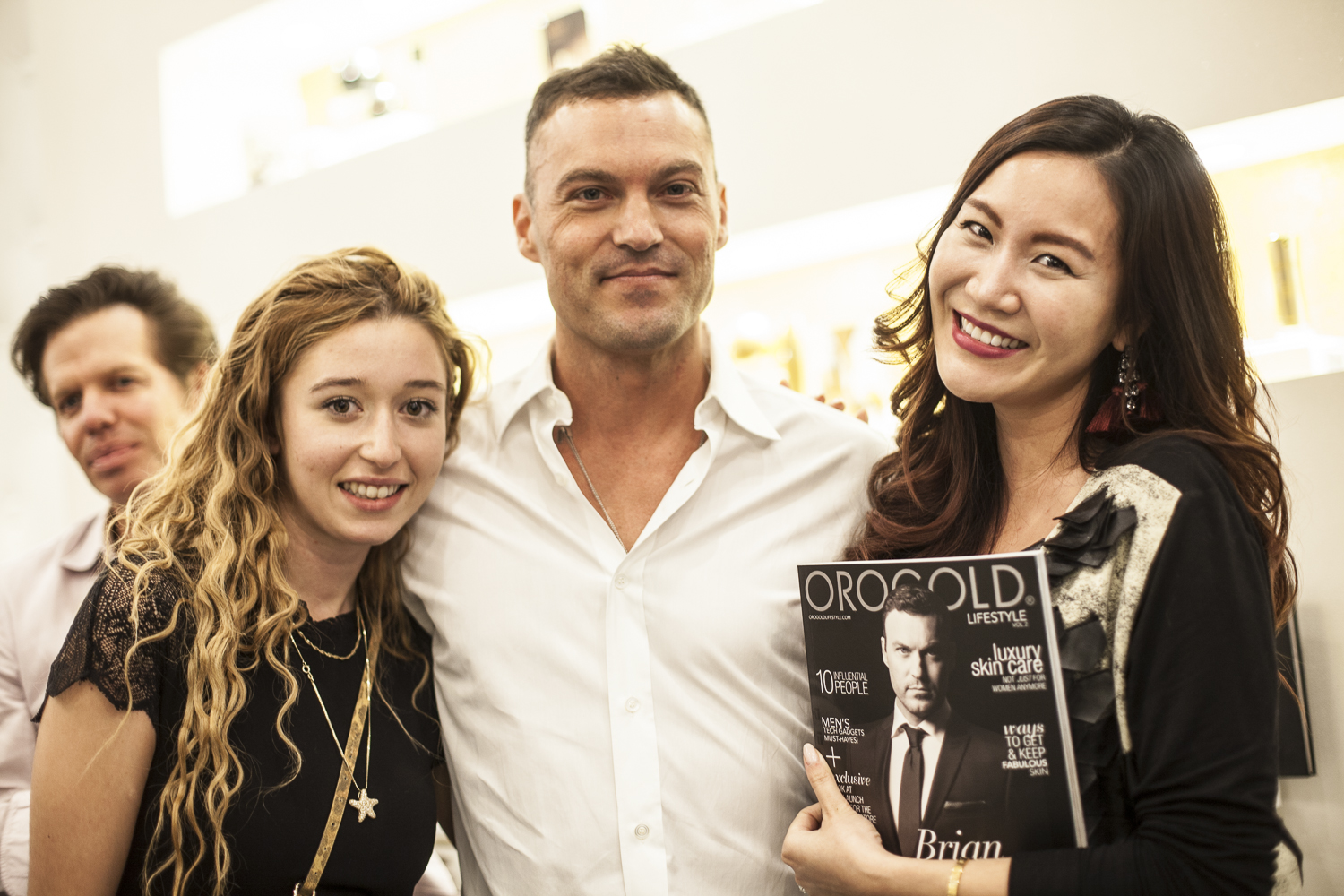 OROGOLD Men and Wilshire Event
While OROGOLD has a variety of different skin care collections for women, we certainly never want to overlook our male customers. In the beginning of 2015, OROGOLD proudly announced actor Brian Austin Green as the face of our men's products. Brian has appeared on-screen in a variety of shows, from Beverly Hills 90210 to Anger Management, and we are delighted to have him represent our brand. As the face of the men's collections, Brian was invited to attend one of our exclusive events earlier this year at the OROGOLD Wilshire Boulevard store, showing his support for the brand and our products.
The 24K Cleopatra Nano Regimen
2015 saw OROGOLD's release of the 24K Cleopatra Nano Regimen, consisting of three different products that are each designed to pamper the skin while helping to minimize the appearance of any fine lines or wrinkles. The 24K Cleopatra Nano Silk Cream helps bring back a radiant, youthful glow, while the 24K Cleopatra Nano Serum is a breakthrough formula that contains a special mix of highly effective ingredients. The 24K Cleopatra Nano Regime also contains 24K Cleopatra Gold Sheets, made from luxurious gold to create a luminous glow.
The 24K Wild Caviar
The 24K Wild Caviar is an extremely unique skin care product that OROGOLD launched in 2015. Infused with tea tree oil, as well as gold, this product brings all of the amazing benefits of wild caviar directly to your skin. Stop in an OROGOLD store to try it out.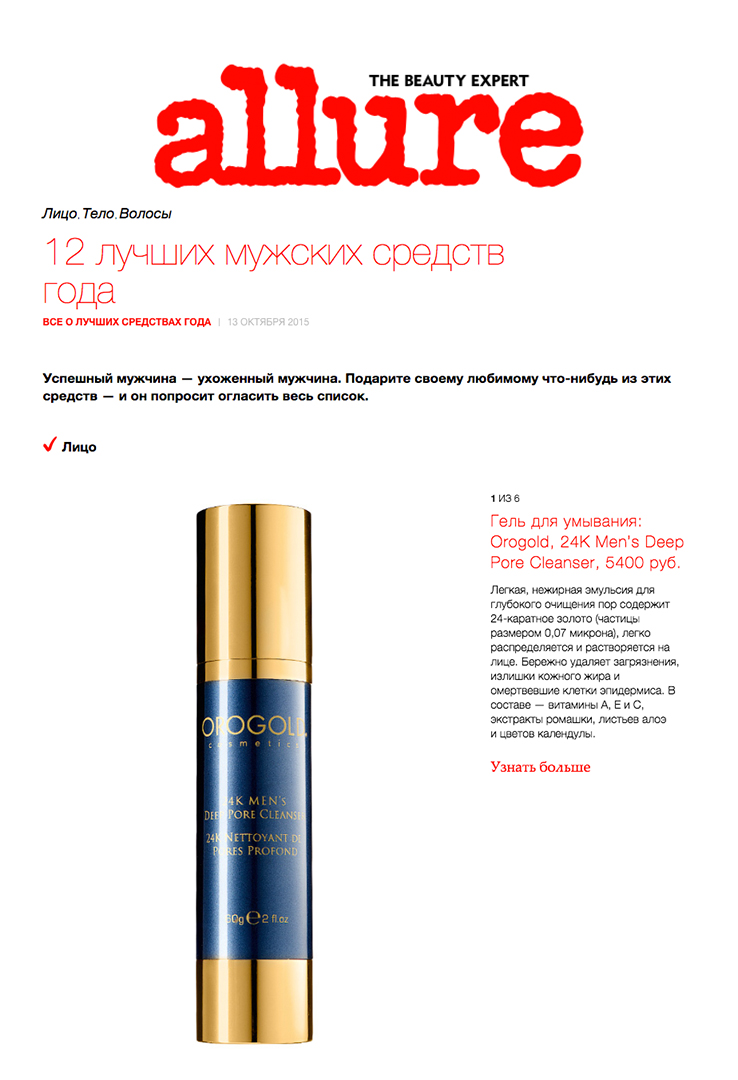 Best of Beauty, Allure Russia
OROGOLD was extremely honored to see several of our products in the running for the Allure Russia's Best of Beauty feature in 2015. The Best of Beauty list showcased Allure's favorite beauty products of 2015, OROGOLD 24K Men's Deep Pore Cleanser, a light-lathering cleanser that provides an intense cleanse, won the men's face category.
Redesigning the 24K Bio-Brightening Collection
The 24K Bio-Brightening Collection was redesigned in 2015 to make each product even more effective. The collection contains the 24K Bio-Brightening Skin Tone Moisturizer, the 24K Bio-Brightening Complex Peeling, the 24K Bio-Brightening Dark Spot Solution, the 24K Bio-Brightening Pigment Balancing Mask, and the 24K Bio-Brightening Dark Circle Eye Solution. The whole collection was created to help brighten the look of skin, while reducing the appearance of any age or sun related damage.
Introducing the OROGOLD Box
OROGOLD Box was also introduced in 2015, and is our very first subscription service. By signing up, you will be able to enjoy an OROGOLD Box delivered straight to your door every three months, with each box containing hand-picked full sizes of some of our finest OROGOLD products to try out!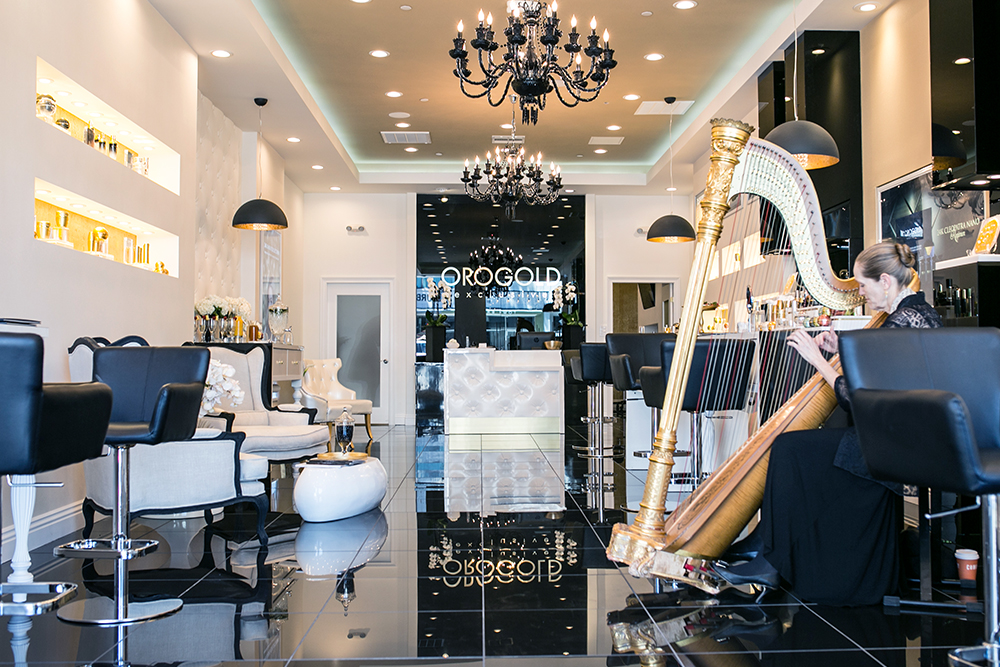 New Store Openings
In addition to the exciting products that we launched in 2015, OROGOLD also opened a number of new stores around the world. Our Abu Dhabi flagship store was opened in Yas Mall in May, and, a few months later, we opened a store in Playa Del Carmen, Mexico. We also opened a store in the Philippines in Manila, as well as a store in Dusseldorf, Germany, and Mayfair, London. The opening of our Amsterdam store also coincided with the launch of our 24K Lielle Collection, a skin care collection specially designed for those with sensitive skin.
While 2015 has certainly been a busy year for OROGOLD, 2016 is set to be packed with even more excitement, and we can't wait to see what the year will bring. OROGOLD would like to take this opportunity to wish each and every one of you happy holidays and a very happy new year.