Torche V2+
$4,750.00
Out of stock
Description
The Jelessi Torchē V2+ delivers safe LED light therapy to gently stimulate blood circulation and reduce the appearance of wrinkles and deep facial lines. Combining the benefits of infrared technology and the stimulating effects of heat therapy, this premium device encourages a renewed smoothness and firmness to the skin. Experience a revived, energetic complexion.
How to use
To achieve optimal results, use 3 times per week for three consecutive weeks. After three weeks of usage, continue to use once per week for maintenance.
Tip: Make sure that you hold the device steady during application and do not "separate" the treatment surface from the skin, as this will lead to less effective results.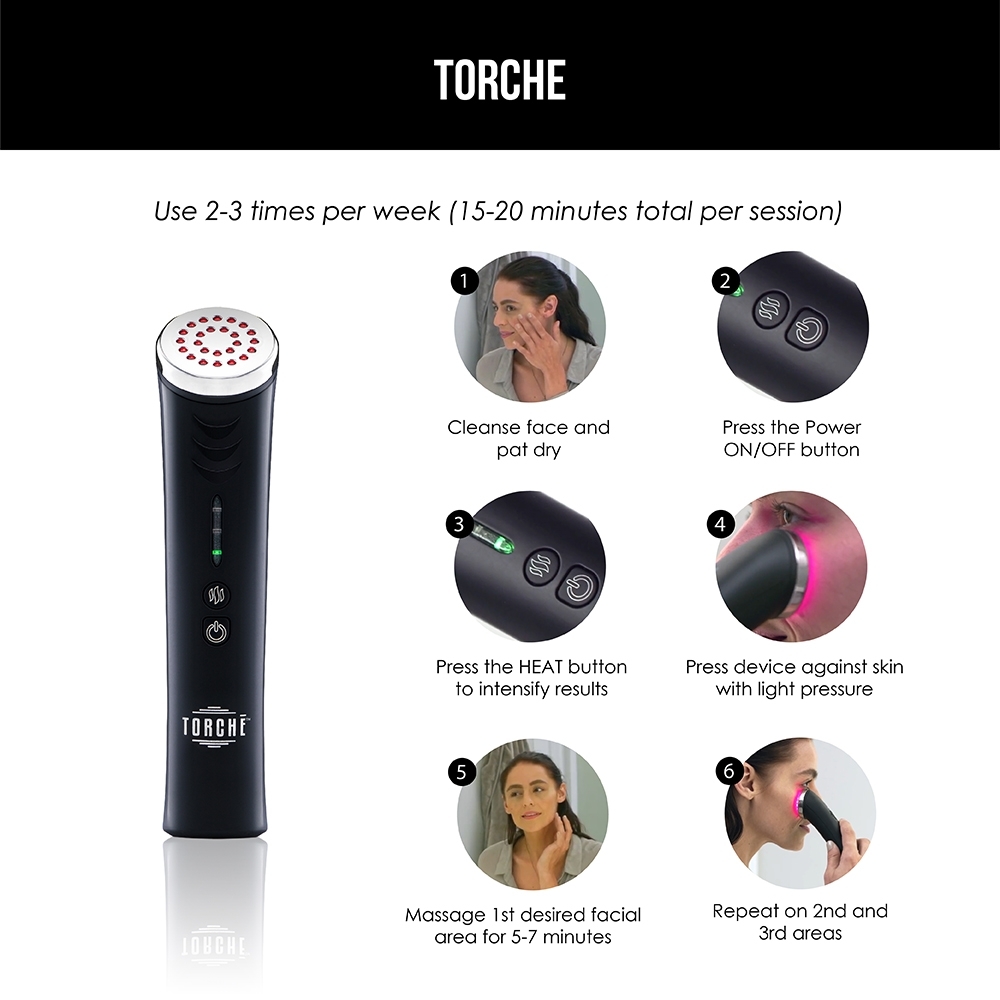 Cleanse face and pat dry. Skin should be clean, dry and free of any powder, gel or cream.

Lift the applicator from its cradle in the charging port.

Press the Power ON/OFF button. The green indicator light will shine steady. The Torche device is now ON and ready to use (LED-Infrared).

To intensify results, press the HEAT button. The green and yellow indicator lights will shine steady. The Torche device is now ready for treatment. The heat will gradually increase, up to 105 °F, and stimulate blood circulation.

Place the treatment surface on the first area that you want to treat. Apply a light pressure while slowly moving the applicator in small circular motions.
Always apply a small amount of a moisturizing cream on the treated skin areas after each session, massaging this in gently using circular motions.
FAQ
Can I use this device every day?
For best results, we advise using this 3 times a week for the initial three weeks, followed by once a week for maintenance. Using this every day could prove too harsh for the skin.
Quick and amazing results
I went on a family trip recently. Not sure what happened to my skin while I was traveling but my face suddenly got drier and I started noticing crases around my eyes. After using the Torche V2+, the blemishes were reduce and my skin is so much fresher and clearer! It might be on the more pricey side but it's definitely worth the investment for the future of my skin.